This post brought to you by World Market. All opinions are 100% mine.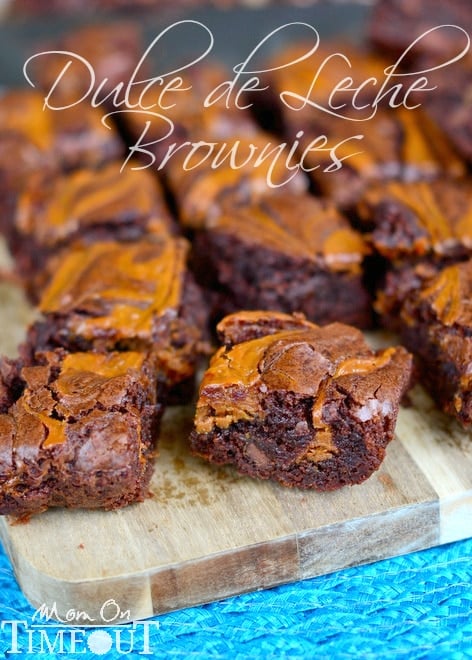 Oh my goodness! Father's Day is just around the corner! My Dad is a bit tough to buy for. I mean the guy has everything – LITERALLY! I've totally given up buying tools and stuff like that. I know what my Dad wants. Food. There. I said it. The way to my Dad's heart is definitely through his stomach.
My Dad is pretty much awesome. He does everything for me and does it happily. You know why he likes to come do projects at my house? I cook. And I bake.  And he loves it! This year I've got a gift "bucket" all ready to go with some of my favorite BBQ & Grilling finds at World Market as well as some treats I know he's going to love. Yes. The BBQ may not actually happen till I get to his house buy I'm sure he'll enjoy salivating over all the wonderful stuff I found.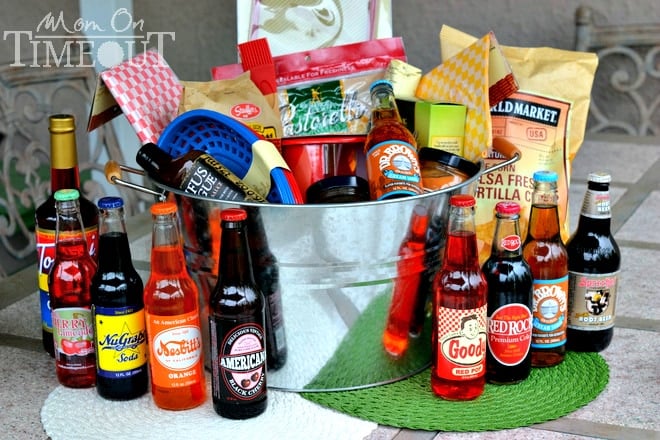 I went a little crazy with the sodas. People. Seriously! I wanted one of every kind they have! It's like instant nostalgia factor with these awesome old-school soda bottles. Once I filled my cart with sodas it gave me the idea of beverage tub. My Dad certainly isn't going to find much use for a basket but a beverage tub?? Ya betcha! This Galvanized Party Tub is SO cool…I may or may not have picked up one for myself…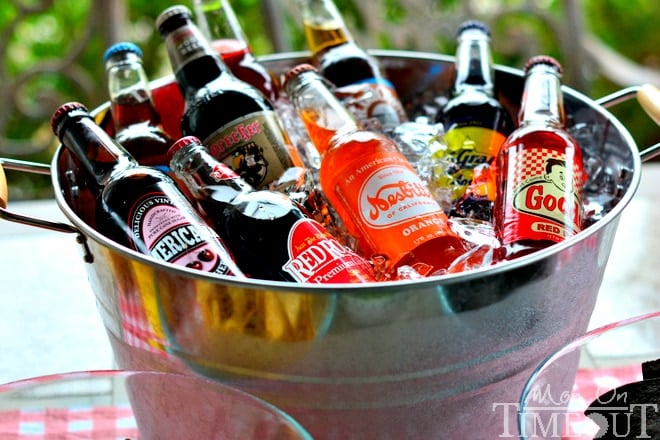 World Market Chips, Salsa, and Chile Con Queso and perfect for snacking and make fabulous appetizers for any party. Burger baskets and liners will make clean-up a breeze for my Dad (and who wouldn't love that?). I also picked up some grilled pizza making supplies: pizza crusts, pizza sauce, and salame. Grilled pizzas are perfect for quick dinners during the summer and my Dad loves them!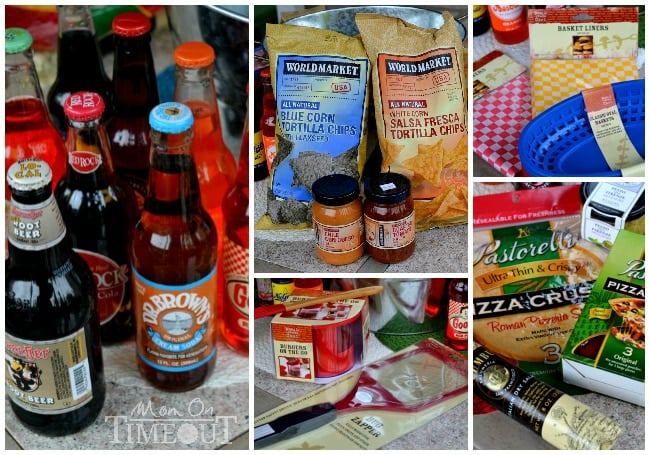 I found all kinds of BBQ supplies at World Market but I absolutely could not pass up the Burgers On The Go Press (creates perfect patties AND it has a lid so you can refrigerate the patties until you're ready to use them AND it's PERFECT to take somewhere – like my Dad's – when I bring up the food to eat – IN LOVE! Yes I got one for me too 🙂 )  Every man needs a basting brush and hello? A bug zapper?? Now this little gadget will not only provide hours of entertainment for my little ones when we're up at my Dad's but it's so practical my dad will practically swoon when he sees it.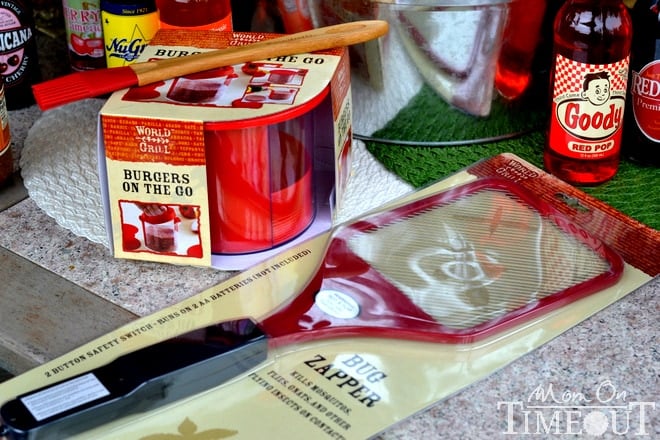 I picked up some easy entertaining pieces that will work for any party – any time. I love these bowls I picked up for the chile con queso, salsa, and the guacamole. This was my first time picking up guacamole mix at World Market and it will be a staple in our house from now on. It was super flavorful and everyone commented on how great the guacamole tasted. I couldn't find it online but it's on a jar near the salsas. Do yourself a favor and pick some up 'mkay?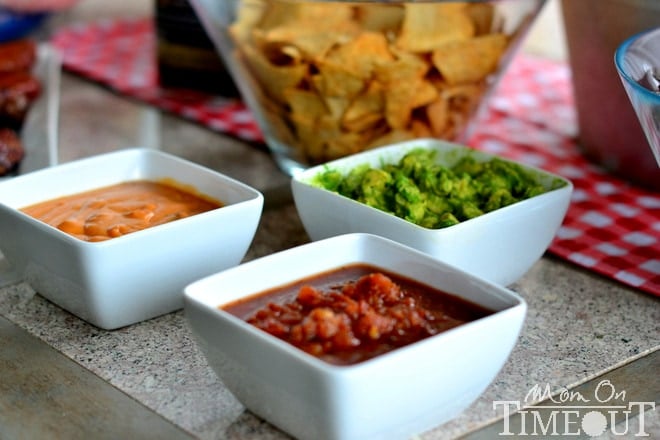 I picked up a bag of Lemon Snaps  (my entire family are suckers for anything lemon) and the ingredients for the Dulce de Leche brownies (Ghiradelli Brownie Mix and Dulce de Leche Milk Caramel Spread) and served those two treats on these small platters.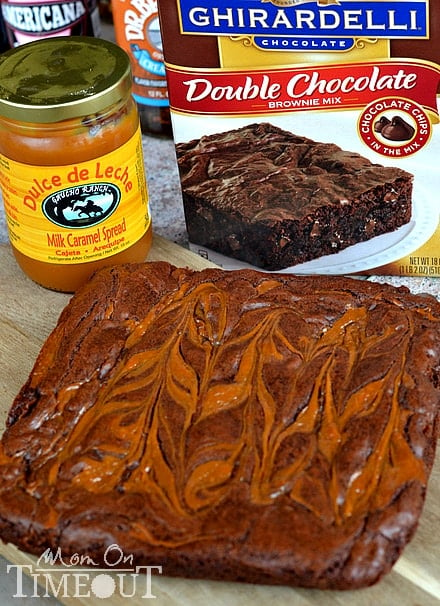 I used the basket liners and craft punches to create small liners for each of the brownies and cookies on the platters. Made them super easy to refill and kept the platters pretty and clean. Can we pause for a moment and talk about the Dulce de Leche spread?? Oh. My. Goodness. You are going to absolutely die when you taste this stuff – it's completely and totally addictive. Totally. You are going to wonder how you ever lived without it. Trust me on this.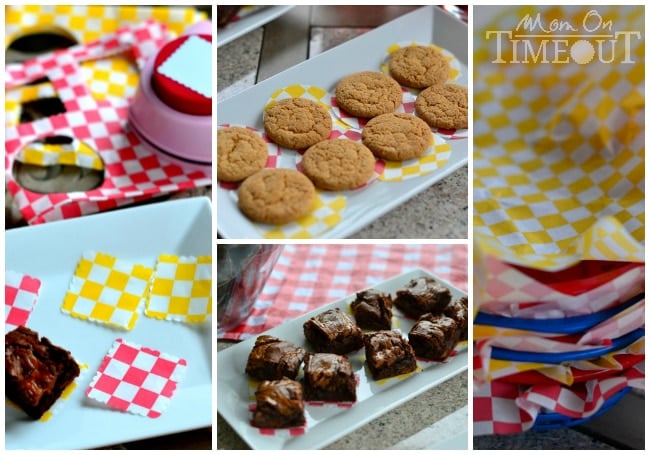 The table looked so festive and fun and was just bursting with all kinds of yummy stuff from World Market. By the way, picked up some Rufus Teague Whiskey Maple Barbecue Sauce from the BBQ section at World Market – the sauce is yummy and the bottle is hilarious. Check it out next time you're there.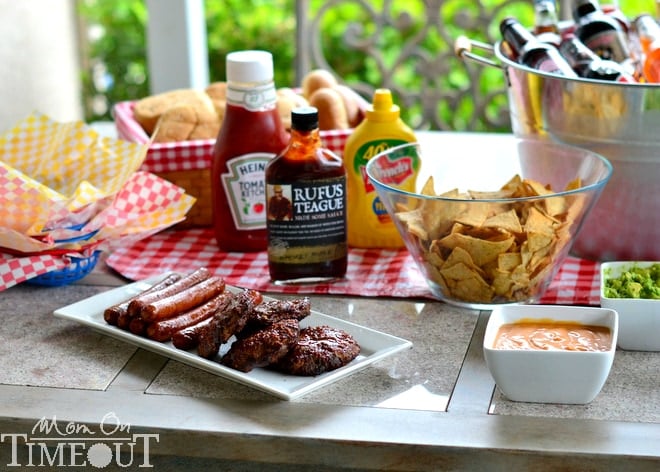 I set the baskets up with the liners so that they were all ready to go and it made serving super easy.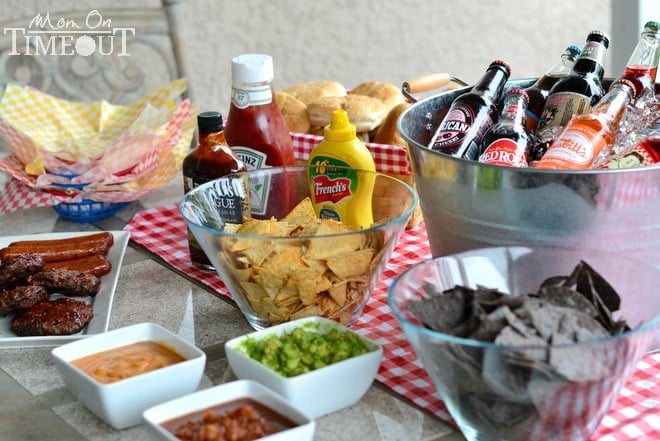 At the end of the table were the brownies, cookies and Italian Cream Sodas.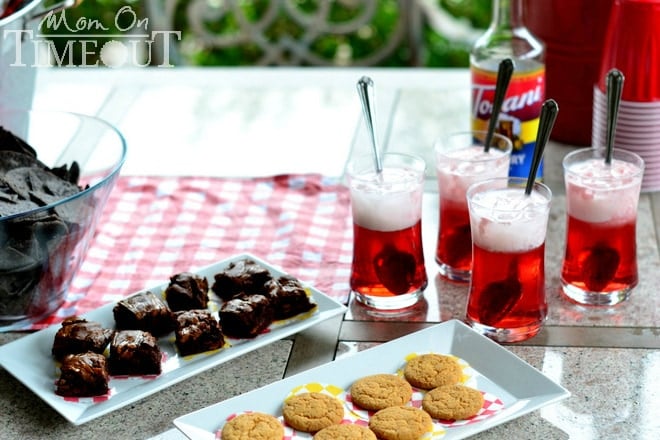 Did I forget to mention the Cherry Italian Cream Sodas? Yeah. Can't go wrong here. Pick up any flavor of Torani syrup and make your own for your next party. I picked up some of these Stackable Glasses and there were perfect for the sodas.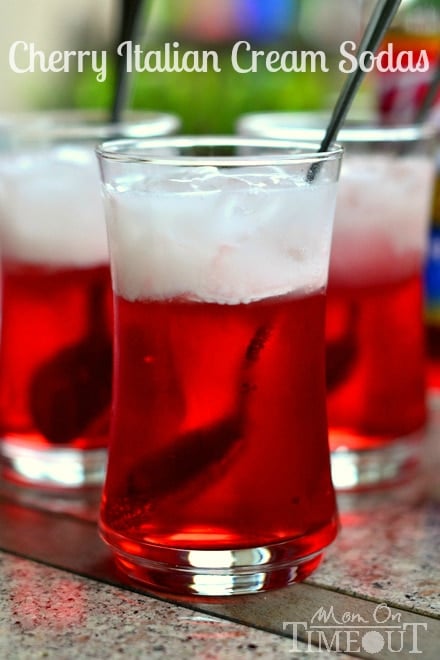 Let's talk about the brownies. If you manage to make it past this stage where all I wanted to do was put my entire face in the pan and eat…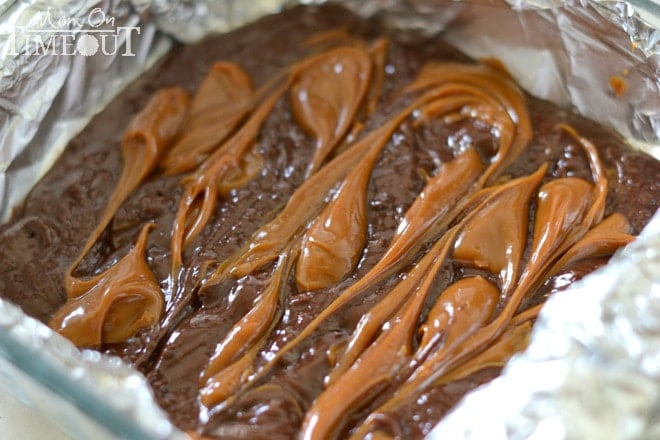 …you'll eventually get to this stage. I think these brownies are just gorgeous! And easy…did I mention easy?
Dulce de Leche Brownies
I think these brownies are just gorgeous!  And easy…did I mention easy?
Ingredients
18

oz

Ghiradelli Brownie mix

1 box

3/4

cup

Dulce de Leche Milk Caramel Spread
Instructions
Prepare Brownie mix according to directions. Spread half of it in pan.

Heat 3/4 cup of caramel spread in 15 seconds intervals at medium heat in the microwave until the spread loosens.

Drop half of the caramel spread by teaspoons on top of the brownie batter and swirl in with a knife. Repeat with the second half of the brownie batter and caramel.

Bake according to the package directions.

Cool and serve.
Nutrition
Calories:
112
kcal
|
Carbohydrates:
21
g
|
Protein:
1
g
|
Fat:
3
g
|
Saturated Fat:
1
g
|
Cholesterol:
1
mg
|
Sodium:
87
mg
|
Potassium:
6
mg
|
Fiber:
1
g
|
Sugar:
11
g
|
Vitamin A:
6
IU
|
Calcium:
4
mg
|
Iron:
1
mg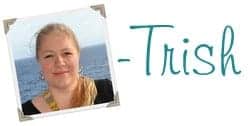 Connect with me!