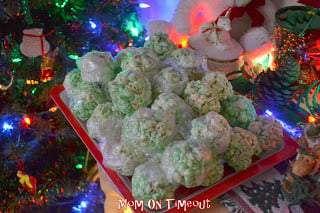 Last Thursday I was in a pinch to prepare something for Reece's Christmas party at school. My sister was over and suggested we whip up some popcorn balls. Popcorn balls are a Christmas family tradition for us. My Grandma makes several batches and makes a variety of colors. They are so fun to make and fun to eat too! Easy, easy easy! They require only a few ingredients and are YUMMY!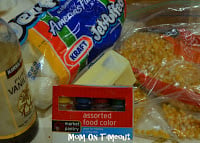 Ingredients:
1 lb marshmallows
1/2 c butter
1 tsp vanilla
popcorn
food coloring (optional)
non stick baking spray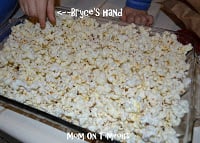 Directions:
Preheat oven to 200 degrees. Spray a 9×13 baking dish with non-stick spray.
Pop enough popcorn to fill a 9×13 baking dish and  have a couple of extra cups on the side to use if needed. Keep the popcorn warm in the oven.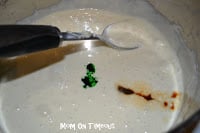 Melt the butter and marshmallows together in a large pot. Once the marshmallows are fully melted, turn off the heat and add in the vanilla and food coloring. I start with a couple of drops and then add more as necessary. It just depends on how deep you want the color to be and how much food color you want to use.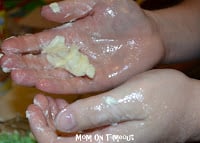 Pull the baking dish full of popcorn out of the oven. Drizzle the marshmallow and butter mixture over the popcorn – get as much out as you can because it's sticky. Now comes the fun part. You can either spray your hands with the baking spray or cover them in butter. The marshmallow mixture is HOT so be careful. The butter or spray is to protect your hands from the heat as well as to keep the marshmallow from sticking to your hands.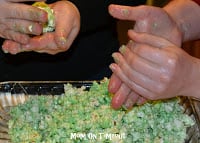 Use your hands or a wooden spoon to mix up the popcorn and marshmallow mixture so that the popcorn is evenly coated. If you need to add some more popcorn, pull from your "extra" pile. Grab a handful of popcorn and start forming it into a ball squeezing firmly to make sure the popcorn ball sticks together. The popcorn balls can be any size you choose. I made small ones for Reece's party but we usually make fist sized popcorn balls.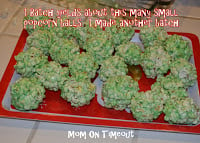 To the left you can see how many popcorn balls 1 batch yields. I ended up making two batches because I needed about 50 small popcorn balls.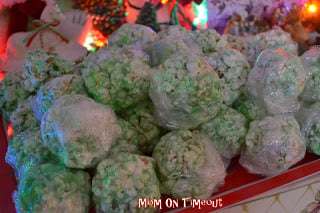 If you are taking the popcorn balls to a party you might want to consider wrapping them in plastic wrap. My mom used to wrap them in plastic wrap and tie the wrap on both ends with curling ribbon – a very nice touch! (I just didn't have time 🙂 )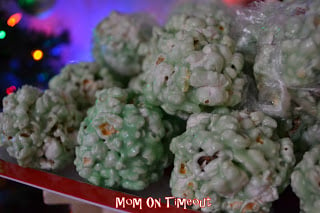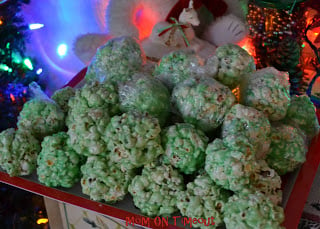 Linking up here and Home Stories A2ZTutorials and Tips