My Mom's Creamy Asparagus Soup is so delicious and is just bursting with fresh flavor! Comfort food at it's best!
This post brought to you by Fellowes . All opinions are 100% mine.
I got back home Sunday after an exciting couple days at the BYB Conference in Salt Lake City. I arrived on Friday and within a few hours I had almost completely lost my voice. Not the first thing you want to happen at a conference by any means, but I managed to struggle through the weekend without too much talking. For those of you who know me, this was quite the struggle 🙂
As I was getting ready to head home on Sunday afternoon, I finally started feeling sick. I had a new cough that was developing and I was feeling pretty worn down. I got home (thank goodness for the short flight between Salt Lake City and Sacramento!) and after numerous hugs and kisses from the boys and a short rest on the couch, I started thinking about dinner.
I knew I wanted something warm, something comforting, and of course, delicious! I wanted soup! Fortunately I had everything I needed to make my Mom's Creamy Asparagus Soup.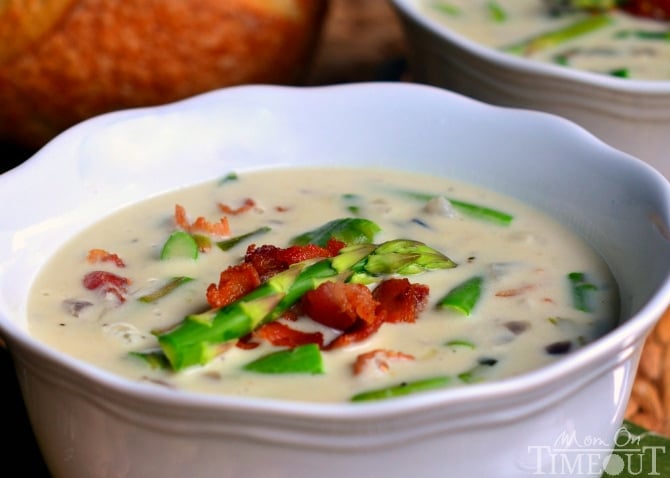 This Creamy Asparagus Soup was just what the doctor ordered! It tasted so good and it felt even better to watch my boys slurp it up AND eat the asparagus too! The asparagus cooks to crisp-tender so it still has a nice fresh bite to it. The bacon is totally optional but I really love the smokiness that it adds to the soup. It sucks being sick but it's a great excuse for yummy soup!
It can be super frustrating getting sick sometimes. I mean, I do everything I can to protect my family and home during the cold and flu season. If I had a nickel for every time I said, "Boys! Go wash your hands!"…well, let's just say I'd be nearing retirement 🙂 Did you know that indoor air is up to five times more polluted than outdoor air?? I guess that's why when people say "I'm going to get a breath of fresh air.." they aren't usually walking indoors.
Years ago we used to have an air purifier in our home. With Chris's allergies, it was really important to have and we could totally tell the difference in air quality. Well, one of the boys knocked it over and we never replaced it until a few weeks ago when I received the Fellowes AeraMax™ DX-55.
I was immediately impressed with the look of this air purifier. Very sleek with a small footprint. The Fellowes AeraMax™ DX-55 features ultra-quiet technology (thank you!) and automatically monitors the air quality and adjusts its settings for you. The touch screen is user-friendly and should you want to adjust the settings, it's easy to do.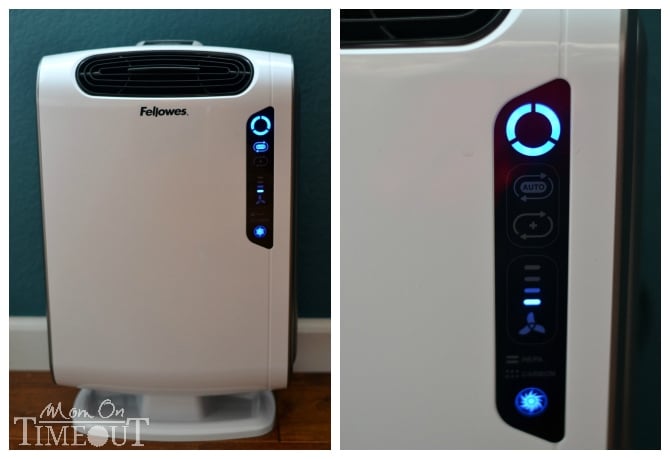 The second day I had been running the air purifier, my husband came home from work and immediately noticed the difference in air quality. It's hard to describe but not only does the air smell cleaner, it feels softer too. I love knowing that there is something else beside me helping our family to fight colds and flu! Here is a 4 step process to reduce cold and flu season risk in your home:
Ask about a flu shot
Wash and sanitize hands regularly
Wipe down surfaces with powerful disinfectants

Purify the air indoors.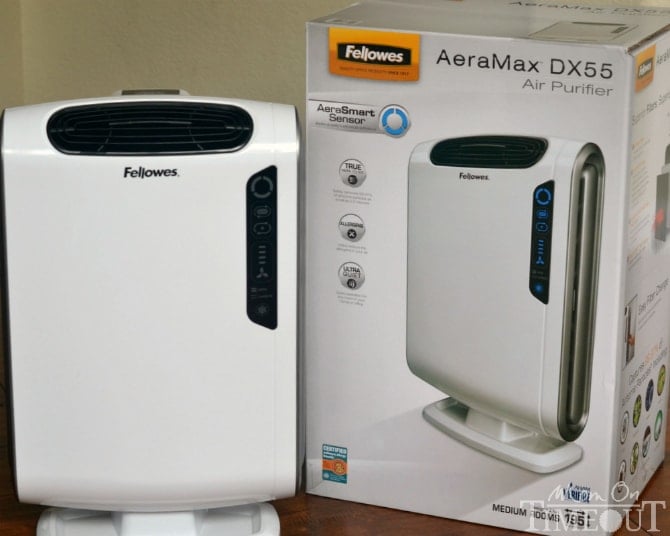 You can buy your own Fellowes AeraMax™ DX-55 at BestBuy.com starting at $189.99. For our family, an air purifier is something we'll use year-round, not just for cold and flu season. With seasonal allergies it's really important that we stay on top of the air quality in our home and this air purifier is an excellent way to do just that!
Mom's Creamy Asparagus Soup
My Mom's Creamy Asparagus Soup is so delicious and is just bursting with fresh flavor! Comfort food at it's best!
Ingredients
6

slices

lean bacon

6

tbsp

butter

Knorr Leek Soup mix

1

red onion

diced

2

cloves

garlic

minced

4

tbsp

flour

2

cups

half and half

1

cup

water

1.8

oz

Knorr Leek Soup mix

1 package

2

bunches

asparagus

about 40 spears, rinsed

1/4

cup

dry white wine

1/8

tsp

marjoram

salt and pepper to taste
Instructions
Snap off bottoms of asparagus spears. Cut tops into bite-sized pieces. Set aside.

Cut bacon into bite-sized pieces and saute in a large saucepan until fat has been rendered and bacon is golden brown. Remove with a slotted spoon and set aside.

Add butter and onion to pan and saute until onions are transparent. Add garlic and continue cooking for 2-3 more minutes.

Stir in flour until well combined.

Stir in half and half, water, and soup mix.

Add asparagus to the pan.

Cook on low for 30 minutes or until asparagus is slightly tender.

Stir in wine, marjoram and salt and pepper to taste.

Serve immediately.

Makes 4 servings
Nutrition
Calories:
447
kcal
|
Carbohydrates:
31
g
|
Protein:
11
g
|
Fat:
32
g
|
Saturated Fat:
20
g
|
Cholesterol:
91
mg
|
Sodium:
1266
mg
|
Potassium:
755
mg
|
Fiber:
6
g
|
Sugar:
6
g
|
Vitamin A:
2662
IU
|
Vitamin C:
17
mg
|
Calcium:
213
mg
|
Iron:
5
mg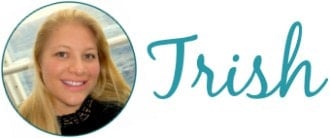 Connect with me!
 Linking up at some of these parties.