A classic Mai Tai just can't be beat for its refreshing, tropical flavors! This easy Mai Tai recipe includes rum, fresh lime juice, sweet and citrusy orange liqueur and orgeat syrup. Together they combine to make a unique cocktail perfect for unwinding this weekend or for serving at your next party.
Looking for a fun refresh? Make sure to try my Midori Sour recipe or this Pineapple Margarita for your next weekend wind down!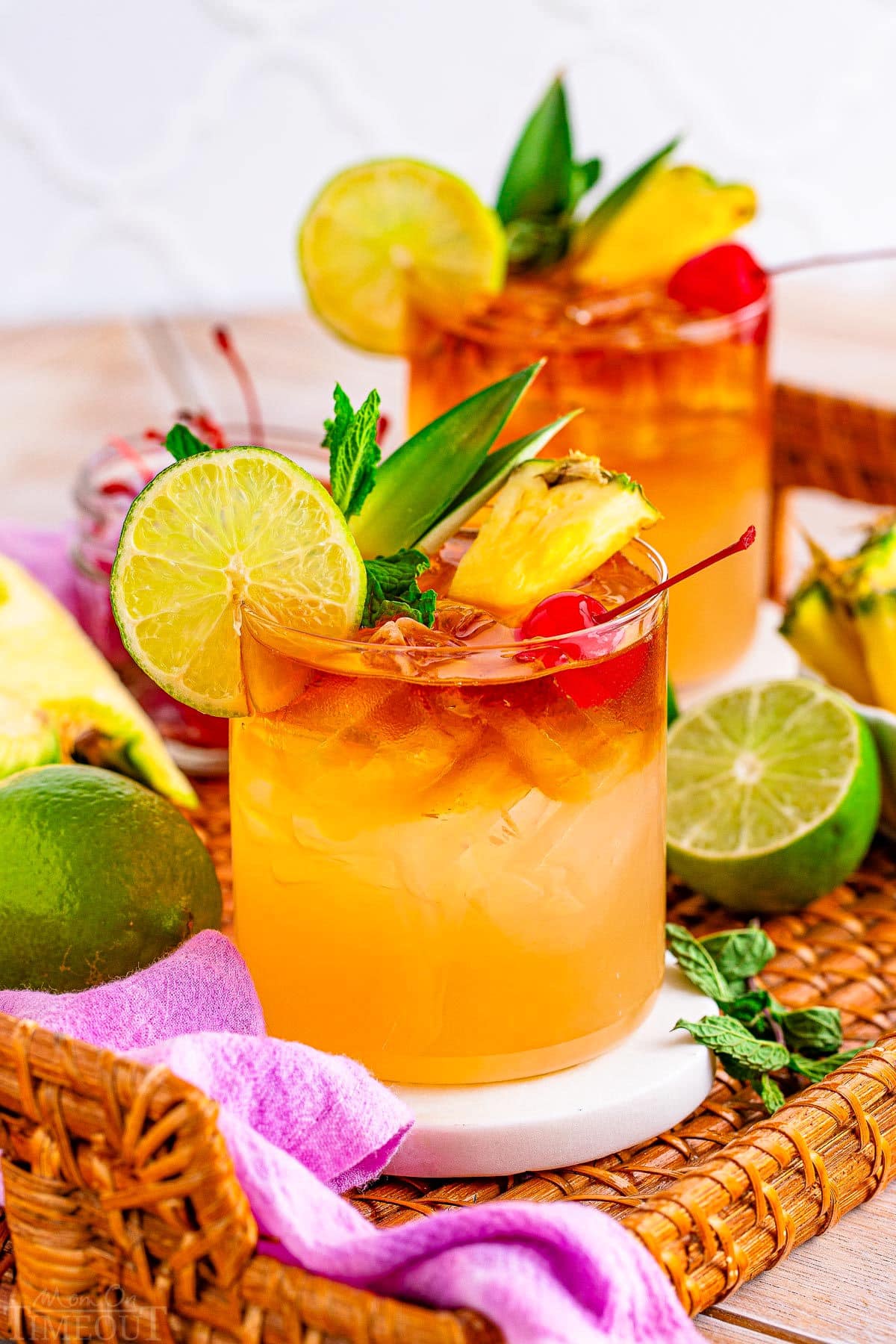 Mai Tai Recipe
Whether you're looking to cool off during the hot summer months or are simply dreaming of beaches during the dead of winter, this Mai Tai drink will transport you instantly to that summer fantasy.
I love a classic cocktail recipe and this Mai Tai is no exception. The combination of white and dark rum, lime and orange creates a tropical explosion of flavor like no other. Whether you're planning a pool party or setting up your own backyard Mai Tai bar, this recipe is a must make this summer.
Fun Fact
Why I Love This Mai Tai Recipe
I love this cocktail because…
It's so unique. The nutty flavor of the orgeat syrup is something that can't be replaced. It's not too sweet but it is a strong drink. Perfect for switching up all the sticky sweet pineapple based drinks typically associated with rum and tiki bars.
It's a crowd pleaser. This cocktail can easily be made into a large batch for those summertime get togethers or Hawaiian themed parties! A fun Mai Tai bar would so amazing for summer parties.
Tropical flavors can't be beat. I love the tropical flavors in this cocktail and the Mai Tai ingredients list is short and easy to find at your local grocery store.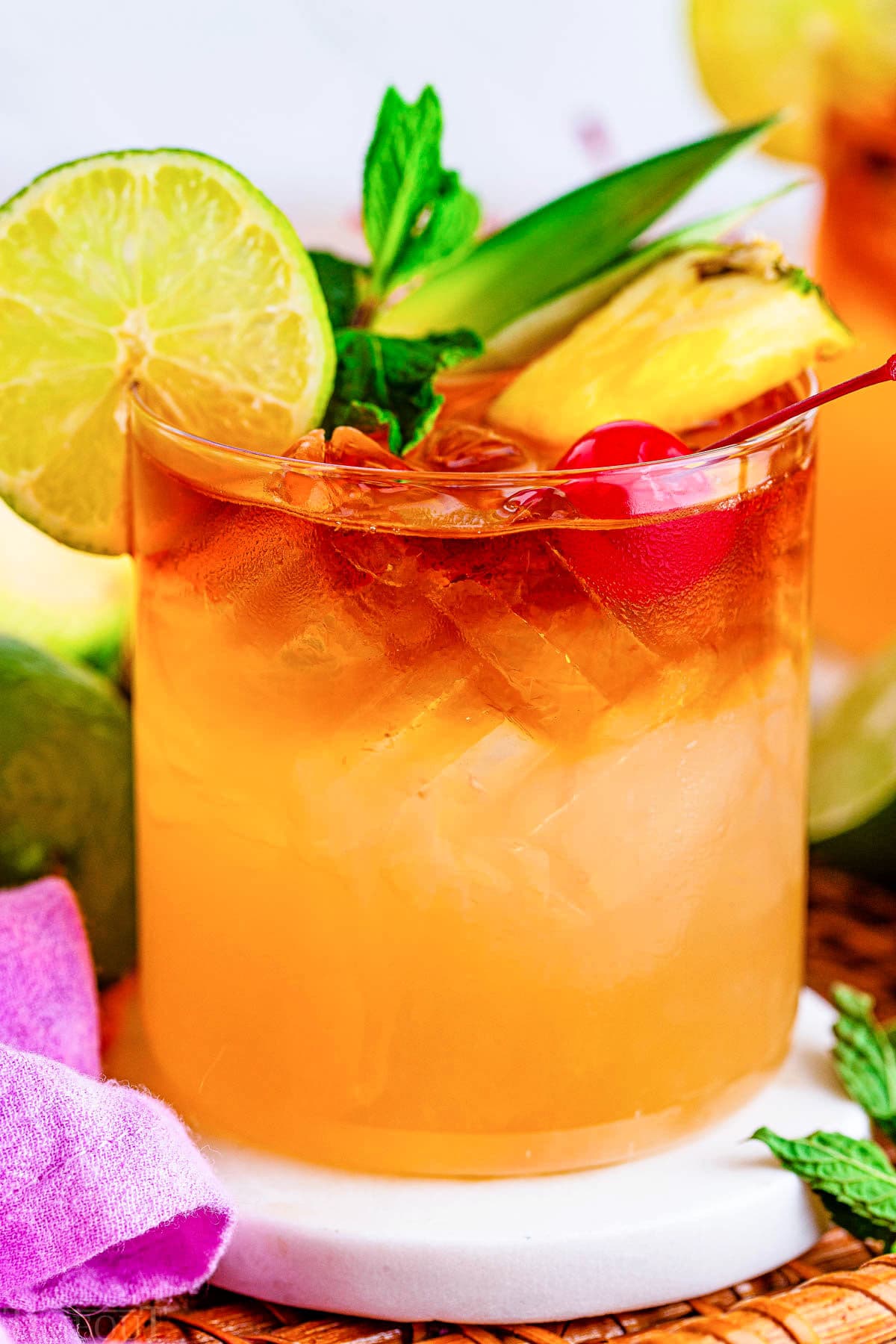 Mai Tai Ingredients
This recipe may seem complex but the unique flavors and special Mai Tai ingredients really set this libation above the rest. No tiki bar necessary (but may be encouraged). What's in a Mai Tai? Let's take a quick look and, as always, you can find the full printable recipe card at the end of this post:
rum – You'll need both white and dark rum for this drink.
lime juice – Freshly squeezed is best.
orange curacao – Triple sec or Grand Marnier can act as substitutes for the orange curacao.
orgeat syrup – This gives the drink a nutty flavor with a hint of citrus.
garnishes – Maraschino cherries, lime slices or wedges, pineapple chunks or wedges, and mint.
ice – To chill everything.
Garnishes are what really take any cocktail to the next level. This Mai Tai cocktail can handle a lot of garnish so don't skimp here!
How To Make A Mai Tai
Planning a seriously amazing pool party? Fantasizing over a backyard Mai Tai bar? Ground that fantasy in a little bit of reality with this deliciously refreshing Mai Tai recipe.
Fill a cocktail shaker with ice. Pour in the white rum, lime juice, orange curacao, and orgeat syrup. Shake vigorously to combine.
Pour this mixture into a glass over ice. Slowly pour the dark rum over top so that it creates a floating layer. Garnish with a maraschino cherry, lime, pineapple, and mint.
Sit back, sip, and enjoy!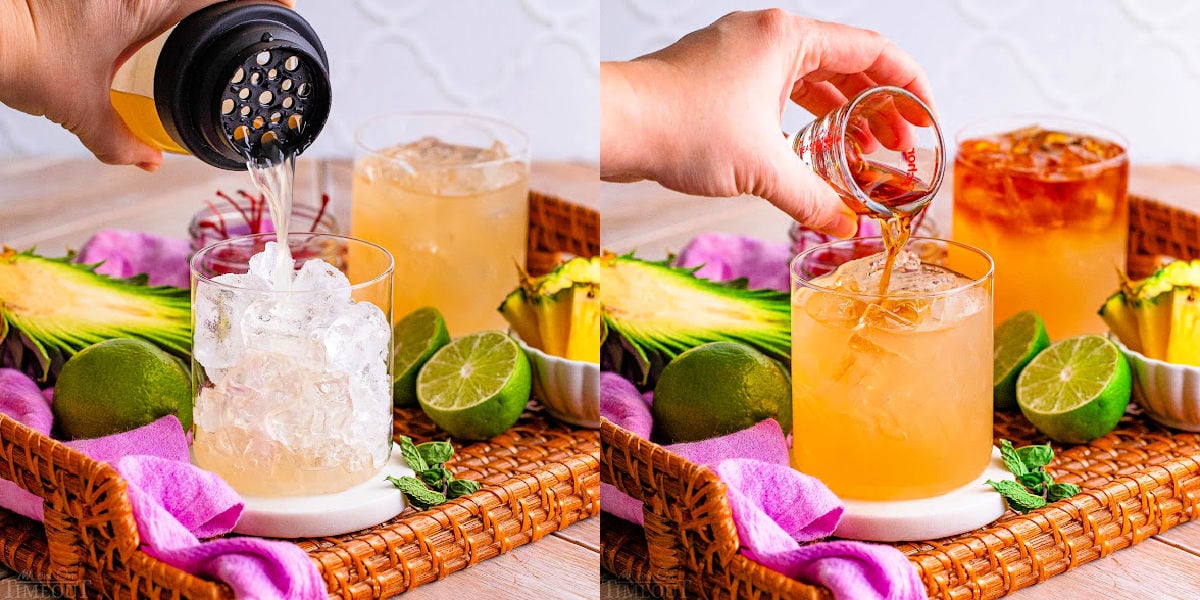 For a tropical twist with a coconut flair, use your favorite coconut rum in this recipe.
Storage Information
This cocktail recipe is best enjoyed fresh. I don't recommend storing for a prolonged period of time. It's best to be made and enjoyed immediately.
FAQs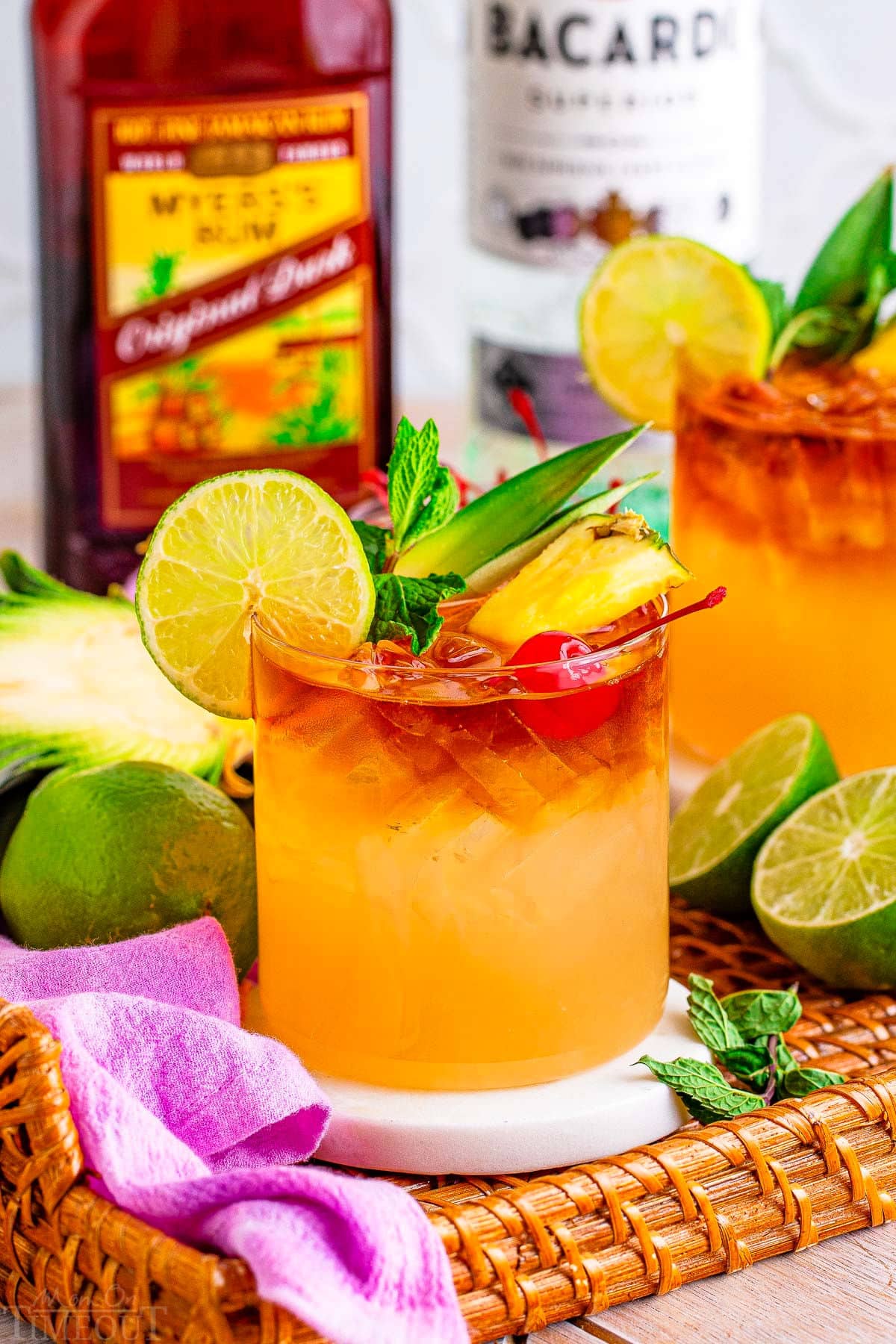 Trish's Tips and Tricks
For and added punch, mix gold and light rum in the base of the drink before floating the dark rum on top. This drink was originally created to showcase the flavors in rum, the traditional recipe is quite strong.
For a coconut version, use coconut rum as your base.
High quality rum really does make a difference in this recipe since the drink is mostly spirits.
More Cocktails You'll Love
How To Make A Mai Tai