My Grandma's 4 Layer Dessert all dressed up for Christmas! You're going to love the all the yummy layers in this Chocolate Peppermint 4 Layer Dessert!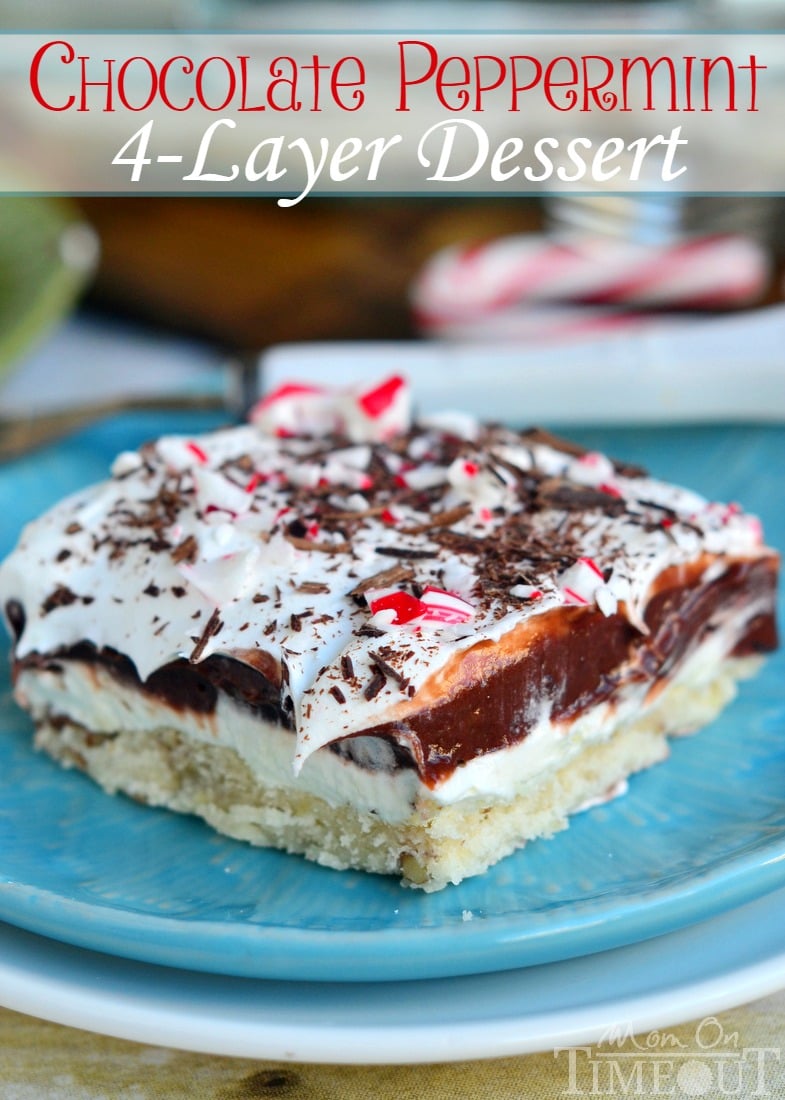 The other day I was flipping through the cookbook that my Aunt Lana had given all the nieces and nephews last Christmas.  I stumbled upon "Grandma's 4 Layer Dessert" and I was instantly flooded with memories.  My Grandma or Aunt Lana would make this dessert for every family get together.  It took different forms with different fillings but one thing always remained the same…
…it was INCREDIBLE!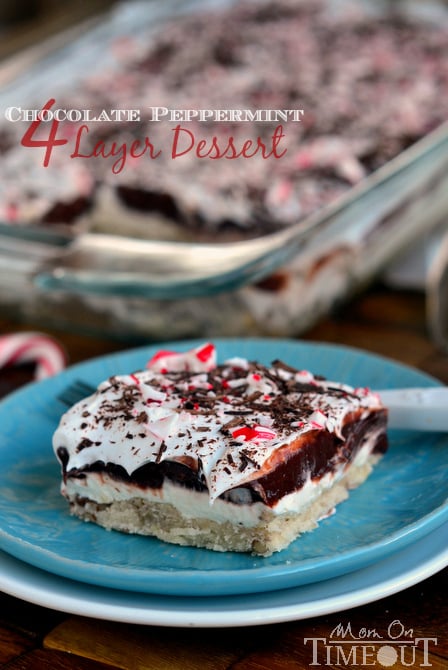 My Grandma would pull out this pan (far larger than a 9×13) and within seconds everyone, big and small, would be storming the table ready to enjoy this fabulous dessert.  The crust is basic but with the addition of pecans there is great flavor and texture.  The second layer is all about creamy goodness with cream cheese and Cool Whip.  The third layer is chocolate pudding and then the final layer is more Cool Whip.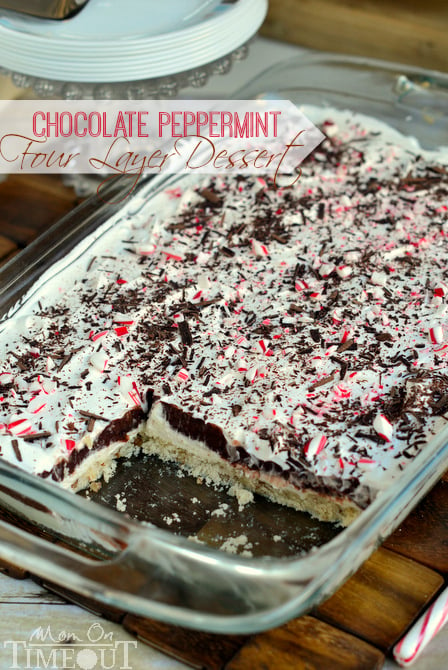 Yeah, I know.  Crazy good.
As I was reading through the recipe and remembering so many parties where I enjoyed this yummy dessert, I realized that I could make just a couple quick changes and it would be just perfect for Christmas!
Bring on the peppermint!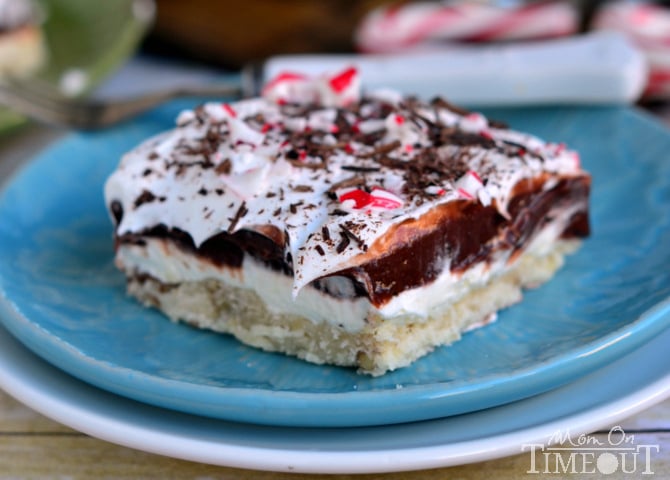 My Aunt Lana makes cakes.  Like wedding cakes.  So she would always add some thing pretty to the top like chocolate shavings, chopped nuts, etc., just to make it pretty.  I added some chocolate shavings and crushed candy canes and it is seriously so pretty!  I just love it!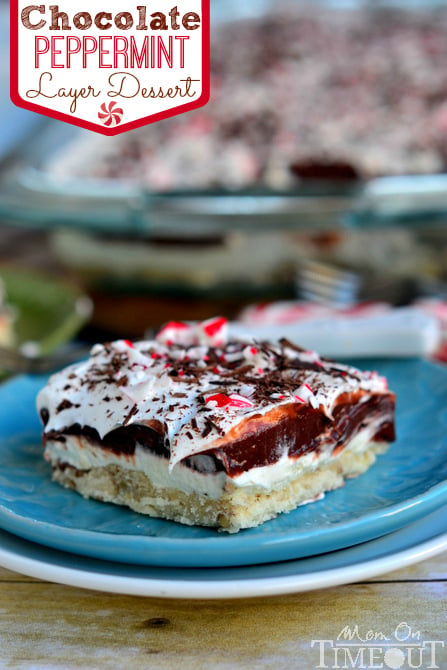 Better than being pretty is the fact that this dessert is totally drool-worthy AND it can be made ahead of time!  Bake off the crust, whip up the other layers and then assemble when ready. I know my Grandma would make this the morning of and pop it in the fridge and it was just perfect when we were ready to enjoy it in the evening.

Chocolate Peppermint 4 Layer Dessert
Author:
Trish - Mom On Timeout
Ingredients
First Layer
1 cup all-purpose flour
½ cup crushed nuts (I like pecans)
¼ cup sugar
½ cup butter, melted
Second Layer
8 oz cream cheese, softened
1 cup powdered sugar
1 cup Cool Whip from 8 oz container
1 tsp peppermint extract
Third Layer
2 (3.4 oz) packages of chocolate instant pudding
3 cups milk
Fourth Layer
Remaining Cool Whip from 8 oz container
¼ cup chocolate shavings
¼ cup crushed candy canes
Instructions
First Layer
Preheat oven to 375 degrees.
Combine ingredients and press into a 9x13 baking dish.
Bake for 10 minutes.
Cool.
Second Layer
Beat cream cheese in a mixer until light and fluffy.
Add in Cool Whip.
Gradually add powdered sugar and mix until thoroughly combined.
Mix in peppermint extract.
Spread on cool crust.
Third Layer
Combine pudding mix and milk and prepare according to package instructions.
Spread over second layer.
Fourth Layer
Top third layer with remaining Cool Whip.
Sprinkle on chocolate shavings and crushed candy canes.
Keep refrigerated.
I don't know but this may be my last peppermint recipe of the season…what do you think?  Are we ready to move on to more Christmas flavors or should we keep going on this fun peppermint kick?  I could totally go either way 🙂
More peppermint recipes I love: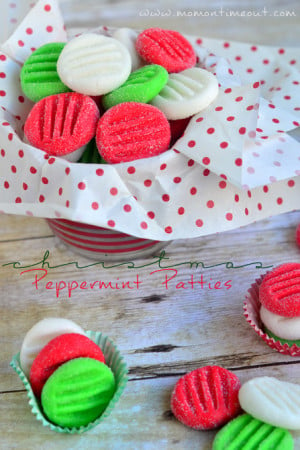 Easy Christmas Peppermint Patties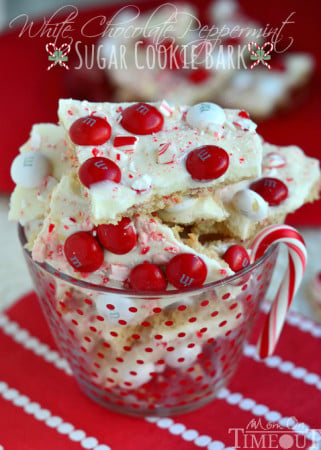 White Chocolate Peppermint Sugar Cookie Bark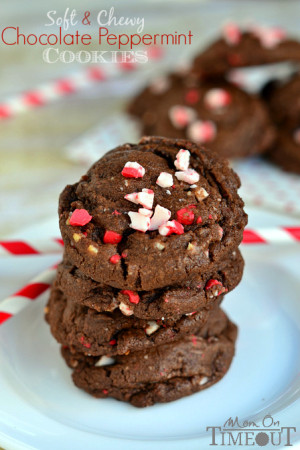 Soft and Chewy Chocolate Peppermint Cookies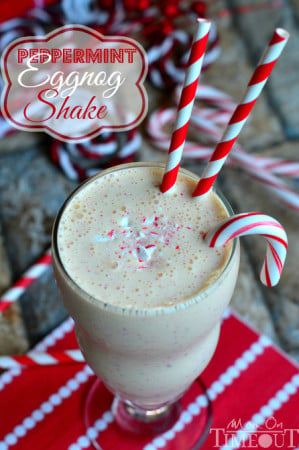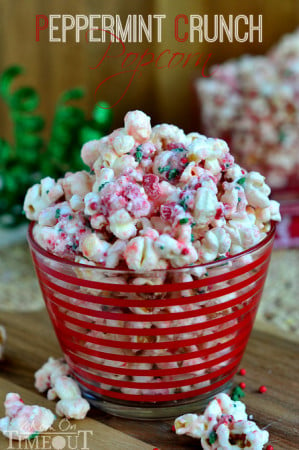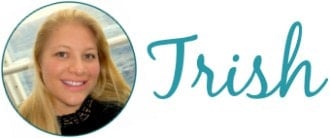 Connect with me!
 Linking up at some of these parties.