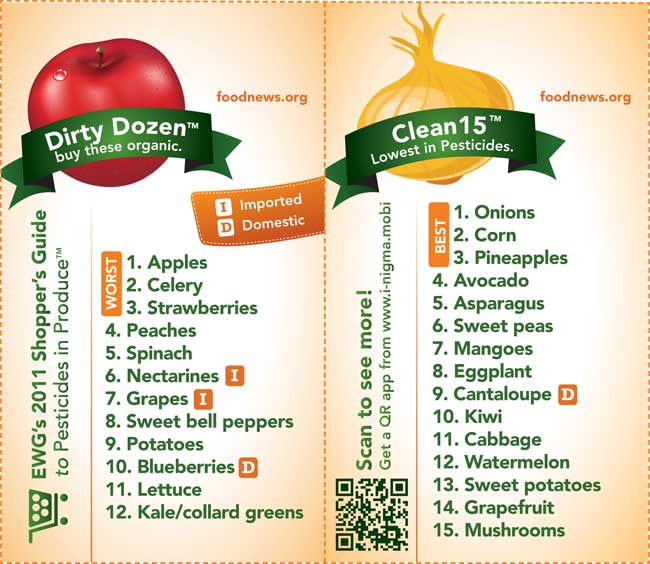 Ever since having Reece five years ago,  we have paid more attention to what foods are consumed in our house. Eating more fruits and vegetables has been particularly important to our family and when possible, we buy organic.
Each year the Environmental Working Group (EWG) releases the
Shopper's Guide to Pesticides in Produce
.  This guide identifies the 12 produce items that have the highest levels of pesticides (
Dirty Dozen
) as well as the 15 produce items that have the lowest levels of pesticides (
Clean 15
).
The list identifies the fruits and vegetables that have the most pesticides on them as they are typically eaten. (That includes washing and peeling where applicable.)  The shopper's guide can help you determine which fruits and vegetables are the most important to buy organic. You can see the full list of 53 fruits and vegetables and their rankings here. I found out about this informative guide a little over a year ago and it has made a difference in my organic shopping habits.
The EWG recommends buying organic whenever possible but I think that most of us cannot afford to buy everything organic – at least I can't! If you can't afford to buy any organics – continue eating fruits and vegetables! The benefits of consuming fruits and vegetables outweigh the risks of pesticide exposure. We all have limited budgets and I think this list is incredibly helpful in determining where your "organic dollars" should go.
My suggestion is to create a price sheet of your favorite grocery stores and farmer's markets to see what the price is for both organic and non-organic produce. Figure out which store has lower priced organic produce and also which produce is only a little more expensive to buy organic than non-organic. I try to buy organic produce when it is less than 25% more expensive. There is a particular grocery store that I shop at where the organic produce is the same price most of the time and sometimes, when the organics are on sale – they're even lower priced than the non-organics! I find that organic apples are very reasonably priced as well as lettuce and greens. Here are the Dirty Dozen and Clean 15 lists:
10. Blueberries (Domestic)
I hope that you find this information helpful – I know I do! Make sure to print out the reference guide for when you are out shopping. You can also download it your android or iphone. Are you buying organic for your family? What do you think of organics?