This butterfly craft is a super fun and easy craft for kids that uses materials you probably already have on hand!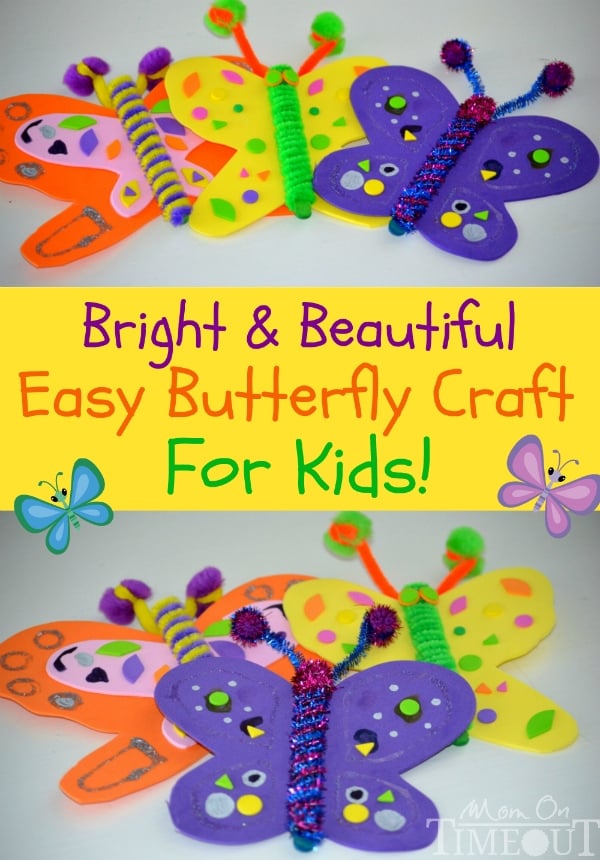 Today I am going to show you how to make these fun and brightly colored butterflies with your kids. This is a really easy craft and you probably have all these supplies on hand.
I must warn you that it is quite addicting because just as you are finishing the first one, another idea will pop into your head and because they are so quick and easy, you think "why not?". Then comes the third, the fourth and so on!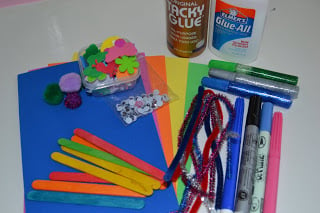 Supplies Needed:
Foam Sheets
Glue
Popsicle Sticks
Pipe Cleaners
Pom-Poms
Optional:
Pens
Glitter Glue
Foam Stickers
Googly Eyes
Instructions: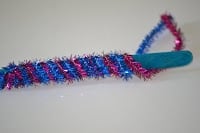 Wrap two pipe cleaners around craft stick (your choice of color). This creates the body of the butterfly. You can wrap the pipe cleaners one at a time, or choose different colored pipe cleaners and wrap them at the same time. This creates a really cool striped effect.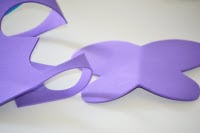 Fold a piece of colored foam in half and draw the butterfly wings. Cut out the wings and unfold. Butterflies come in all shapes and sizes so be creative.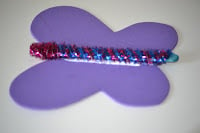 Run a line of glue down the center of the butterfly wings and press the body onto the glue. Depending on your glue and drying time, you may want to place something  heavy (like a book) on top of the body while it's drying. This will make sure the two pieces are glued together securely.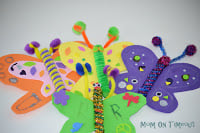 Now it's time to decorate! This is really up to you and what supplies you have on hand. Take a look at my examples to give you some ideas. It can be as simple as using pens or as complex as gluing pom-poms over the entire body 🙂
After you are finished decorating it's time to make the antennae. Using a pipe cleaner and two pom poms, wrap the end of the pipe cleaner around the center of the pom pom tightly.
Fold the pipe cleaner at the length you want your antennae to be and repeat with a second pom pom. You probably will not need the full length of the pipe cleaner, so cut off what you will not be using before wrapping the second pom pom. Reece wanted to use two different colors so anything goes here!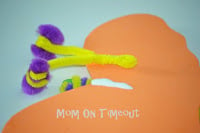 Glue the antennae onto the back of the butterfly, again using something heavy if needed. At one point Reece was in a BIG hurry to play with the butterfly and so we just used a large foam sticker to secure the antennae. We're not picky around here (nor sticklers for rules!).
Here is what Reece came up with when left to his own devices: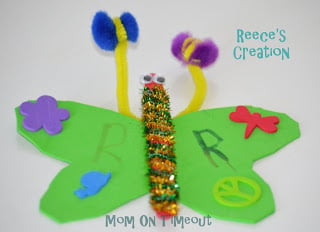 He did everything, the cutting, gluing, pipe cleaners – he did it all! He was obviously proud of his masterpiece because he marked it quite clearly with an "R" – twice!