Cheesy BBQ Chicken Bacon Pinwheels make an amazing dinner OR appetizer any night of the week!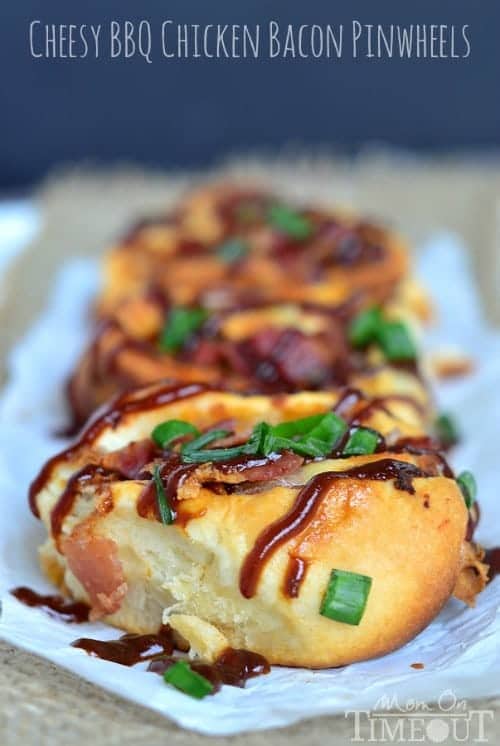 This past week has been crazy.
We've had Easter parties, egg hunts, food drives, swim practice every night and I've been packing all week for our vacation this coming week.  Bryce has got hurt pretty much every day.  Like serious scrapes and I'm getting kind of nervous because it's a rare trip to Disneyland that doesn't land us in Urgent Care or the ER.
He's got the scars to prove it too.
Meals have been easy this week.  Quick, pull 'em together type meals that cause me less stress and keeps the family happy.
After the rave reviews my family gave the Bacon Cheeseburger Pizza Pinwheels and the Chicken Cordon Bleu Crescent Rolls, I had a good idea for a new dinner option and this may just be our most favorite yet.
Because time is just not on my side as of late, I picked up a rotisserie chicken to make this even easier.  Shredded rotisserie chicken, your favorite bbq sauce, crunchy baked bacon (I used Hormel Thick-Cut – the bomb!), some shredded cheese, sliced green onions, and Pillsbury Crescents (I used the reduced fat.)
Magical people. Seriously magical.
Whether you make up this pinwheels for dinner or are serving them as appetizers to your favorite people – you are going to hear the oohs and aahs fo' sho.
Cheesy BBQ Chicken Bacon Pinwheels
Cheesy BBQ Chicken Bacon Pinwheels make an amazing dinner OR appetizer any night of the week!
Author:
Trish - Mom On Timeout
Ingredients
1 can Pillsbury Crescent Rolls
1½ cups shredded cheese (cheddar, mozzarella, swiss, etc.)
1½ cups shredded rotisserie chicken
½ barbecue sauce
8 slices Hormel thick-cut bacon, cooked and chopped
3 green onions, sliced
Instructions
Preheat oven to 375°F.
Combine rotisserie chicken and barbecue sauce.
Remove crescent rolls from can and lay out in a long rectangle. Pinch the seams together well. (See here for more details.)
Sprinkle cheese on top of crescent rolls.
Sprinkle chicken and bacon.
Drizzle with additional barbecue sauce if desired.
Top with sliced green onions.
Roll up like a cinnamon roll and cut into 8 rolls.
Place in a lightly greased pie pan or 9-in square baking dish and bake for 18-20 minutes or until golden brown.
More yumminess for the fam:
Bacon Cheeseburger Pizza Pinwheels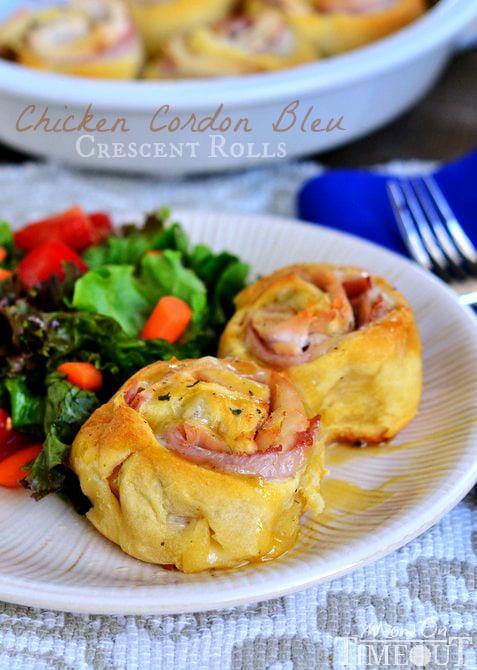 Chicken Cordon Bleu Crescent Rolls
Philly Cheese Steak Potato Skins 
Connect with me!
 Linking up at some of these parties.