Carrot Zucchini Apple Bread is a delicious way to use up some of that zucchini that keeps cropping up over night!
Don't miss any of my recipes! Sign up to get my new recipes in your inbox! Follow me on Facebook and Instagram too!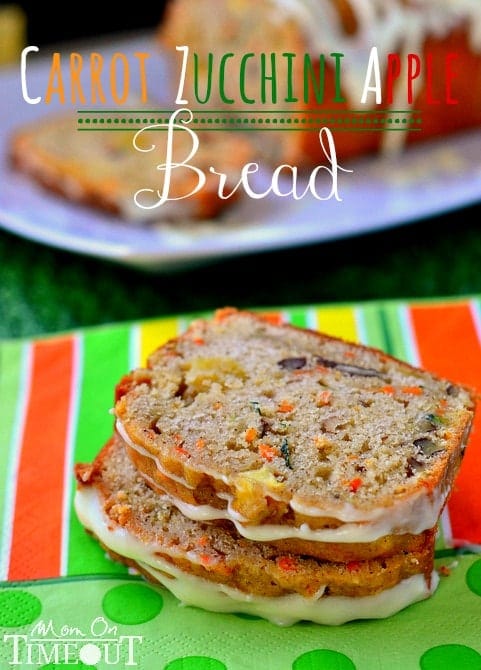 Well it's definitely zucchini season again!  Zucchini plants just LOVE the heat and with our fabulous triple-digit heat wave that we just went through my zucchini plants are in HEAVEN! Zucchini is such an amazing vegetable because it can used in both sweet and savory dishes.   Zucchini can be grilled, roasted, and even fried!  My mom used to make fried zucchini and OMG.  That stuff is dangerous!  We used to dip those babies in ranch…wowza!  It was so good!
Now y'all know I love to bake with zucchini too right? Brownies, cake, cookies, quiche (my all-time FAVE!) – you name it – I'll bake it!  When I'm making something for my family that starts with all of this…
…I have to admit, it feels pretty darn good.  Better than that, the boys will chow down on this bread like there's no tomorrow.  Sometimes I add the frosting, sometimes I don't. The bread is sweet enough on it's own – for sure! – but a little frosting sure goes a long way in selling this bread as "cake" to the boys :)
I just love seeing all the bright, beautiful colors in this bread and the yummy chunks of apple – SO GOOD!
What's your favorite way to enjoy zucchini?
Carrot Zucchini Apple Bread
Recipe adapted from The Costco Connection.
Author:
Trish - Mom On Timeout
Ingredients
1 cup unsalted butter, melted
2 cups granulatd sugar
3 eggs, room temperature
¼ cup fresh orange juice
1 Tbls vanilla extract
3¼ all-purpose flour
½ tsp salt
2½ tsp baking powder
¾ tsp baking soda
1 Tbls cinnmamon
pinch of ground cloves
pinch of ground nutmeg
2 cups shredded carrots
1 cup shredded zucchini (unpeeled)
1 cup diced, peeled apple
½ cup pecans, chopped (optional)
Frosting
½ cup cream cheese, softened (I use light)
¼ cup unsalted butter, softened
2 - 3 cups powdered sugar
1-3 Tbls orange juice as needed
Instructions
Preheat oven to 350 degrees.
Grease and flour two 8x4 inch loaf pans.
Blend butter, sugar, egg, orange juice, and vanilla together.
Combine flour, salt, baking powder, baking soda, cinnamon, cloves, and nutmeg together.
Fold dry ingredients into wet along with carrots, zucchini, apples, and pecans.
Pour into prepared pans.
Bake until golden brown, approximately 1 hour, or until loaves spring back when gently pressed with fingers.
Let cool before icing.
Frosting
Cream together cream cheese and butter. Add in powdered sugar and continue mixing. Drizzle in orange juice until desired consistency is achieved.
Frost bread and enjoy!
Zucchini recipes from friends:
Zucchini and Squash Gallete from Crazy for Crust
Fried Zucchini from Chocolate, Chocolate and More
Zucchini Lasagna from Crumbs and Chaos
More zucchini goodness!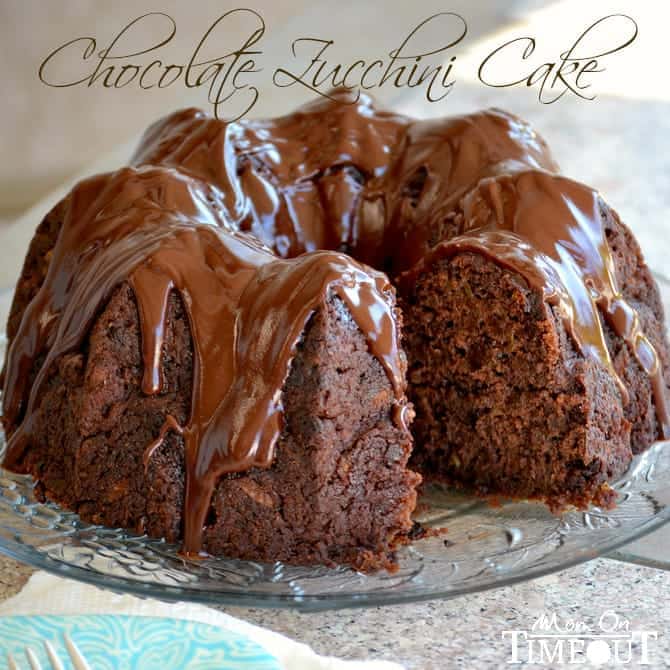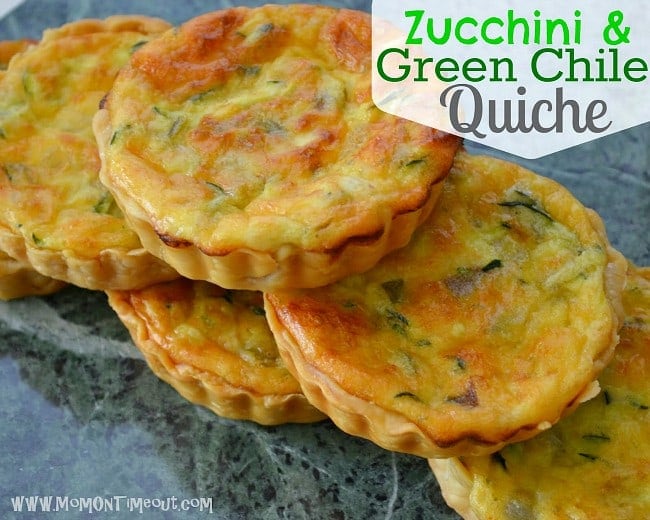 Zucchini and Green Chile Quiche
Zucchini Carrot Oatmeal Cookies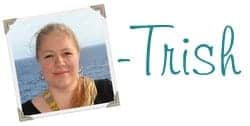 Connect with me!
 Linking up at some of these parties.