Sweet and crunchy, these Sugar and Spice Pecans are just bursting with amazing flavor!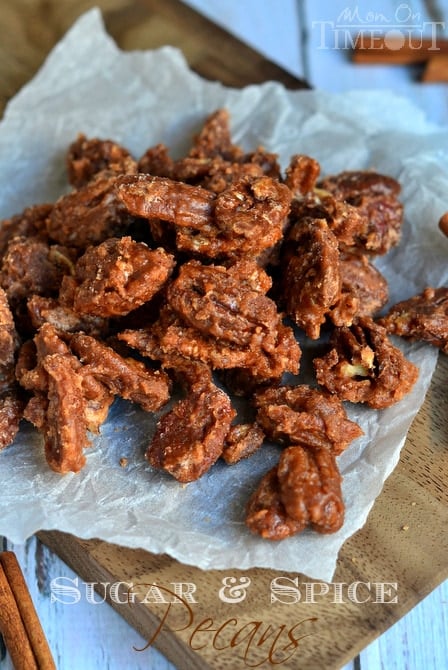 Pecans have always been my favorite nut. I think it's because walnut allergies run rampant in my family and so we all kind of steer clear of them – unless they've been cooked! It's not a super severe allergy or anything. It just kind of makes my mouth feel raw. However, since I am a total nut-lover, I often endure the discomfort for that wonderful walnut taste 🙂
But, I digress.
We're talking pecans today. Sugar and Spice Pecans to be specific. Think of the awesome flavor that a sugared pecan has and then add cinnamon, nutmeg, and cloves to the mix. Trust me, you can't eat just one.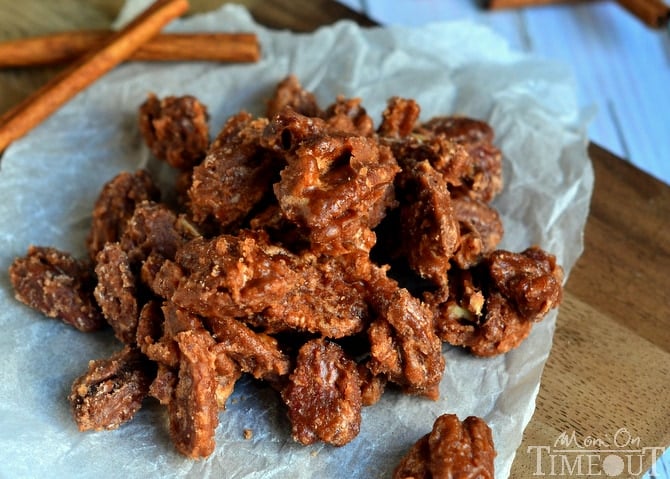 I realize I probably should have shared this recipe a few months back but we all know I was on a peppermint kick that just.would.not.stop. So I'm sharing now…forgive me? While these nuts would OF COURSE be perfect for the holiday season, they really, REALLY should be made year-round. These tasty nuts would be perfect for hostess gifts, teachers, parties, the super bowl – you name it!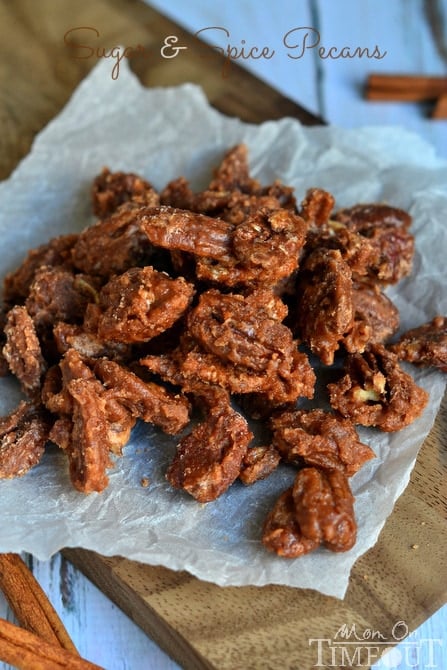 I brought these to my sister's house the other day for a after-Christmas party and received RAVE reviews. Those are the kind I particularly like 🙂  If you are a pecan lover like myself, do yourself a favor and make these. NOW. They take less than 20 minutes to make and are worth every second. You may find yourself making double batches in the future and you will find no judgement here. I understand completely.
Sugar and Spice Pecans
Sweet and crunchy, these Sugar and Spice Pecans are just bursting with amazing flavor!
Ingredients
3

cups

pecan halves

1 1/2

cups

granulated sugar

1

tbsp

ground cinnamon

1/4

tsp

ground cloves

1/4

tsp

allspice

1/4

tsp

ground nutmeg

1

tbsp

vanilla

1/2

cup

water
Instructions
Preheat oven to 350 degrees.

Sprinkle the pecans on a large baking sheet in a single layer.

Roast for 8 minutes, stirring once. Remove pecans from baking sheet and place in a bowl. Set aside.

Generously butter the baking sheet.

Combine sugar and spices in a small bowl and mix until thoroughly combined.

Combine sugar mixture, vanilla, and water in a heavy-bottomed 2 qt saucepan.

Bring to a boil over medium heat, stirring until the sugar completely dissolves.

Continue cooking at a medium boil for five minutes. Remove from heat.

Stir mixture vigorously for 1-2 minutes until bubbling subsides.

Immediately add the pecans and stir until the pecans are coated.

Quickly pour the pecans onto the buttered baking sheet and separate with a fork.

Let cool for a few minutes before storing in an airtight container.
Nutrition
Calories:
290
kcal
|
Carbohydrates:
30
g
|
Protein:
3
g
|
Fat:
20
g
|
Saturated Fat:
2
g
|
Sodium:
1
mg
|
Potassium:
112
mg
|
Fiber:
3
g
|
Sugar:
26
g
|
Vitamin A:
15
IU
|
Vitamin C:
1
mg
|
Calcium:
26
mg
|
Iron:
1
mg
Put these on your must-make list for 2014 and come thank me later 🙂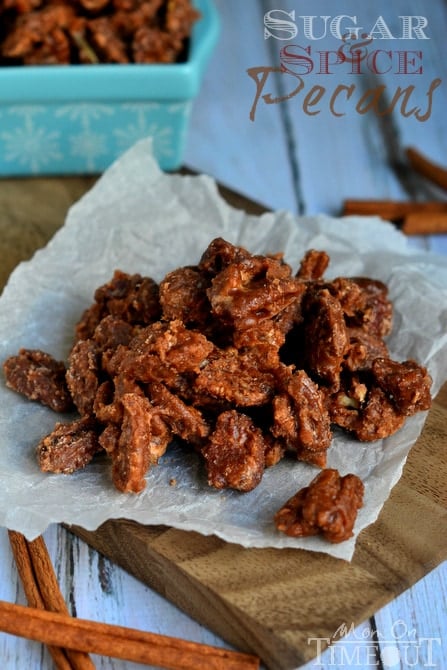 More treats to love: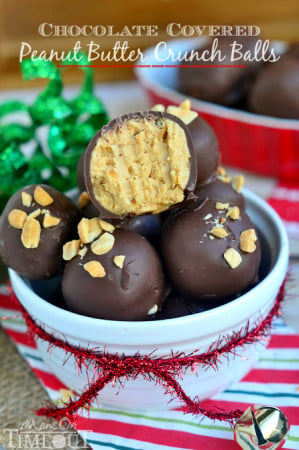 Chocolate Covered Peanut Butter Crunch Balls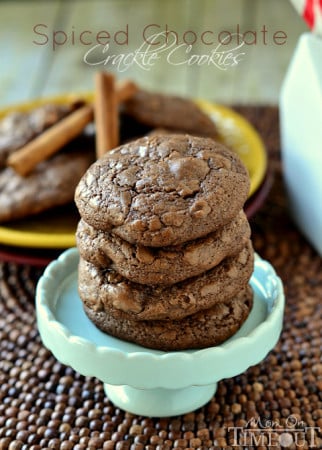 Spiced Chocolate Crackle Cookies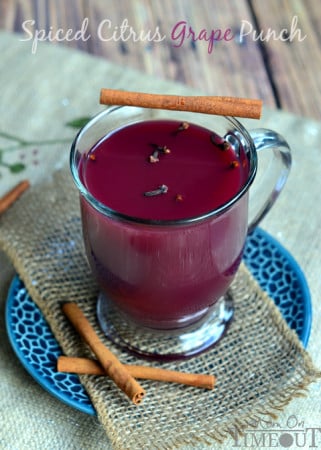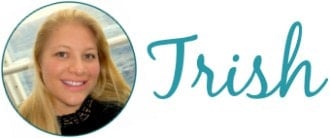 Connect with me!
 Linking up at some of these parties.