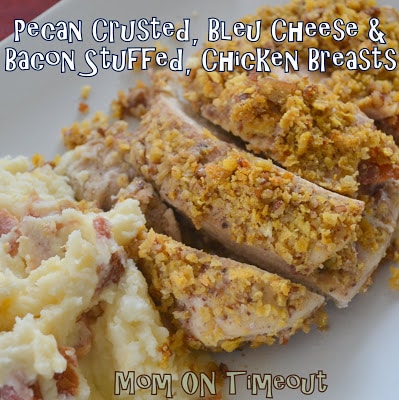 I won't try to convince you this recipe is healthy but I can tell you it's delicious! The classic combination of bleu cheese and bacon stuffed inside a chicken breast is out of this world! Add a pecan crust and this chicken is
A-M-A-Z-I-N-G!!!!
The presentation of this recipe is so elegant, it is the perfect dish to serve to guests and yet easy enough to make on a weeknight. This has been one of my family's favorite recipes for years and if you like
bleu cheese
and
bacon
you are definitely going to want to give this one a try!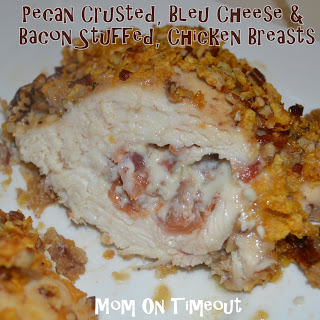 Ingredients:
4 slices of bacon
1/2 c bleu cheese
1 1/2c crushed cornflakes
2/3 c finely chopped pecans
2 tsp olive oil
1/3 c honey
2 Tbls Dijon mustard
1/2 tsp salt
1/2 tsp pepper
1/4 tsp each of garlic powder, paprika, Italian seasoning
1/8 tsp each of chili powder, cayenne
Directions: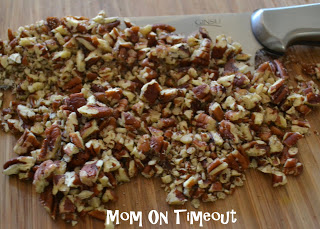 Chop the pecans finely. You want to be able to recognize what they are but make them small enough so they act as a crust.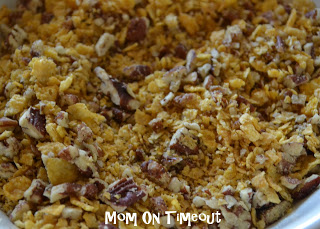 Combine the chopped pecans with the crushed cornflakes and set aside.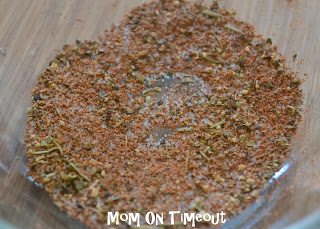 Combine the spices and seasoning in a small bowl and set aside.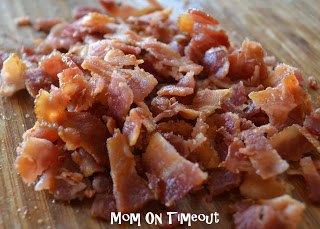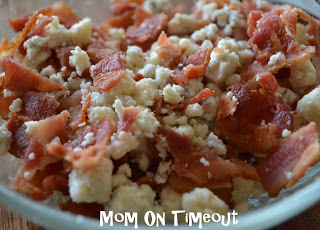 Combine the bacon and blue cheese together in a small bowl and set aside.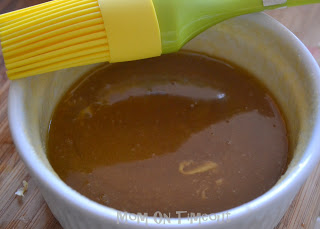 Combine the Dijon mustard and honey together in a small bowl and set aside.
Now the prep is all done!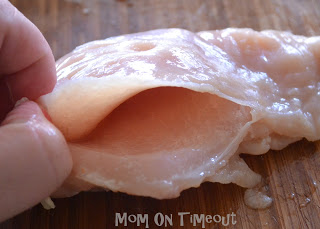 Cut a pocket in each of the four chicken breasts. Make sure you don't cut all the way through the breast.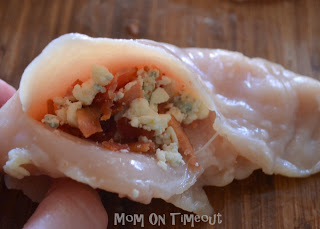 Stuff each breast with one quarter of the blue cheese and bacon filling.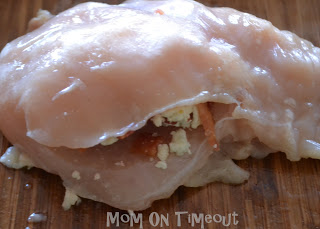 Push the top of the breast down so that the pocket is closed. We don't want any of this delicious filling falling out!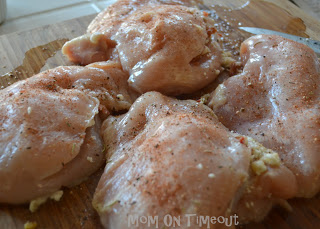 Season the breasts on both sides with the seasoning mix.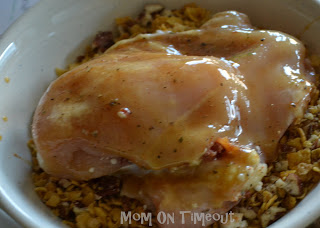 Coat both sides of the chicken with the Dijon and honey mixture. 
Dredge the breasts in the cornflakes and pecan mixture.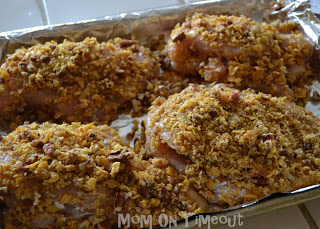 Line a baking sheet with foil and drizzle with olive oil.
Bake at 400 degrees for 20 – 25 minutes or until chicken is cooked through.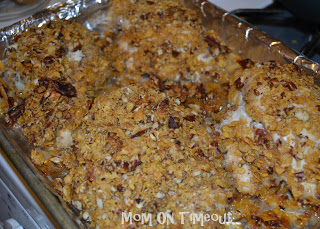 Let the chicken rest for a few minutes before serving.
I love serving this with bleu cheese and bacon mashed potatoes. YUM!