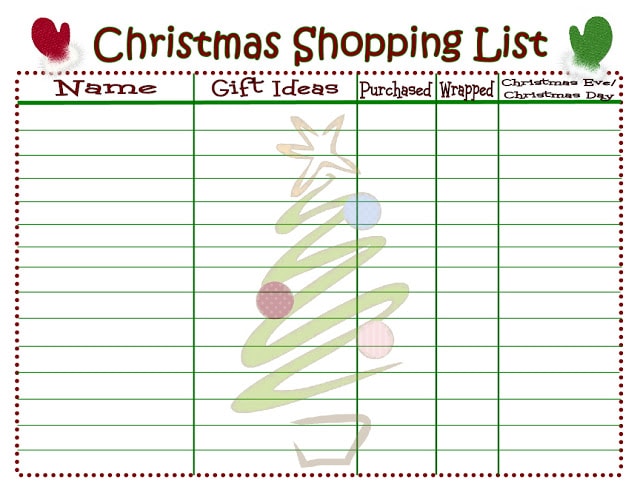 Lists. I really, really love lists! They are what get me through each day and with only 12 days till Christmas it's time to start getting organized. Do you still have people to shop for? I do! This shopping list will keep you on track through the whole "Present Preparation Process". I even threw in an extra column for those of you who celebrate Christmas on both Christmas Eve and Christmas Day like myself.
Have you ever had to dig through a pile of presents trying to make sure you are bringing the right presents to the right party? I have and it's not pretty. Since we have more than one tree in our house, I like to put all the presents that are for Christmas Eve under one tree and the presents for Christmas Day under a different tree. This way, on Christmas Eve, when we are rushing to get out of the house and make the  hour long drive to my Grandma's, I know exactly where all the presents are and I can get them loaded up without a nervous breakdown (key to a successful Christmas Eve!). Here is a Christmas Shopping List printable to keep you organized in style. You can print the list out here or right-click on the image above and hit save as.
Connect with me!
Facebook | Twitter | Pinterest | Google+ | RSS
 Linking up here, Home Stories A2Z, and My Repurposed Life.