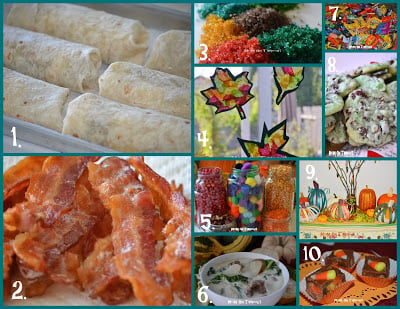 The past six months have been so exciting and full of learning. My blog is almost 6 months old and I've had so much fun posting about great recipes, crafts, and more. When I started my blog I told my husband I wanted to give it six months and see where it took me. Never in my wildest dreams would I have ever thought that I would be where I am now. It has been such an amazing journey and I am so looking forward to the next six months and beyond. Here are the ten posts that received the most views this past year.
This first post – "Breakfast Burrito Bonanza – A Freezer Meal Idea" – has had over 71,000 views (and counting!) in under 5 months which is just crazy talk. I'm just glad you guys like breakfast burritos 🙂  The idea behind this post was to come up with a convenient yet yummy breakfast. My husband loves taking these to work with him because he feels like he's getting a home-cooked hot breakfast. Just add some salsa and you are good to go!
Coming in second is my "Baking Bacon" post. A step by step guide on how to make perfect bacon every time.
Third most popular post is on
"How To Make Colored Sugar"
. I came up with this fun idea because I had run out of colored sugar and my boys needed to decorate! I shared this with my Grandma and Aunt at our annual cookie decorating party and they were like "No way!" Yep. So easy and will save you tons of money in the future.
Fourth most popular was this "Stained Glass Fall Leaves" tutorial using tissue paper. A really fun way to add a stained glass look to any shape you desire.


Coming in at number five is "Two Easy Ways To Remove Jar Labels". I love reusing jars and thought I'd share my solution for dealing with those pesky labels.


"Olive Garden Zuppa Toscana Soup"
was the sixth most popular post. This soup is a must-have when I go to Olive Garden. I love making this at home too because it just warms you from the inside out. DELICIOUS!
Coming in at number seven is
"10 Creative Ideas For Leftover Halloween Candy". 
 If your kids get way too much candy at Halloween (like mine!) then you might want to check out my ideas for using it up.
This delicious recipe for
Mint Chocolate Chip Cookies
comes in at number eight. So yummy and green to boot! Can't go wrong here 🙂
Number nine is my Scrappy Pumpkins.  A fun way to use up extra scrapbook paper and decorate for the Fall. Beautiful, easy, and fun – a perfect craft!
And finally rolling in at #10 is my Candy Corn Fudge post. Combining two of my favorites into one ridiculous good recipe!
I can't wait to see what 2012 brings!