Skillet Bacon and Broccoli Macaroni and Cheese is the perfect dinner recipe for busy weeknights! Easy and delicious!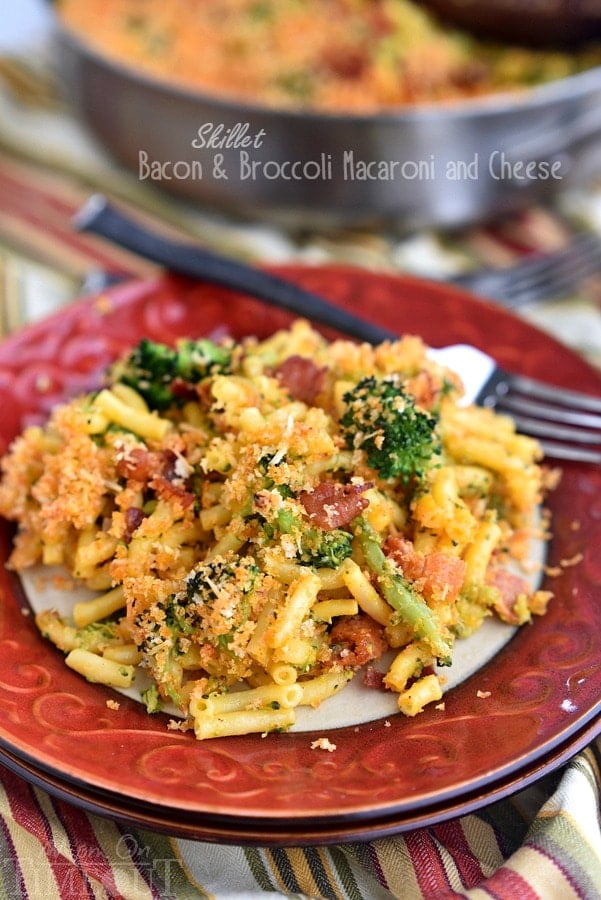 If there's one thing I can count on my boys eating, ahem, devouring and then licking the bowl clean, it's got to be mac and cheese. It's probably their number one request for lunch time and now it's a request I can acquiesce to and feel good about.  Horizon® Mac & Cheese has found a permanent place in our home for sure!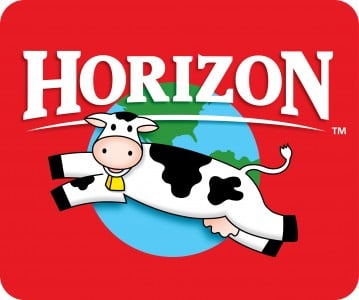 Made with organic pasta and organic cheeses, it's a great choice when life gets busy. But I have to say, it's not just for lunch and kids.  After the boys sampled a few boxes, I decided to amp it up for a more dinner-ish version, Skillet Bacon Broccoli Macaroni and Cheese and it was a HUGE success.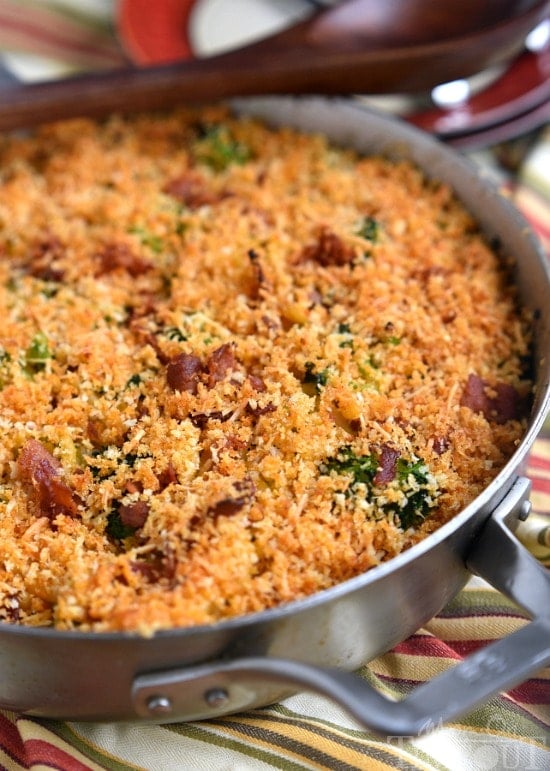 I'm a sucker for skillets and love how pretty and fun it can make of the most average of meals.  I topped the mac and cheese, broccoli and bacon with a panko-Parmesan crust that browns up quickly in the oven.
That added crunch may just be my favorite part. Besides for the bacon. And the mac and cheese of course 🙂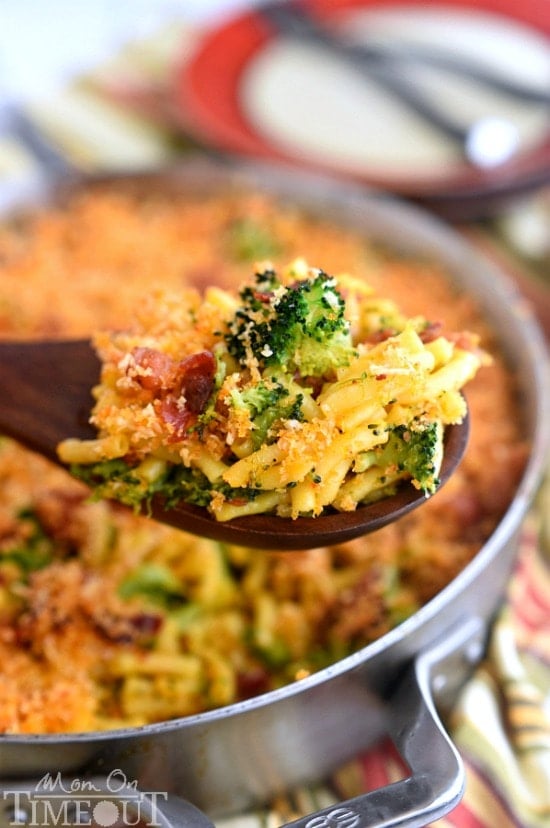 Loaded with broccoli in every bite, this skillet recipe is a meal unto itself. I put a TON of broccoli in there and the boys didn't leave a speck in their bowls. That, I consider a success. I made this recipe one night right before basketball practice and it was the perfect way to fuel the boys for the evening.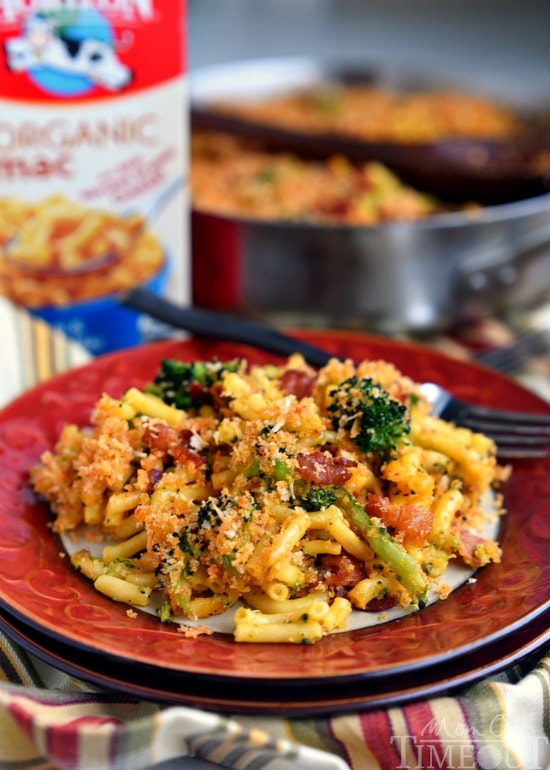 Skillet Bacon and Broccoli Macaroni and Cheese
Author:
Trish - Mom On Timeout
Ingredients
2 boxes Horizon® Macaroni & Mild Cheddar Cheese
½ cup Horizon Organic® Milk
4 tbsp Horizon Organic® Butter
12 oz broccoli florets, cooked to crisp-tender
½ lb bacon, cut into ½ inch pieces
1 shallot, diced
Topping
¾ cup panko bread crumbs
2 Tbls butter, melted
½ tsp paprika
¼ cup shredded Parmesan cheese
Instructions
Prepare mac and cheese according to box instructions.
Meanwhile, brown bacon in a large skillet. Remove with a slotted spoon.
Remove all but 1 tablespoon of bacon grease.
Saute shallot in skillet until translucent.
Return bacon to skillet and stir in broccoli.
Stir in prepared mac and cheese.
Combine topping ingredients in a small bowl and sprinkle over the top.
Place in oven for 15-20 minutes or until topping is lightly browned.
Serve immediately.
If you're stuck in the kitchen wondering what to make for dinner, make sure to check out the
Horizon MAC-N-ATOR™
. This online tool makes a recipe out of ingredients you have on hand! Love!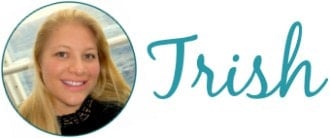 Connect with me!
 Linking up at some of these parties.
Enjoy Horizon Mac & Cheese as a versatile meal and keep your family happy.  Try different vegetables in the dish to promote alternative uses of Horizon products or let your imagination take over.
Horizon is a pioneer in the organic industry.  Every choice they make is carefully considered with National Organic Program (NOP) guidelines in mind.  Horizon Mac & Cheese is made with these guidelines and the happy family in mind.  For more information, visit Horizon's website for more information. 
This conversation is sponsored by Horizon. The opinions and text are all mine.