It is SO good to be back home!  While my boys don't agree with me, vacationing at Disneyland can be incredibly exhausting.  I guess they slept the whole way home so they recovered more quickly 🙂  I don't want to bore you (too much!) but I thought I'd share some of my favorite pics from our trip…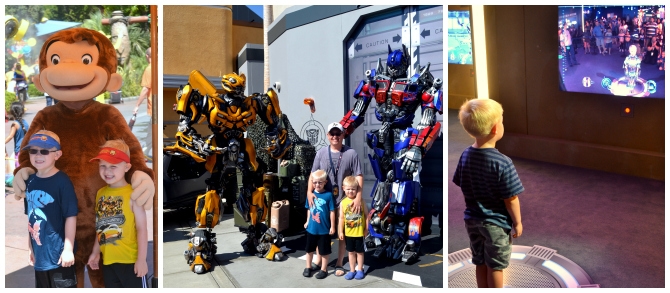 We stopped by Universal Studios before we headed to our hotel and the boys got nice and wet at the Curious George splash park and then got a pic with Curious George.
Then.  The highlight of my young boys' lives.  Optimus Prime and Bumblebee.  I can't even begin to describe how excited they were.  Bryce was literally jumping up and down and then Optimus said something about how he must be on Bumblebee's team because he was wearing a yellow Bumblebee shirt – I think Bryce almost fainted.  Very, very cool attraction.
So this next pic is from Disneyland.  They had a special Iron Man suit display and (if you were willing to wait in a very long line…) the kids were able to do this demo thing where they stood in front of a screen and then they watched themselves being dressed in an Iron Man suit and then went through a training series where they learned how to shoot and fly.  Needless to say, both boys took the training very seriously.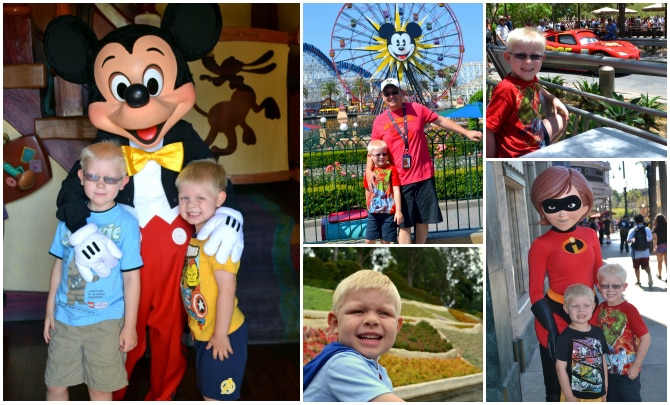 We finally got a shot with Mickey in his house – very fun!
Years ago we had managed a pic with Mr. Incredible but now we've got one with Mrs. Incredible too!!
If you're ever at Disneyland, eat lunch outside of Flo's.  We saw Mater and Lightning McQueen pass by several times.  It was like lunch and a show!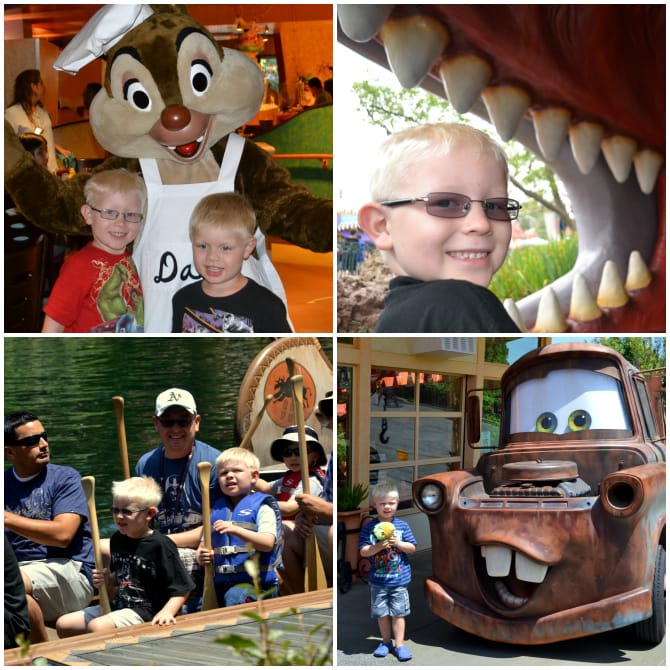 We met lots of characters at Goofy's Kitchen.
I got this awesome shot of Reece as we went through Monstro's mouth on the Storybook Canal boat ride.
The boys did the canoeing while I hung back, too pics, and finished my fudge in peace.
Bryce is holding Skully from Jake and the Neverland Pirates while getting his picture with Mater.  He wouldn't put that bird down.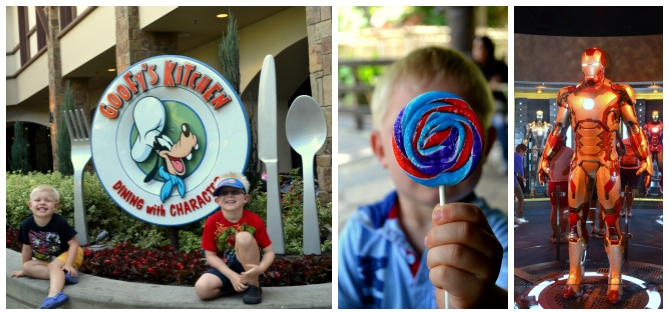 Our favorite place to eat at Disneyland – Goofy's Kitchen.
Bryce picked lollipops for his treat.  Big surprise there 🙂
One of the Iron Man suits on display.
…and now back to our regularly scheduled program…
What I've been up to…not much really… 🙂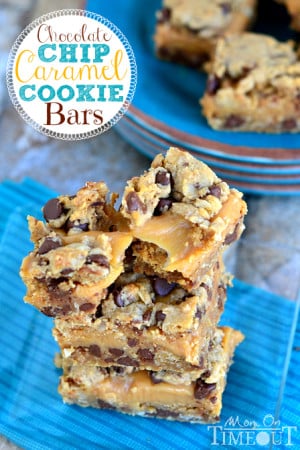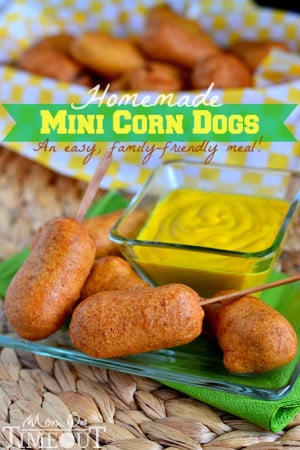 Chocolate Chip Caramel Cookie Bars | Homemade Mini Corn Dogs
Oh yeah!  I'm also giving away….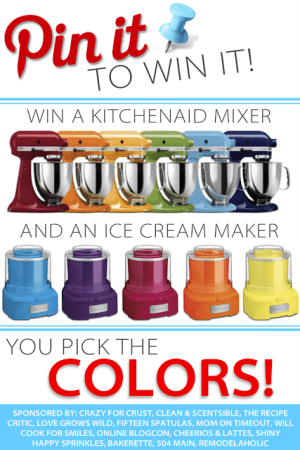 Pin It To Win It: KitchenAid Mixer and an Ice Cream Maker!!
*********************************************

Check out one of my favorite ways to make money blogging!
Please take the time to visit this week's features…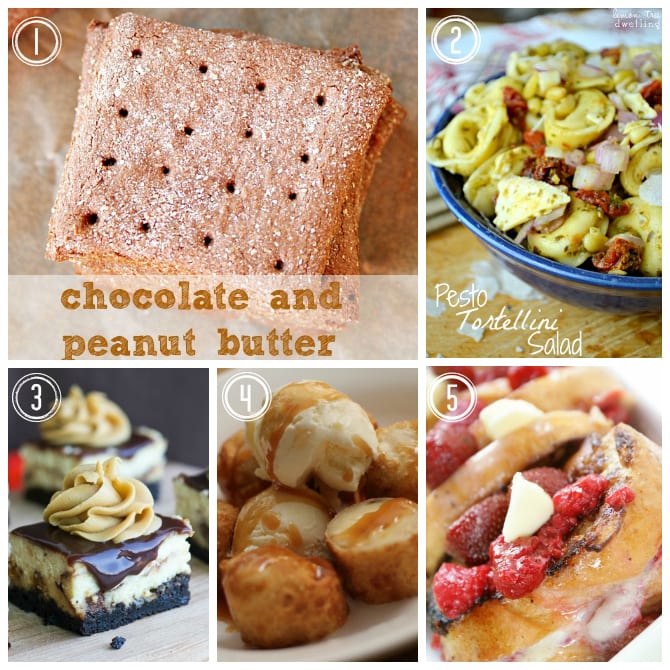 1. Chocolate and Peanut Butter Graham Crackers from Heather's French Presss
2. Pesto Tortellini Salad from Lemon Tree Dwelling
3. Reese's Butterfinger Cheesecake Bars from Tastes of Lizzy T
4. Banana Spring Rolls with Caramel Sauce from Handmade in the Heartland
5. Honey Berry Stuffed French Toast from Living Better Together
**********************************************************
If you have been featured here grab a button from my buttons tab! 
I have a few easy, peasy rules for everyone to follow:
-Posts must be family-friendly.
-Please visit other posts and leave a friendly comment.
-No Etsy shops or giveaways.
-Follow Mom On Timeout.
Grab my button (or link back)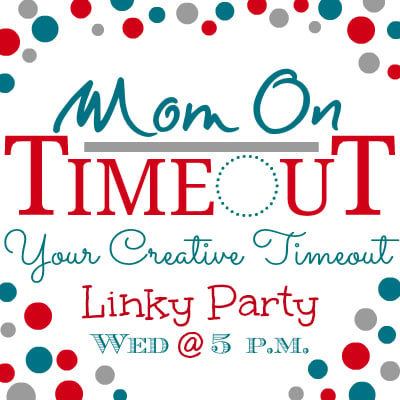 Each week I will feature the most clicked on links as well as my favorites.  I also pin and share on Facebook.  Thanks for taking a timeout with me!
Please remember to visit a few other posts while you're here and leave a comment - everyone loves comments!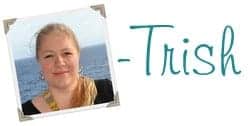 Connect with me!