Show some appreciation to your child's teacher with this fun Teacher Survival Kit Gift Idea! Perfect for back to school or Teacher Appreciation week!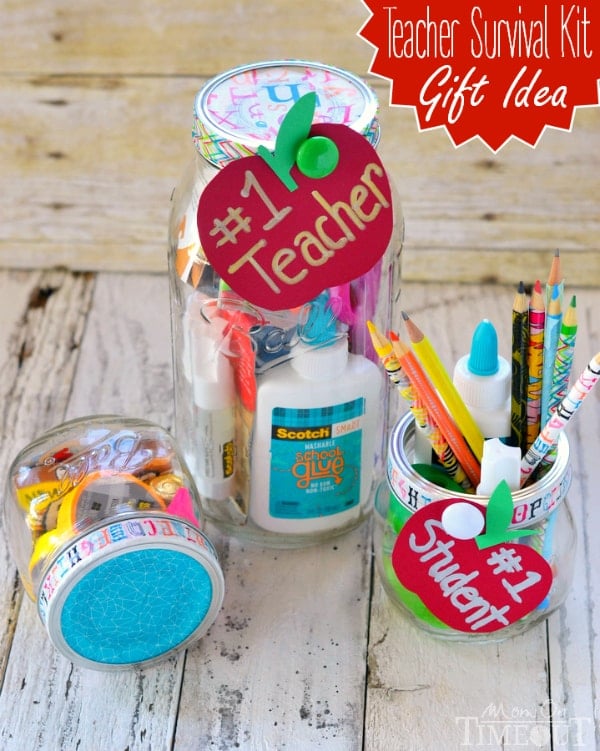 My little sister, Ashley, finally got a full-time teaching position a couple of weeks ago and I couldn't be happier for her. Ever since she and her husband moved to Virginia a couple of years ago, so Jason could attend vet school, she has been working as a substitute while tirelessly searching for a teaching position.
It finally happened!
She's teaching first grade and is just so excited about her class. Also? She's totally exhausted. Teaching is hard work people. Not just physically and mentally, but those teachers out there, the good ones, they really care about your kids. They are emotionally invested in the success and well-being of your child.
Knowing full well that I would quickly be escorted off the premises should I ever attempt teaching 20+ young children, I fully, 100% appreciate the effort and abilities of my kid's teachers. Truly.
I personally think teachers deserve a gift each and every day of the week, all year long. Buuut especially at the beginning of the school year when the class is so new and the work is so overwhelming, as well as during Teacher Appreciation Week.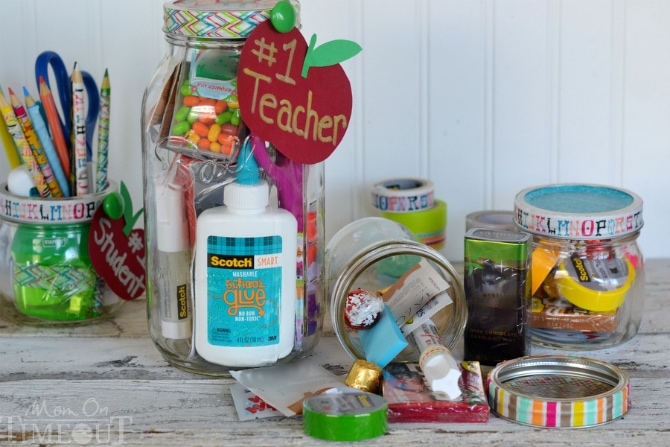 Today I'm sharing a fun little gift idea that will help your kid's teacher survive the daily stresses of teacher. You know, like chocolate and stuff 🙂  I've packed mason jars will all sorts of things to help the teacher in your life get through the school day. Stuff specifically for the classroom, and stuff just for him or her. You can use whatever you want – you know your teacher best – but some ideas are pens, pencils, chocolate, scissors, glue, glue sticks, tea, breath mints, gum, chocolate, post-it notes, tape…oh, and did I mention, chocolate?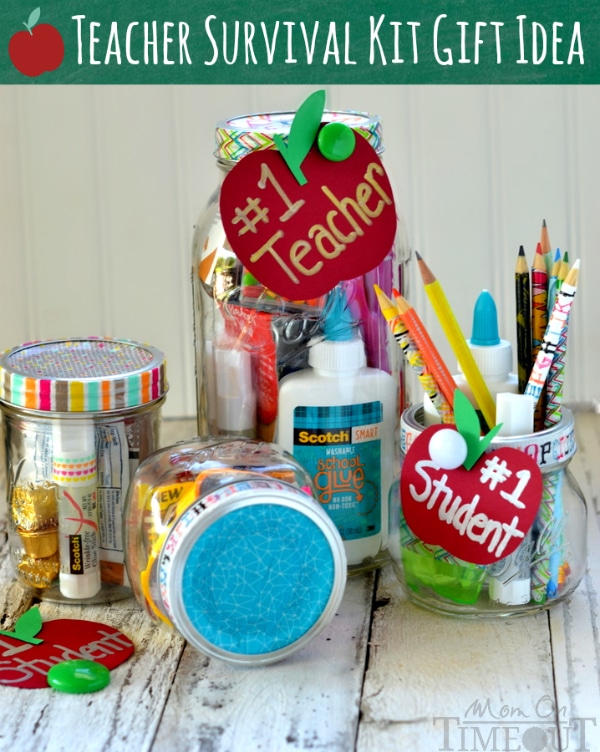 The lids are covered in fun and decorative Scotch® Expressions Washi Tape that the boys and I found at Staples while doing our back to school shopping. They have an amazing assortment and I found everything I needed to make up these fun gifts for the boys' teachers. I'm particularly loving the "Alphabet" tape for teachers 🙂
I also made up jars for the boys as a little surprise. I decorated a bunch of school supplies and they turned out SO cute!
Materials Needed:
Wide-mouth glass mason jars – this project used four jars in various sizes (two jars for the teacher and two jars for students)
Scissors
Cardstock – this project used one sheet of red and one sheet of green
Adhesive Dots
Small Magnets
Marker
Pencil
Scotch® Expressions Washi Tape in a variety of patterns – this project used Alphabet, Blurred Lines, Gold Diamonds, Big Zig, Cracked, Tie, Neon Green, Bubble Dots, and Blue Weave
School supplies of your choice – this project used glue, pencils, pens, sticky notes, tape, scissors, etc.
Teacher survival supplies such as tea, chocolate, gum, mints, etc.
Step-by-Step Instructions:
Gather the necessary materials for the project.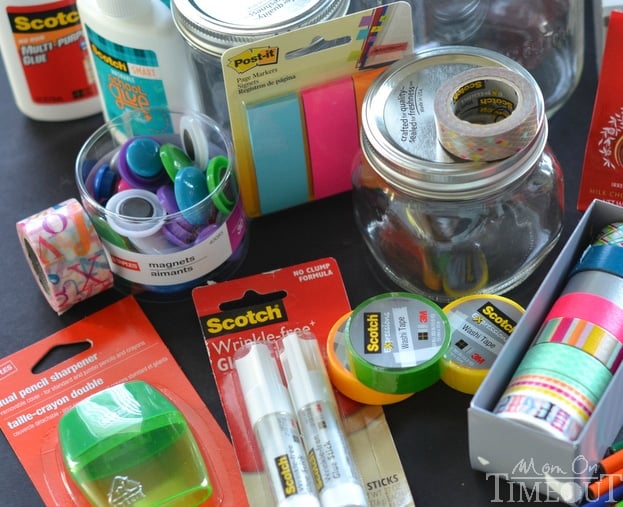 To remove the lid from the mason jar, twist off the metal band on the jar until it is loose enough to slide off. Then, remove both the band and the lid from the jar. Decorate the band by applying Scotch® Expressions Washi Tape in the pattern of your choice all the way around the exterior of the band, smoothing with your finger as you go along. Cut the tape (instead of overlapping it) for a clean look.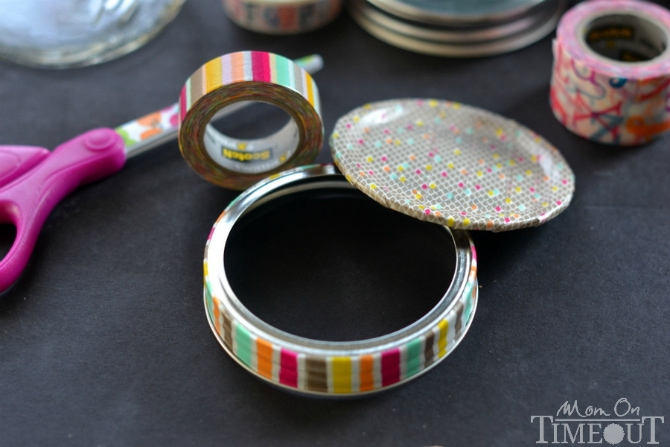 Choose a different pattern of Scotch® Expressions Washi Tape and apply to the lid, making sure to cover it completely. Repeat the previous steps to decorate the remaining jar bands and lids. ( NOTE: The jar pictured above used Blurred Lines pattern on the band and Gold Diamonds pattern on the lid.)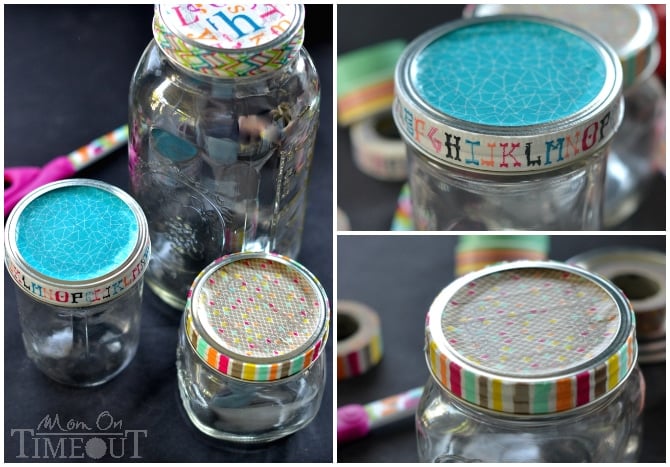 Now it's time for the fun part – filling up the jars! Figure out which jar(s) you are going to use for the teacher and which jar(s) is for the student. I used the shorter wide-mouth pint jars for the boys and a taller wide-mouth pint jar as well as the half-gallon jar for the teachers. Note: Make sure to buy wide-mouth jars or you will have trouble fitting larger items through the opening.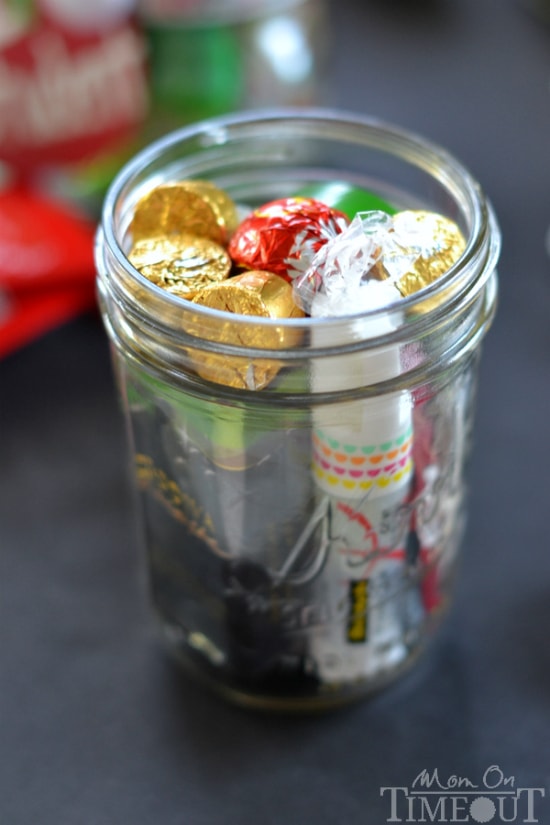 Obviously, the bigger the jar, the more you can fit in! This is the half-gallon jar pictured below.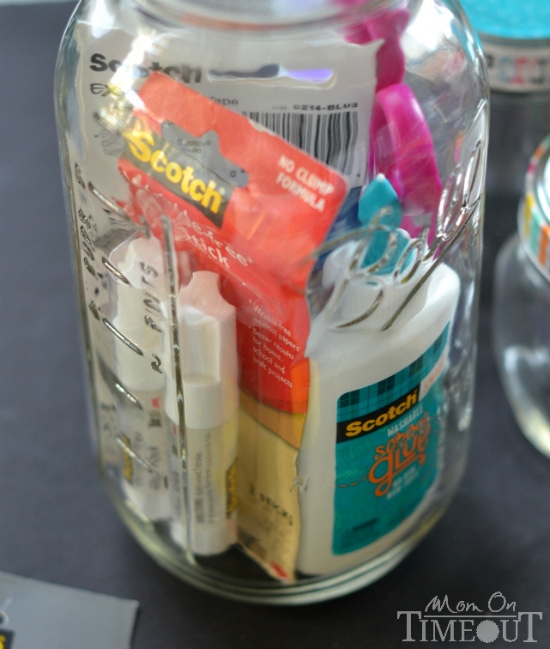 Now it's time for the kiddos! Personalize supplies for the student's jar such as pens, pencils, sharpeners and glue sticks by embellishing them with various Scotch® Expressions Washi Tapes. Twist the band back onto the student's jar and fill it with supplies. Do not slide the lid back in, so that the supplies can stick out of the top of the jar.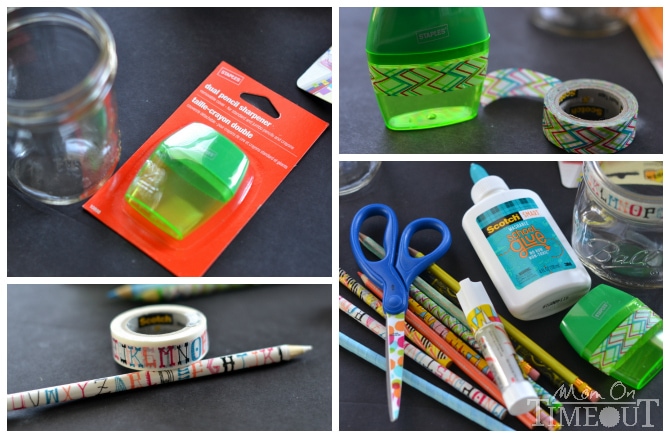 To create labels for each jar, use a pencil to draw an apple shape onto red cardstock and an apple stem onto green cardstock. Use scissors to cut along the apple shape and apple stem. Use a marker to write a note, quote, or name of the teacher on the red apple cutout for the teacher and do the same for the student jar(s). Adhere the apple stem to the apple cutout using adhesive dots.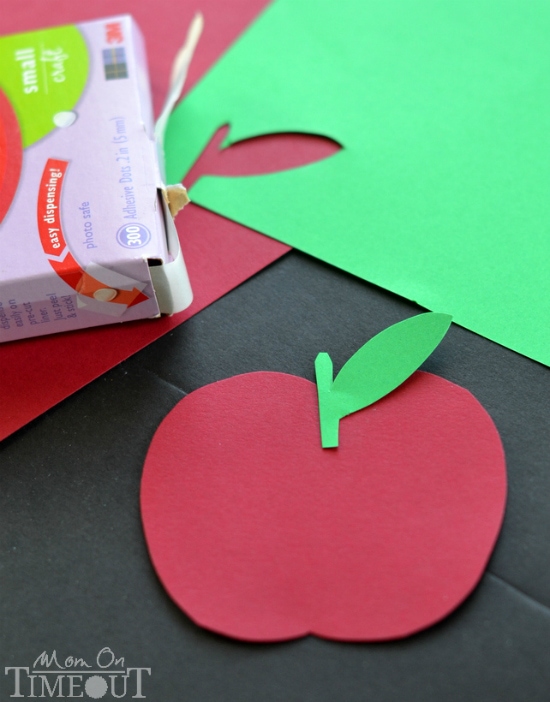 It occurred to me, while we shopping at Staples, that the bands and lids of the jars might be magnetic. They are! We found some cute magnets and used these to attach the notes to the band of each jar.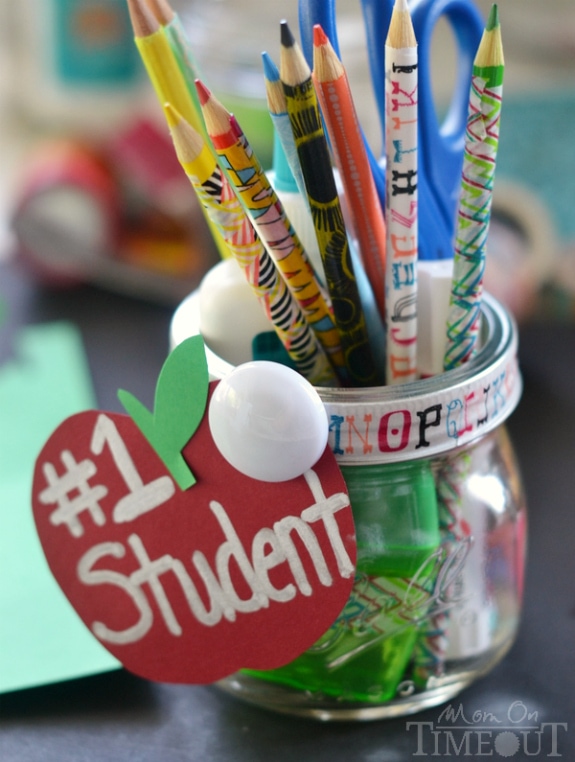 I mean, really! How adorable are these jars?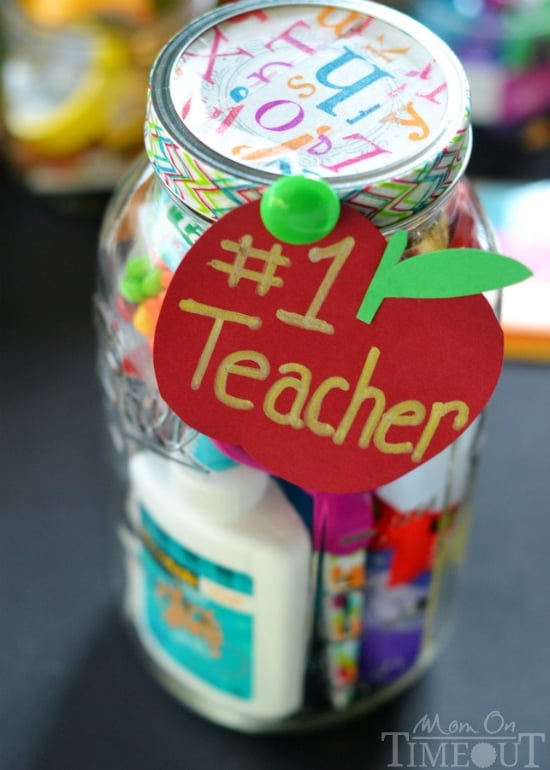 Now it's time to make a teacher very happy!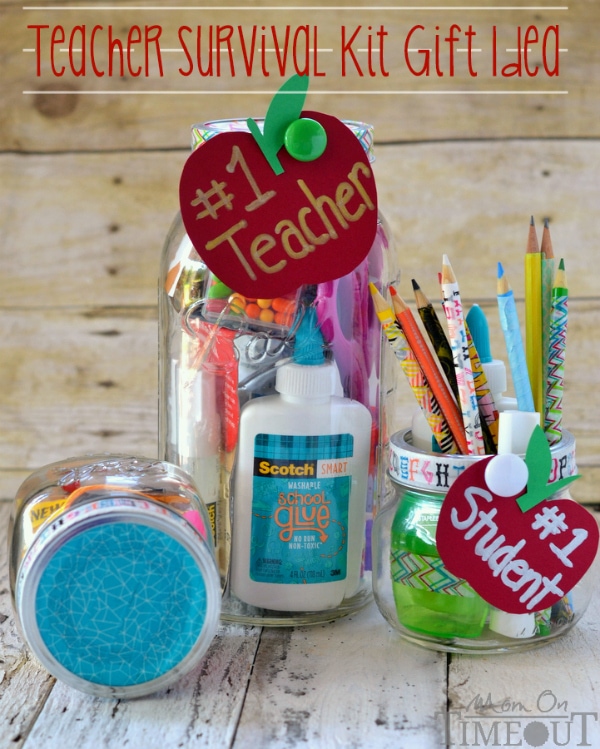 Send the teacher jar with your student as a gift to show some serious appreciation for all of their hard work. The student jar can be kept at school or at home to keep all back-to-school supplies accessible for use.

 More Teacher Appreciation gift ideas here!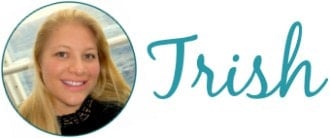 Connect with me!
 Linking up at some of these parties.
Disclosure: I have been selected to be a brand ambassador for  Scotch Brands. I have been compensated for my time. All opinions expressed are 100% my own!