An easy ladybug craft project for kids of all ages!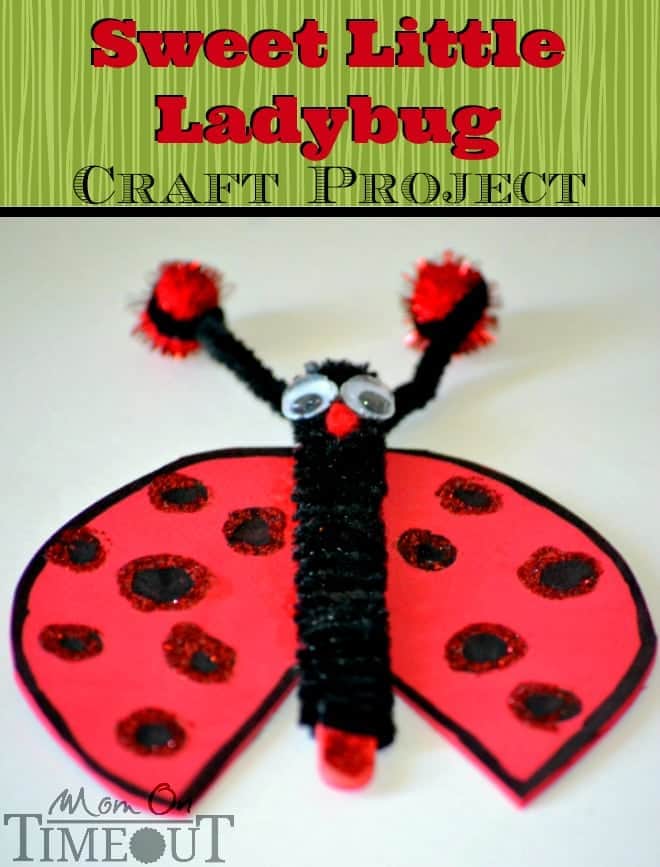 A couple of days ago Reece was asking for a craft to do (he's my crafty kid!) and we came up with this easy and fun ladybug craft.  I made this up out of materials I had on hand.  Take a look:
Materials Needed:
Craft Stick
Red Foam
Black Pipe Cleaners (3 per ladybug)
Googly Eyes
Glue
Scissors
Red Glitter Glue (optional)
Instructions:
Wrap two pipe cleaners around the craft stick (we used a red stick) – this creates the body of the lady bug.  (Wrap the pipe cleaners one at a time.)
Cut out the ladybug's wings on red foam.  I just drew the wings freehand (obviously!) but you can download a template if you prefer.  Reece was in a hurry to decorate!
Glue the body of the ladybug to the wings. (We used tacky glue.)  Make sure that you press the body onto the wings firmly and then place something heavy on top to make sure the two pieces are glued together securely.
Glue on the googly eyes.  Any size that will fit on the body will work.
Use a sharpie or other black marker to make the dots on the wings of the lady bug.  This doesn't need to look perfect or symmetrical or anything like that – just have fun!
Using a black pipe cleaner and a red pom pom, wrap the end of the pipe cleaner around the center of the pom pom tightly.  Fold the pipe cleaner at the length you want your antennas to be and repeat with a second pom pom.  You probably will not need the full length of the pipe cleaner, so cut off what you will not be using before wrapping the second pom pom.
Attach the antennas to the back of the foam wings with some glue.  To make sure it adheres well, place a heavy book or something else that is heavy on top of the ladybug while it is drying.
This is what the ladybug should look like at this point.
Now if you still have the time and the supplies you can jazz it up a little with glitter glue, a nose, and anything else you can think of.  Just have fun!  Glue a magnet onto the back for a super cute magnet or even a clothespin and use it to hang up papers.  Whatever you want!  And that my friends is my Sweet Little Ladybug Craft – enjoy!
Note:  We had so much fun with this that Reece asked if we could make butterflies…stay tuned for that!