Lots of great tips on How To Plan the Perfect Halloween Party! DIY decorations, Halloween eats and treats, and party favors too! All you'll need for the perfect Halloween party!
Let's be friends! Sign up to get my new recipes in your inbox! Follow me on Facebook too!
This post is sponsored by the Hershey Company.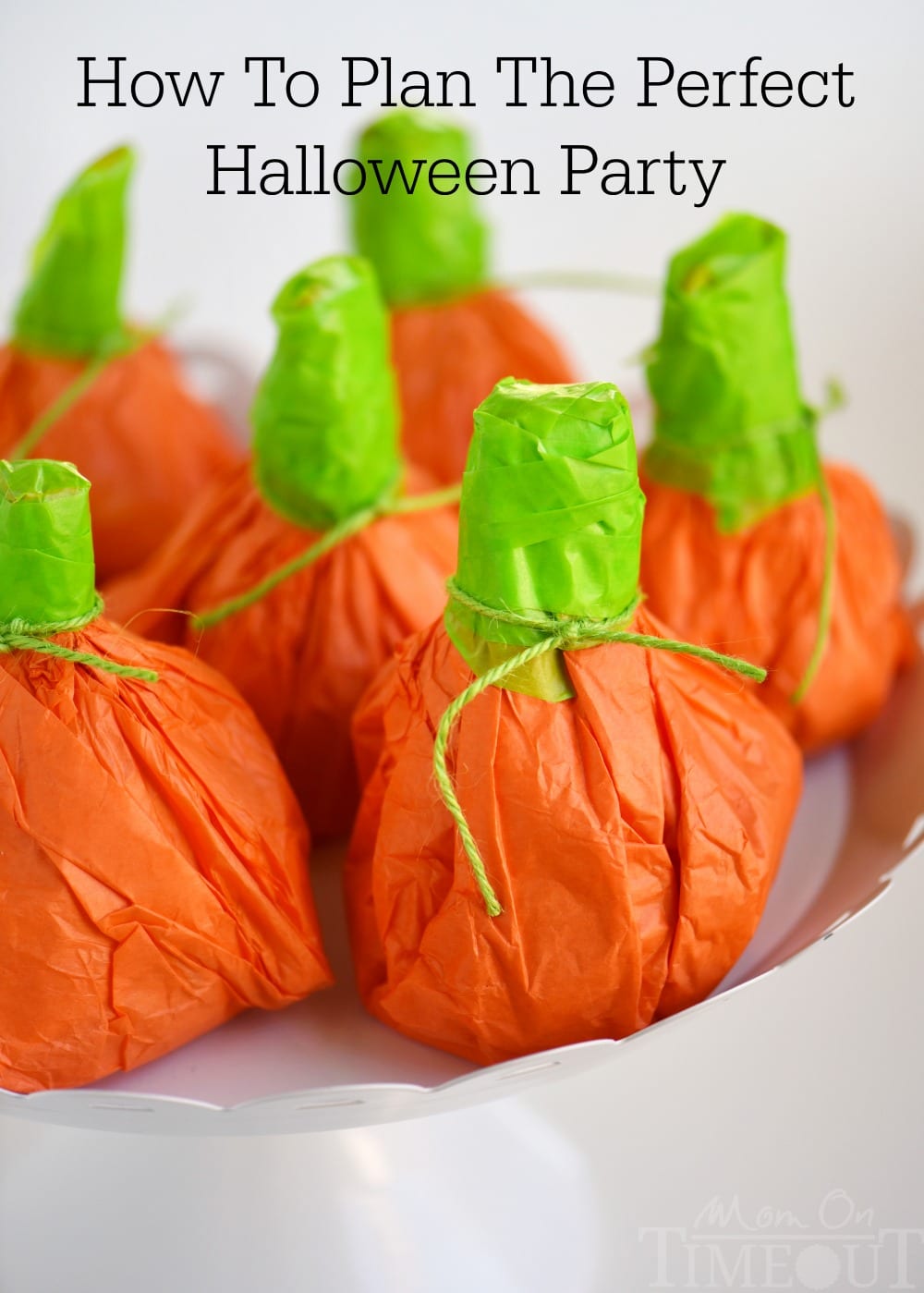 Can I just say that fall is my favorite season? I love the cooler weather, the pretty colors, the apples and pumpkins, and of course, Halloween! Bryce's birthday is in October and we frequently make it a harvest or Halloween themed party. I love coming up with new and creative ways to celebrate the season and I'm excited to share many of those with you today.
Let me start by saying that these party ideas are all kid and budget friendly – those are two really important concerns of mine when planning a party. I like things easy!
Planning ahead is key and make sure to get your kids involved – this is fun for the whole family!
Decorations
When it comes to decorating for a Halloween party – the options are truly endless. There are so many easy ways to make your space feel festive and you can totally do it on a budget. Here are some of my favorite DIY Halloween Decor ideas.
Scrappy Pumpkins made using pieces of scrapbook paper – so easy and the variations are endless! This printable Halloween Subway Art is perfect for the mantle and the DIY Black Widow Spider would look amazing right next to it. The BOO Door Hanger is great for the front door to welcome your guests and get them in the mood to party. All of these projects are super easy and fun to make!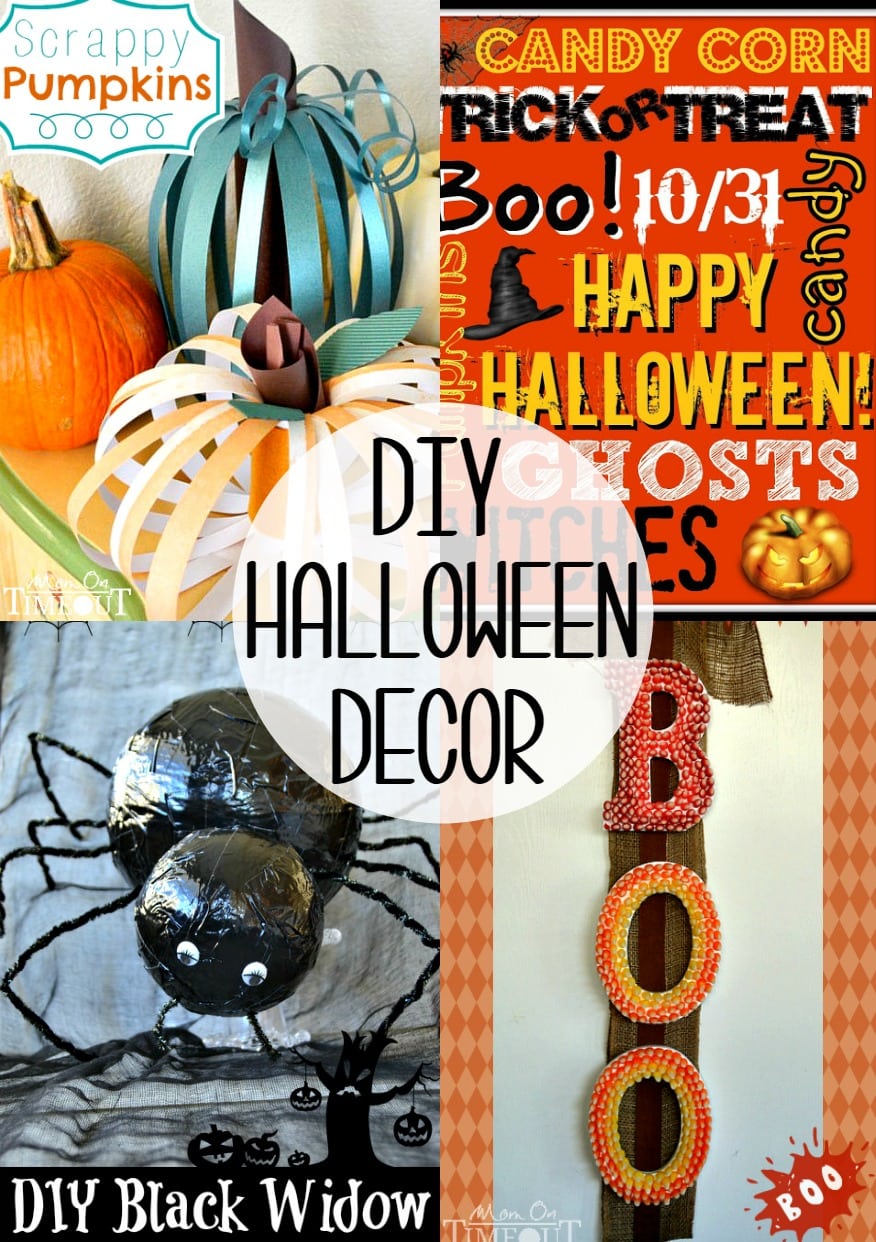 Spooky Eats and Treats
Easy and festive treats are the star of every party and Halloween is no exception! Try these adorable Pumpkin Patties and Pumpkin Popcorn Balls that will be devoured by both kids and adults. Black Widow Brownie Bites and Black Widow Spider Bites are spooky yet sweet to eat. Caramel Pumpkin Spice Rice Krispies Treats Pinwheels are always a crowd pleaser and perfect for the season. Don't forget about these adorable Halloween Spiral Slice and Bake Cookies! Use your favorite Halloween colors for the spirals!
You can find more great Halloween recipes here!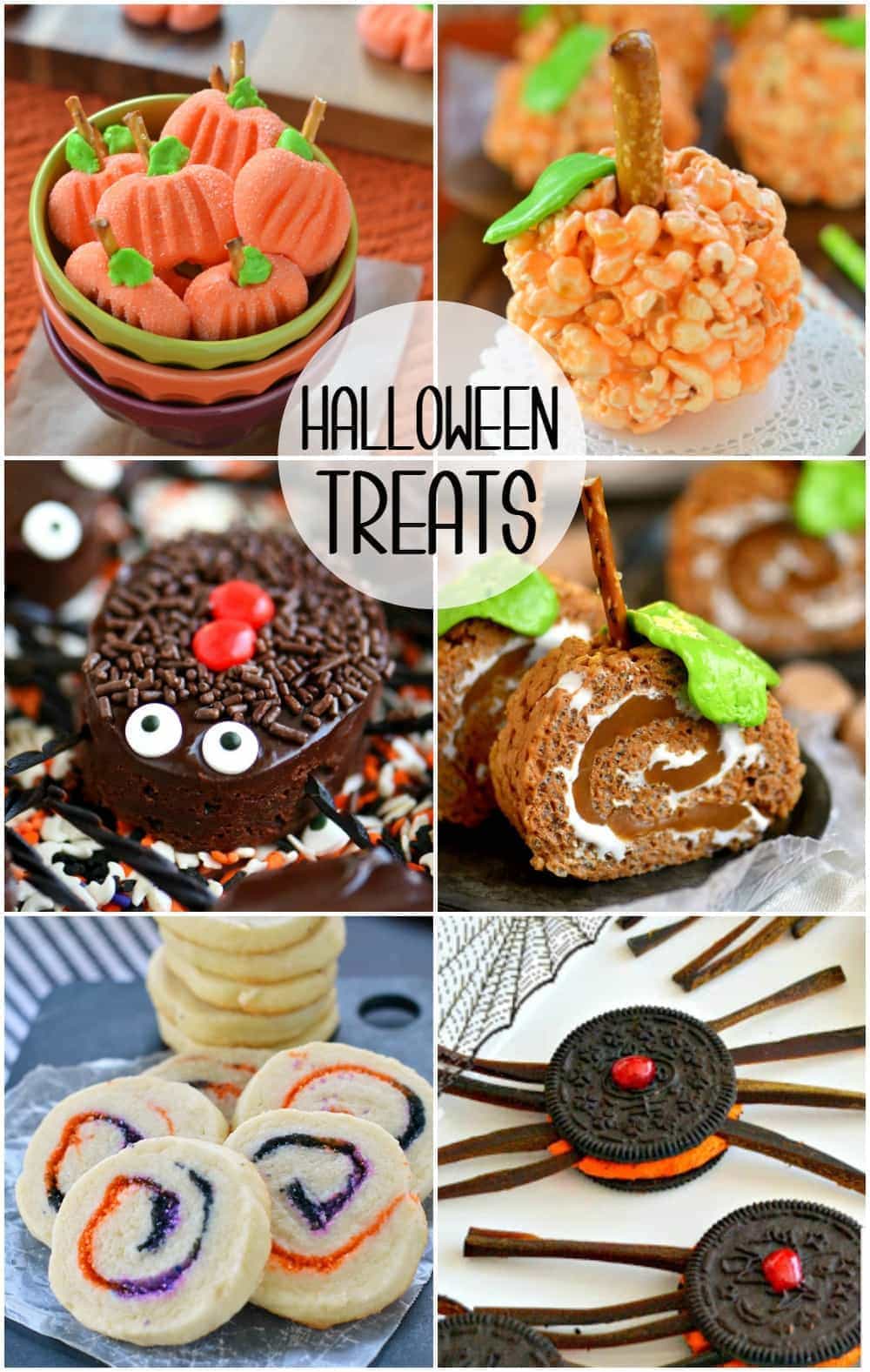 Party Favors
The party should never end when your guests leave. Party favors may be my favorite part of any party and these Tissue Paper Pumpkin Favors are too easy not to make!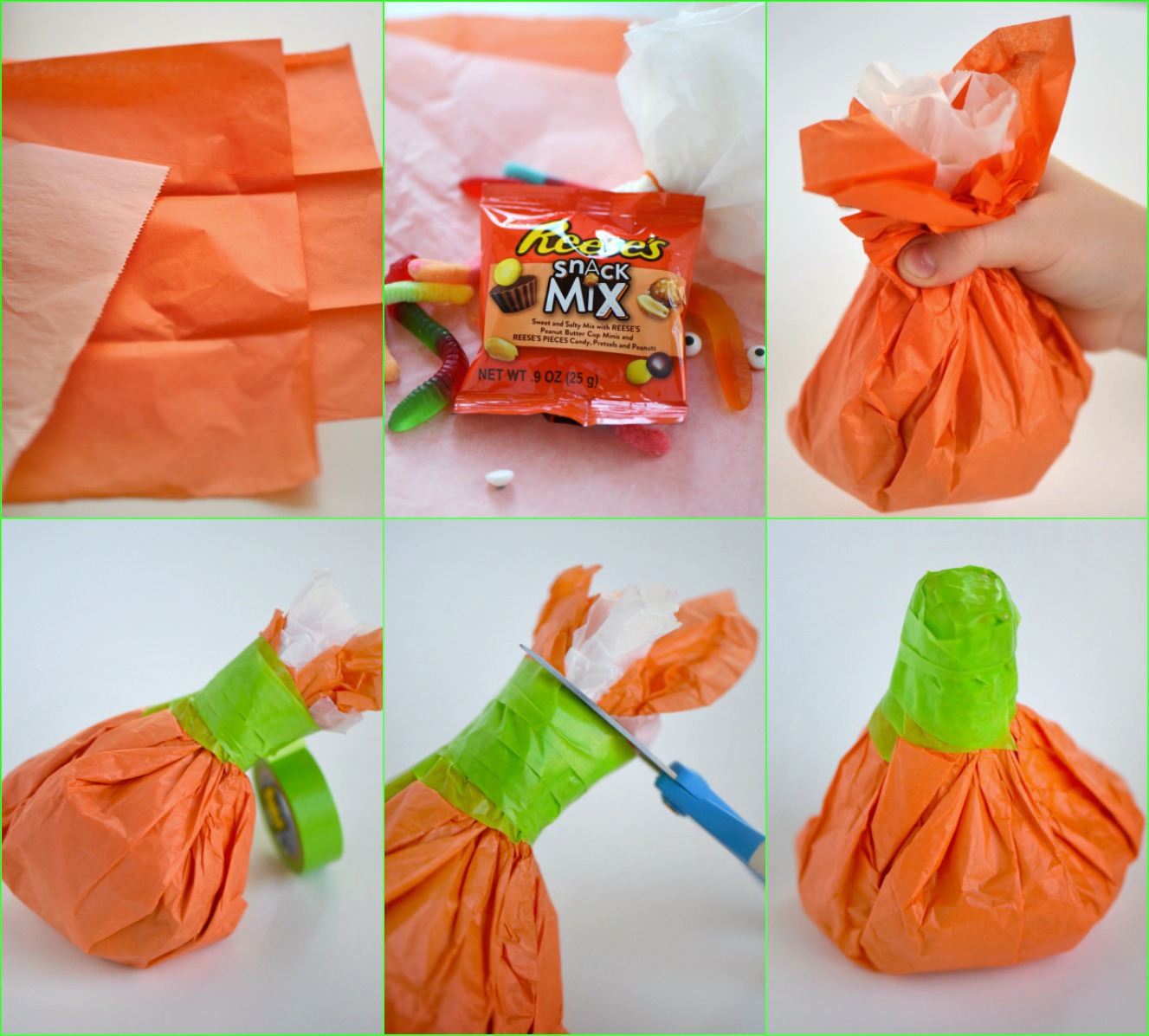 Here's how easy these are to make:
Cut orange tissue paper into 12-inch squares.
Make a lollipop ghost by wrapping a piece of tissue paper or wax paper around a lollipop and tying at the neck.
Place the lollipop ghost and other Halloween candy like gummy worms and candy eyes on top. I added my new favorite – REESE'S Snack Mix Snack Size available exclusively at CVS. Each bag has all our favorites including REESE'S Peanut Butter Cup Minis, REESE'S PIECES Candy, plus mini pretzels and roasted salted peanuts for a super satisfying sweet and salty snack. The perfect addition to this Halloween party favor!
Gather up the tissue paper around the stick of the lollipop.
Wrap green washi tape around the stick and tissue paper to secure.
Cut off excess tissue paper and cover exposed area with additional washi tape.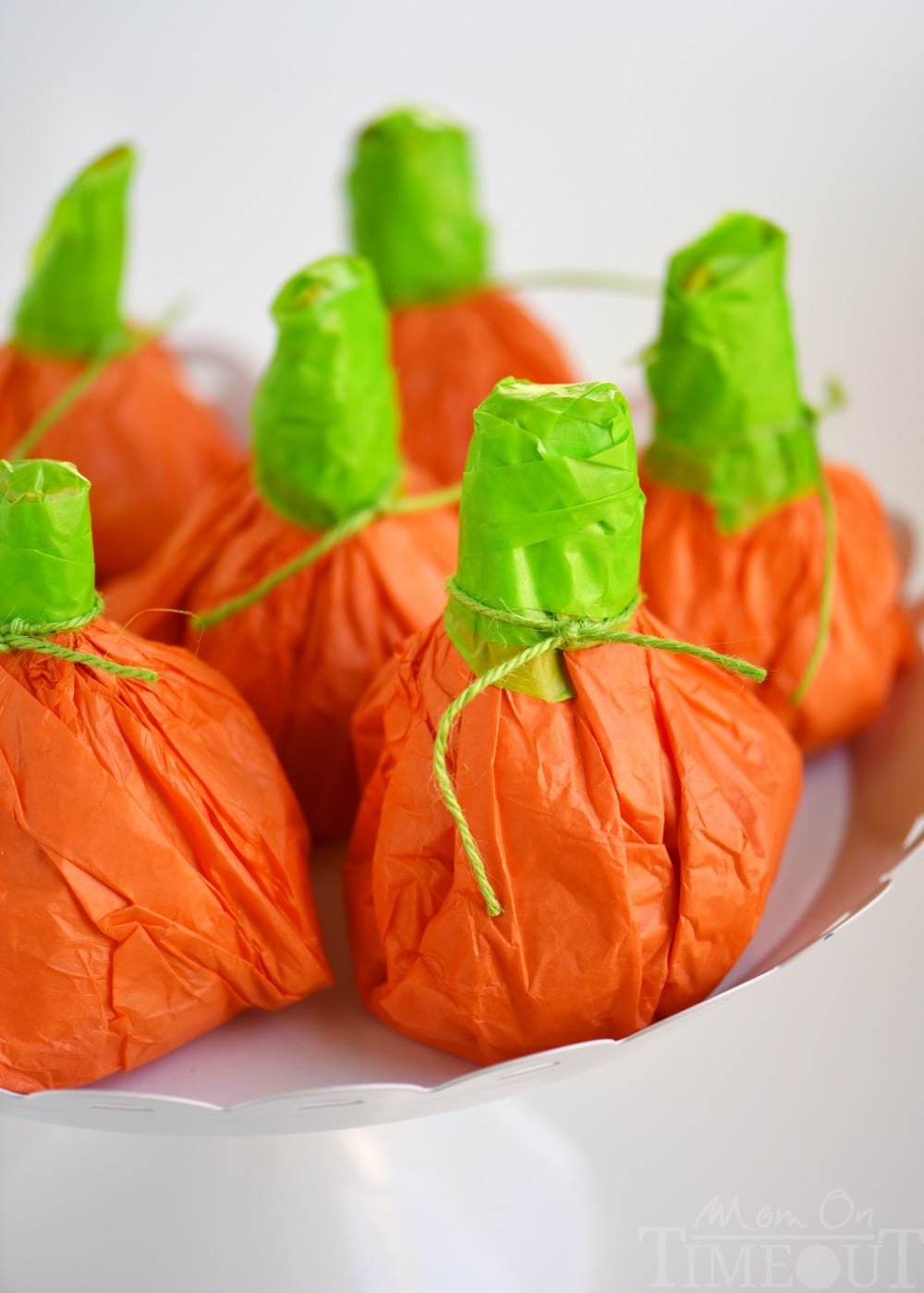 Guests will love ripping into their Tissue Paper Pumpkin Favor and seeing what's inside! The REESE'S Snack Mix Snack Size is the perfect snack to enjoy on the car ride home!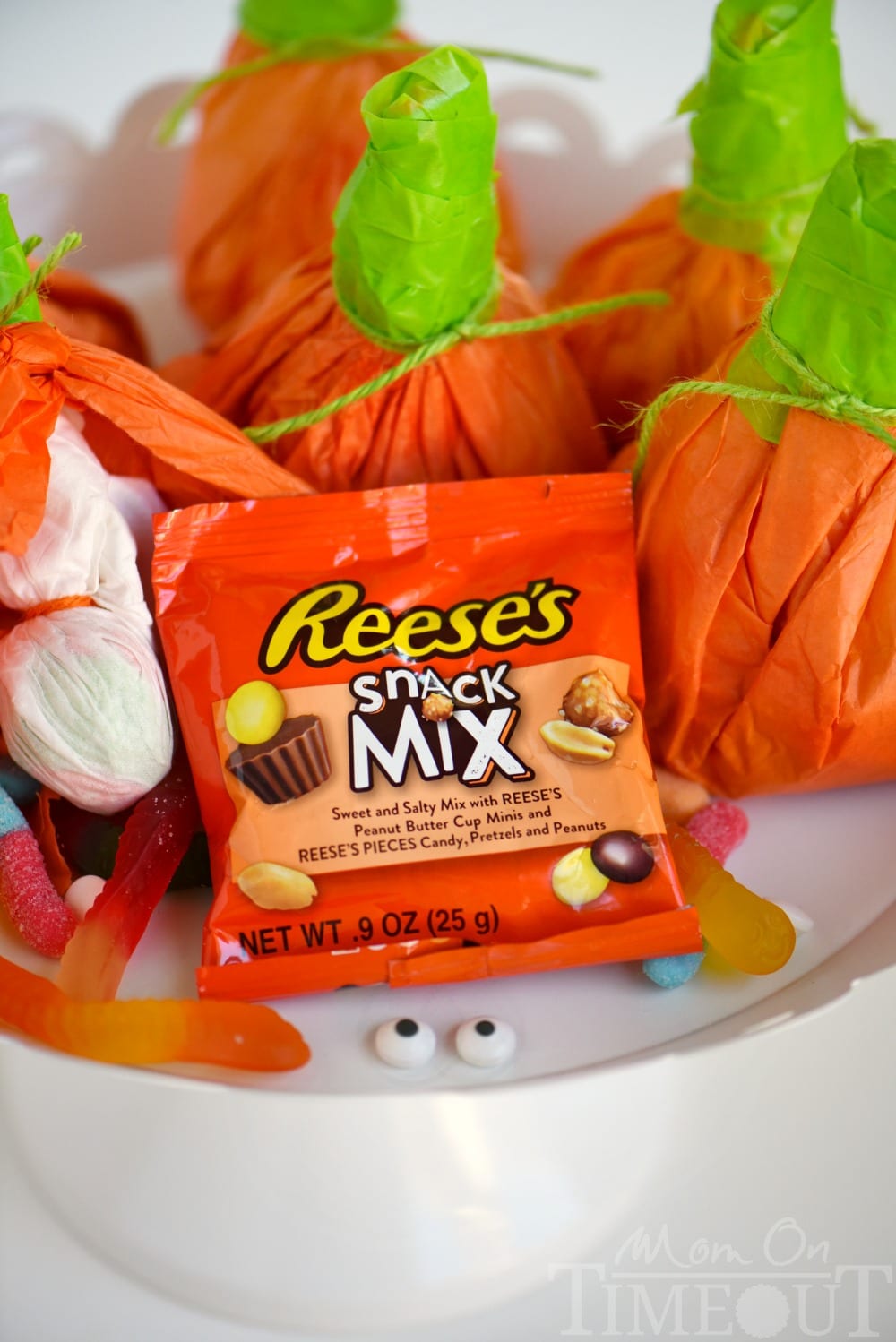 I hope you've found something to inspire you for your next Halloween party! Please feel free to leave your favorite Halloween party tips and tricks below! Happy Halloween!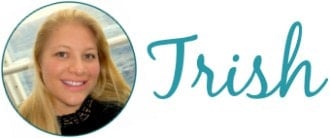 For all Halloween recipes, go HERE.
For all Halloween ideas, go HERE.
Sign up to get emails when I post new recipes!
For even more great ideas follow me on Facebook – Pinterest – Instagram – Twitter – Bloglovin'.
Have a great day!
This is a sponsored conversation written by me on behalf of Reese's. The opinions and text are all mine.