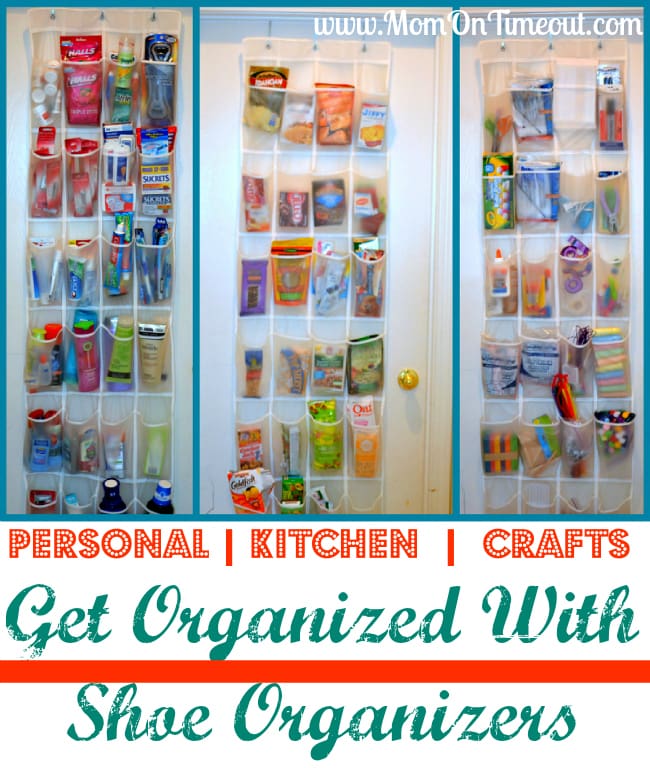 I'm always looking for new ways to organize in our home.  A couple of years ago I put a shoe organizer in our laundry room as a way to clean up the pile of shoes that I always seemed to trip over when coming in from the garage. Shortly after that I realized that a "shoe" organizer could organize much more than shoes! Below I have some examples of ways that I have implemented shoe organizers in our household and I am sure there are many more ways to use these wonderful inventions.
First up is personal care storage and organization. In this picture you will see shampoos, conditioners, razors, shaving gel, contact solution, medicines, cough drops, pain relievers, toothbrushes, toothpaste, mouth rinse, beauty products, first aid items, vitamins, cosmetics, etc. This organizer hangs on the inside of our master bedroom closet door.

Next up is a pantry organizer.  Here we have granola bars, fruit bars, fruit strips, crackers, oatmeal packets, seasoning packets, guacamole mix, trail mix, instant coffee, tea packets, popcorn bags, individual drink mixes, candy, jell-o, pudding, corn muffin mix, potatoes, cous cous, etc. I like to keep snack items for the kids in the bottom two rows of pockets for easy access.
Finally, here is craft and school supplies storage and organization. You can see pens, pencils, markers, paint, pencil sharpeners, erasers, crayons, tape, chalk, stickers, foam shapes, craft sticks, glitter, glitter glue, envelopes, string, pipe cleaners, ribbon, scissors, googly eyes, pom-poms, glue gun, etc. We use these items often and so this organizer hangs in our front hall closet. It sure is nice to have everything I need in one spot when I'm getting ready to do a craft project. Make sure to keep scissors, glue, permanent markers, and other items that you don't want kids or pets to get in the top rows of pockets. This would also work great for scrapbooking, knitting, crocheting, and sewing supplies as well.
Use shoe organizers in the kids bedroom as well for easy small toy organization.  Helps promote independence and gives your children an easy, reachable place to put toys away.
Tips:
Buy an organizer with clear pockets for easy viewing.
Keep like items in a row. For example in the craft organizer you could put all adhesives in a row: glue, gluesticks, tacky glue, tape, etc.
Remove all extraneous packaging – that cardboard can take up a lot of space. When removing it from products with expiration dates, make sure the product has the date printed on it before throwing out the packaging.
You can always label the pockets but I prefer to use clear pockets and not label them, just for flexibility. 
You will be amazed at the quantity that can be stored in one of these shoe organizers. It is so nice to have everything I need in one spot.  Not only does it allow me easier access but it also is easy to see when I need more of something. I hope this post will give you some ideas and inspiration as to how you can utilize a shoe organizer in your home.
Connect with me!
Facebook | Twitter | Pinterest | Google+ | RSS
 Linking up here, Home Stories A2Z, and My Repurposed Life.