I participated in a campaign for Mom Central Consulting on behalf of Wet Ones. I received product samples to facilitate my review and a promotional item as a thank you for participating.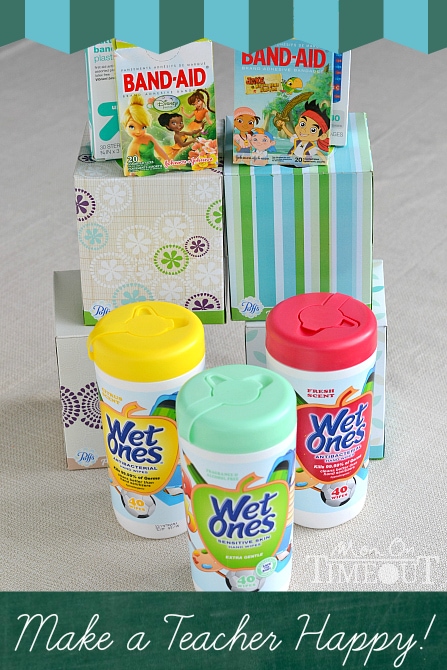 Last week we had Back To School night for the boys.  It was a teensy bit tricky because they were at the same time, on different campuses, 10 minutes apart.  But, because I AM a super mom, I worked it out like a pro.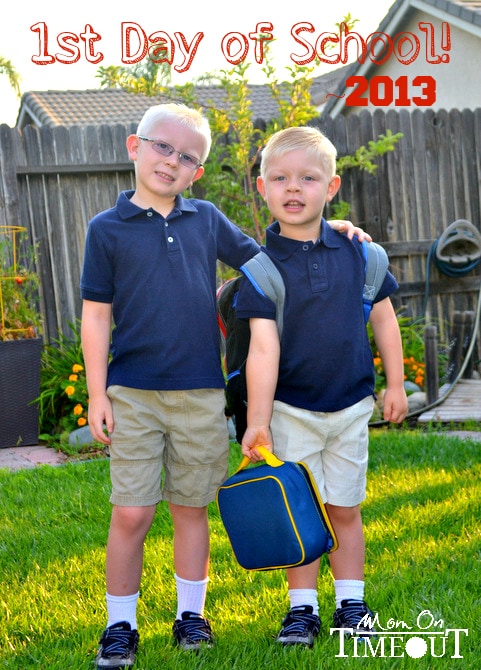 Reece's class had sent home a Teacher's Wish List the very first day so we were able to help out his class with supplies in advance.  Bryce's teacher did something really cute for her class on Back to School Night.  She had these apple cut-outs and on each apple was a supply "wish".
For example:
Washable Markers
Copy Paper
Colored Pencils
Crayons
etc.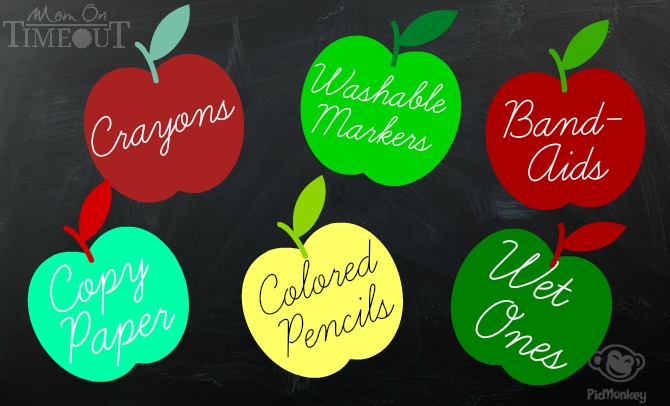 It was so cute!  Then parents who were able and willing to donate, could pick up an apple ~ or three ~ and pick up supplies that the teacher needs.  I let Bryce pick up a couple apples – Band-Aids and Tissue – and then I spotted one that I would happily provide for any classroom – Wet Ones®!
Wet Ones are a must-have item in my home, car, and purse so they definitely should have them in a Transitional Kindergarten classroom.  I kind of feel like I'm investing in the health of my children and Bryce's schoolmates by donating Wet Ones to the class. I grabbed three of the 40-count canisters – one of each variety – for the classroom.  The canisters are super cute right now with school-related images all over the packaging.  Bryce got excited 🙂
Teachers aren't provided with all of the supplies that they need to run their classrooms these days.  Wet Ones is a proud supporter of teachers and is partnered with TeacherLists.com – a service that helps teachers connect with their parents around classroom needs.   Since joining forces with TeacherLists.com in 2012, Wet Ones has donated 15,000 products to teachers all across the country as a jump start to getting their wish lists filled!  That is so awesome!
You can find out what YOUR teachers are looking for and how to get your school to participating so make sure to check out TeacherLists.com to get started!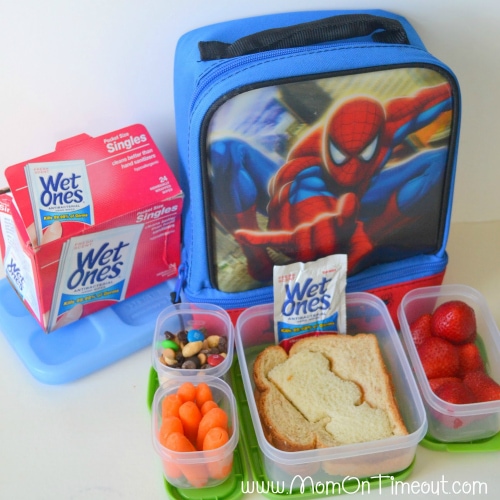 Wet Ones make it into the boys' lunches every. single. day.  They are easy to open and at least it gives me some comfort knowing that although they probably didn't wash their hands right before lunch, at least they can do a quick wipe up with Wet Ones and be good to go.
I love that they are portable and come in convenient sizes that can be packed away wherever you're going.  Wet Ones® are available in three convenient forms:
• 40 count canister, which is designed to fit into a standard car cup holder
• 15 count travel pack
• 24 count box of individually wrapped single wipes
Does your teacher have a wish list?  What items do you like to donated to the class?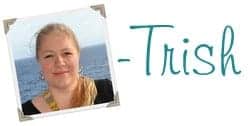 Connect with me!