Peanut Butter S'mores No Bake Brownies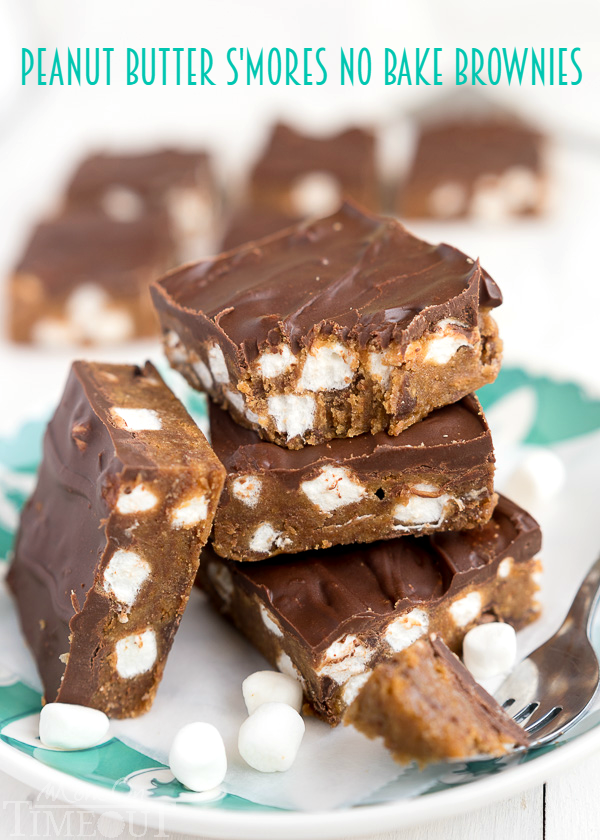 Author:
Trish - Mom On Timeout
¾ cup unsalted butter
¼ cup creamy peanut butter (I used Skippy Naturals)
1 cup granulated sugar
2 large eggs, lightly beaten
1 tsp vanilla
2½ cups graham cracker crumbs
1 cup semi-sweet chocolate chips
2 cups miniature marshmallows
1 cup semi-sweet chocolate chips
¼ cup peanut butter
Line a 9x9 inch baking pan with parchment paper or lightly grease. Set aside.
Melt the butter and peanut butter together in the top of a double broiler.
Whisk in the sugar until completely dissolved.
Scoop out a half cup of the butter-sugar mixture and whisk it into the eggs to temper them.
Whisk the tempered eggs into the butter-sugar mixture until nice and thick, 3-4 minutes.
Remove the top of the double broiler from heat and stir in the vanilla and graham cracker crumbs.
Finally fold in the chocolate chips and marshmallows.
Spread the batter into the prepared pan and chill for 2 to 3 hours.
Melt the chocolate chips and peanut butter together in a microwave safe container in 30 second intervals, stirring in between.
Spread the frosting on top of the cooled brownies. Let the brownies chill for another hour before cutting into squares.
The brownies are firmer when chilled, slightly softer at room temperature. I prefer mine refrigerated. Store leftover brownies in an airtight container for up to 5 days.
Recipe by
Mom On Timeout
at https://www.momontimeout.com/peanut-butter-smores-no-bake-brownies/