Slow Cooker Peanut Butter Brownies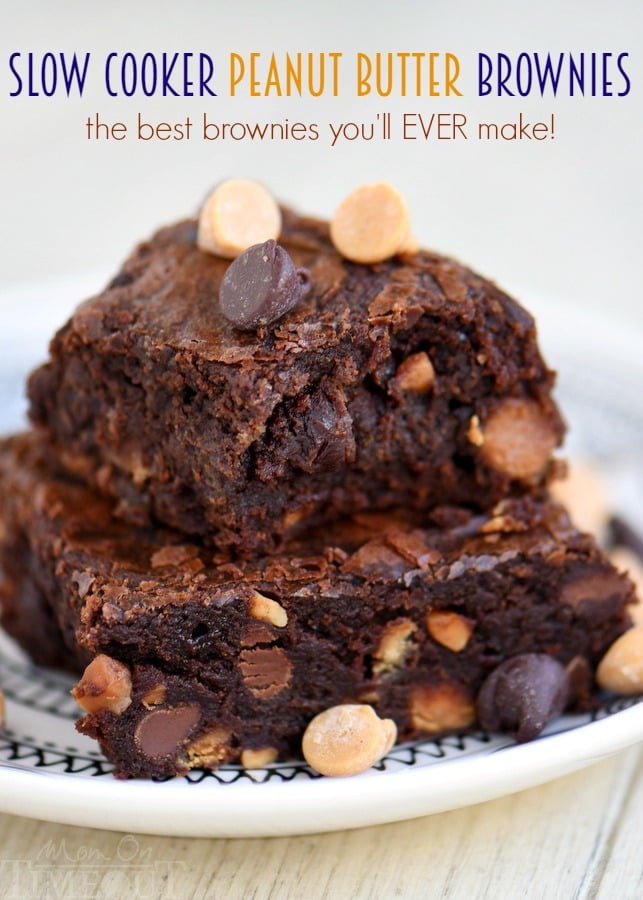 Author:
Trish - Mom On Timeout
½ cup unsalted butter, melted
½ cup chunky peanut butter
1½ cups granulated sugar
⅔ cup unsweetened cocoa powder
3 large eggs, lightly beaten
2 tsp vanilla extract
⅓ cup all-purpose flour
½ tsp salt
⅔ cup semi-sweet chocolate chips
⅔ cup peanut butter chips
¾ cup creamy peanut butter
¾ cup heavy whipping cream
⅓ cup granulated sugar
¼ cup light corn syrup
½ tsp vanilla extract
Line a 6 qt slow cooker with non-stick foil. (If using regular foil, butter the foil.)
Whisk together melted butter and peanut butter until combined.
Whisk in sugar, cocoa powder, eggs, and vanilla extract.
Stir in flour and salt just until combined.
Fold in chocolate and peanut butter chips.
Pour the batter into the prepared slow cooker and spread evenly.
Place a paper towel in between the lid and the insert when covering. This keeps the steam from dropping back onto the brownies.
Cook on low heat for 2½ to 3 hours. The brownies are down when the edges are set.
Serve hot or cool to room temperature.
Combine all the ingredients, except for the vanilla extract, in a medium sauce pan.
Cook over medium heat, stirring frequently, until all the sugar has dissolved.
Remove from heat, stir in the vanilla extract and let cool slightly before serving.
Keep refrigerated for up to 2 weeks.
Recipe by
Mom On Timeout
at https://www.momontimeout.com/slow-cooker-peanut-butter-brownies/