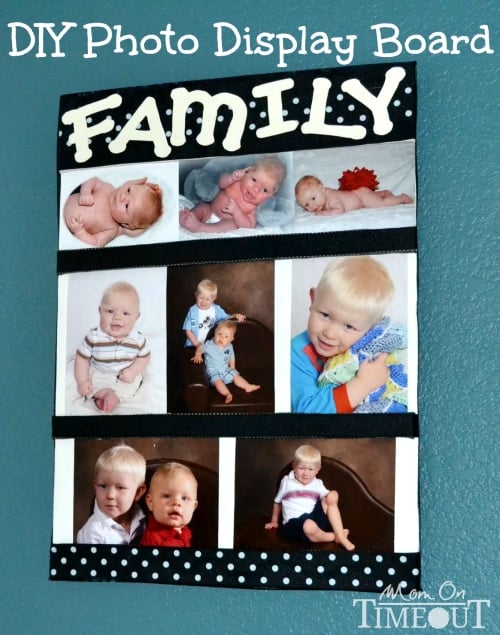 Have you ever seen one of those photo boards that are made out of wood? I just love them and thought I'd give making one of them a shot yesterday. I used Elmer's display foam so it is super light and can be hung anywhere easily. This Photo Display Board would make an excellent gift (especially if you fill it with pictures of your loved ones.)
I headed over to Walmart to get some supplies and checked out the foam board options. There are a lot! I love that Elmer's offers the boards in black as well as other colors. I also needed to pick up some ribbon and some supplies from the scrapbooking section. As usual, I was pleased with the prices and I absolutely love not having to use coupons. Walmart is such a convenient place to shop. I mean where else can I pick up ribbon, display boards, yogurt, pop tarts, milk, and a few last-minute gifts?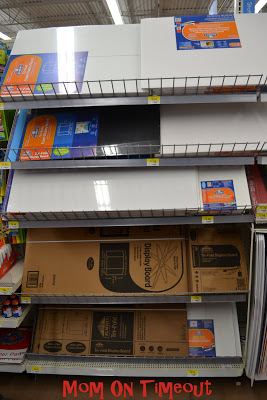 I was able to find everything I needed for this project at Walmart. The scrapbooking section had most of what I needed including double-sided tape, foam mounting tape, precision scissors, craft knife and the dual tip glue pen.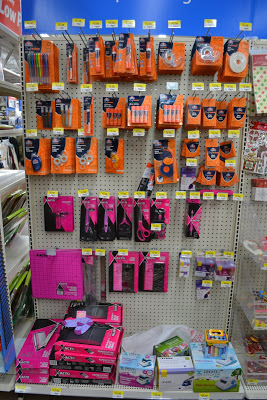 Reece and Bryce both had a lot of fun checking out the seasonal merchandise as well as the book section.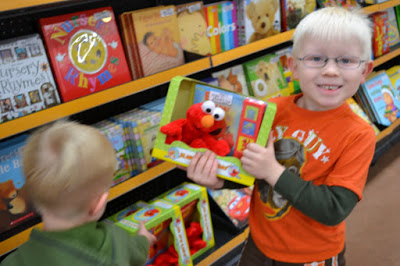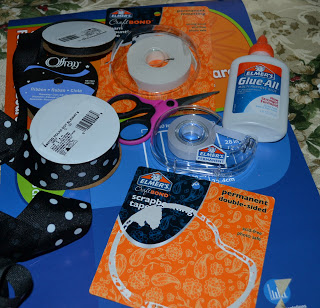 Materials Used:
Elmer's Tri-Fold Foam Display Board
Elmer's Glue All
Scrapbook Paper
Ribbon (various widths)
CraftBond Flexible Dual Tip Glue Pen
CraftBond Glue Spots Thin Medium
X-ACTO Craft Swivel Knife
X-ACTO Utility Knife
X-ACTO Precision Scissors
CraftBond Double-sided Tape
CraftBond Foam Mounting Tape
Instructions:
First I pulled out a bunch of photos and decided on what ones I wanted to use and how I was going to lay it out.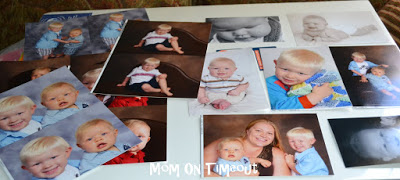 I trimmed up all the photos with the precision scissors and then made up my final layout.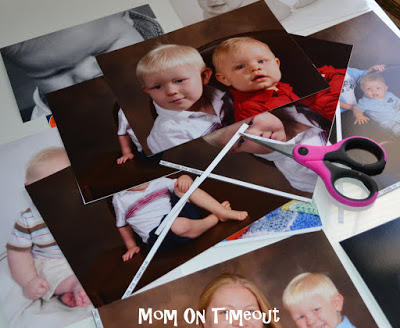 I decided on this layout for my board. 4×6 landscape on the top, 5×7 portrait in the middle, and 5×7 landscape on the bottom. Next came figuring out the measurements (aggghhh!!!)  This is how I figured it out. I added up the dimension of my pictures vertically (4+5+7=16). Then I added in my spacers at 1 inch a piece (16+1+1=18). Added in the footer and the header (18+1.5+3.5=23). Then I subtracted the 1/4 " of the pictures that will be hidden under the spacers (23-.25-.25=22.5).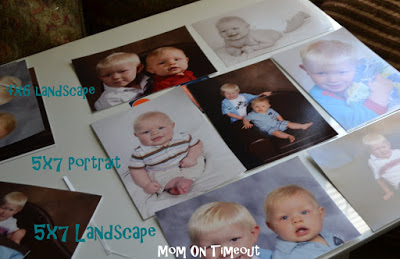 If that does not make sense to you, first, I am totally shocked, and second, you will be able to figure it out on your own. It totally depends on the size of photos you want to use. Keep in mind that the foam mounting tape is 1/2 inch wide so if you cut the spacers 1″ wide you will have a quarter inch on both sides for the photos to slide under. Just do the math and take your time, making sure to take everything into account.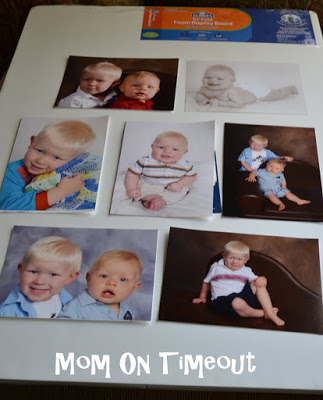 I trimmed off the folding parts of my display board with a craft knife and set those aside.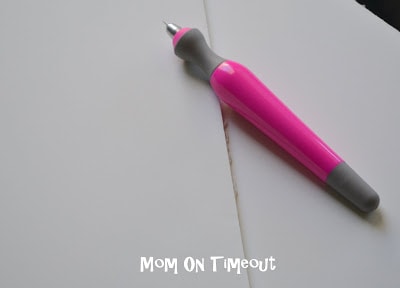 Next I used a utility knife to cut out the spacers, header, and footer. My header is 3.5 ", spacers are 1″ each, and the footer is 1.5". These numbers are arbitrary – use whatever works for you. Maybe you want your title on the bottom or you want bigger gaps in between the photos – you decide and adjust the measurements accordingly.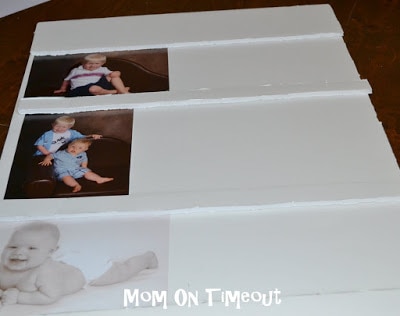 Okay. So now let's make this pretty. I used some scrapbook paper and cut it in strips to wrap around the spacers, header, and footer. I mixed 3 parts Elmers Glue All and 1 part water together.
Using a small foam brush, I brushed glue onto the foam board, put the paper on top of the glue and then brushed glue on top of the paper as well. I repeated this for all four pieces. Smooth out the surface to smooth out any wrinkles or bubbles. This really doesn't have to look perfect because we will be wrapping ribbon around these pieces as well. I just want to make sure the cut surfaces are covered.
Let this dry overnight – you don't want to be working with sticky pieces.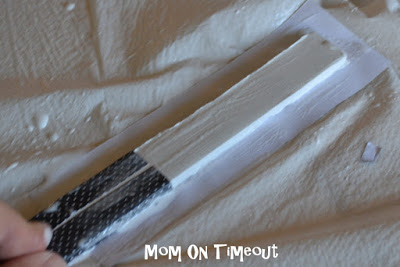 For the header, I decided to have it say "FAMILY" – that way I can switch out pictures and it will still apply. I printed out the word family in a font I like and then used my swivel knife to cut the letters out. I simply put the print out on top of the card stock I wanted to use and it works perfectly. I glued the letters onto the ribbon using the glue dots.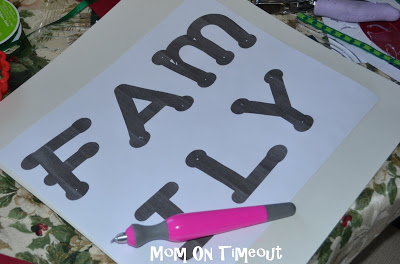 Now it's time to start giving it a finished look. Lay the pieces out on the foam board. Make sure they are spaced correctly and then flip the pieces over so that the side that will be facing down is facing up. Use the foam mounting tape to secure the pieces to the display board. BE VERY CAREFUL if you are using the permanent tape because Elmer's isn't joking around when they say permanent.
The foam creates the space between the board and the top pieces which allows the photos to slide in.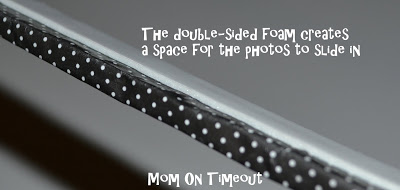 Using permanent double-sided tape, attach the ribbon to the top and wrap around to the back of the board, securing with the tape. The permanent tape works very well because it uses some serious adhesive.
This is where you want to match the widths of your pieces to ribbon widths. For example, my footer piece is 1.5″ wide so I used 1.5″ riboon. My spacers are 1″ so I used 1″ ribbon. The header is 3.5″ so I used three pieces of ribbon to get it all covered.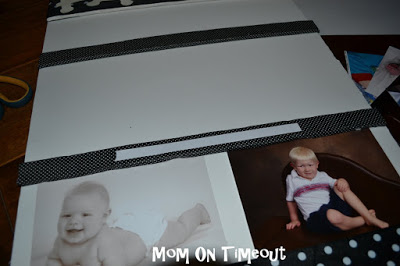 Next, I wrapped ribbon around the edge of the board. I again used the double-sided tape (seriously – this stuff is awesome). The board isn't as wide as the tape so I wrapped the tape around to the under side of the display board. If you have time you can use the dual tip glue pen and this also works well.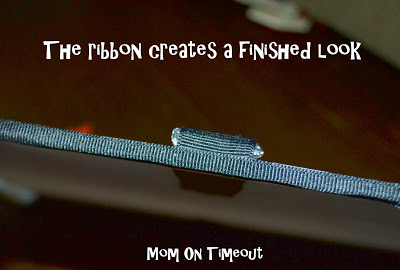 Now just slide your photos in and hang up. I put a picture hanger into the back of my board and because it is so light, the foam is strong enough to keep hold of the little screw. My husband came and said, "Wow – that really turned out nice!" I just smiled… I'd love to get this filled up with all black and white photos – I think that would amazing with the black and white color scheme I used on the board.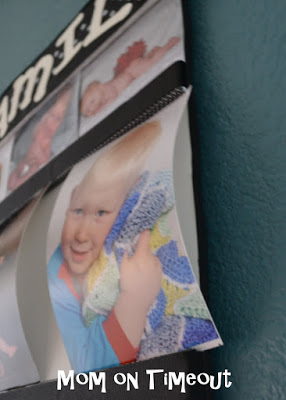 This is an easy to customize project so if you have more 8x10s or other sizes you would like to use – you can – EASILY. I'm really happy with how it turned out and will be making smaller versions for grandparents this year 🙂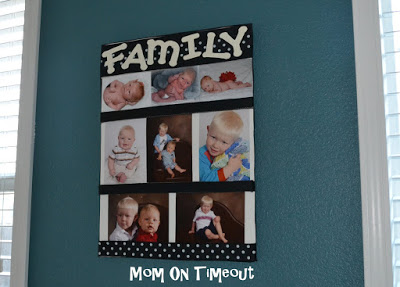 Want to see more? Check out my entire shopping trip and even more detailed photos of the Photo Display Board Craft
here
.
Even more ways to connect with Elmer's:
Disclosure: This project has been compensated as part of a social shopper insights study for #ElmersHoliday #GlueNglitter #collectivebias #CBias. All opinions and ideas are 100% mine. 
Linking up here and Home Stories A2ZTutorials and Tips