Thanks to Scotch Brand for sponsoring this post and inspiring me to make a DIY Organization Station! This Organization Station is perfect for keeping your desk clear and your kids organized!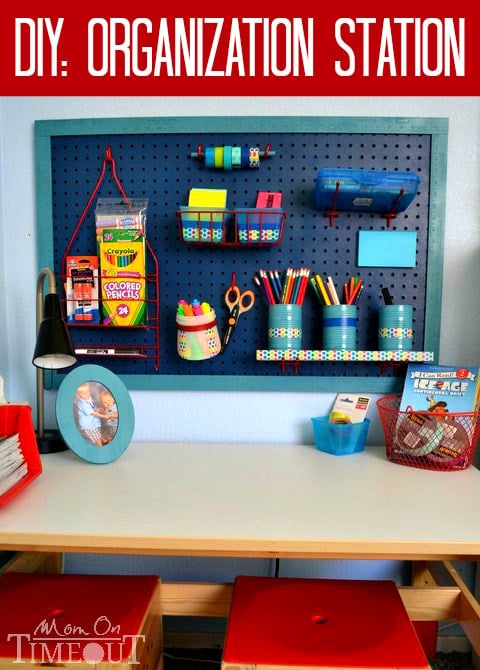 The boys started school a couple of weeks ago and my-oh-my it has been such a whirlwind of activity around here! This past weekend I walked into Reece's room and saw this: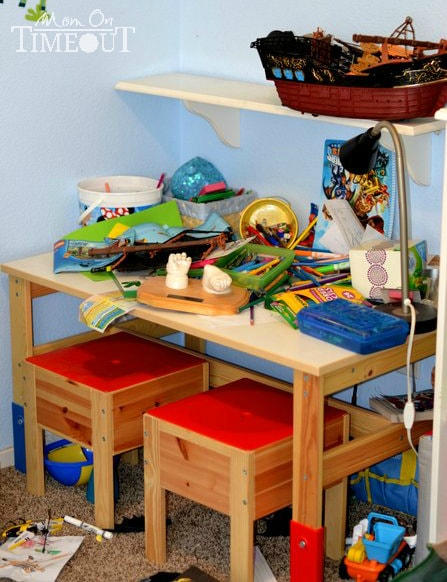 Oh my gosh! Did you just scream too???
I mean. Seriously! What the $%&!!!! You may be wondering if we just experienced an earthquake or some other sort of natural disaster… but, sadly, no. This is just my own personal little disaster named Reece.
So after a little sit down with Reece we decided to do a project together so that his return to school did not have to be so…messy, disorganized, and just plain scary! I decided to create an Organization Station that would hang over his desk. We went the peg board route and it just turned out too cute!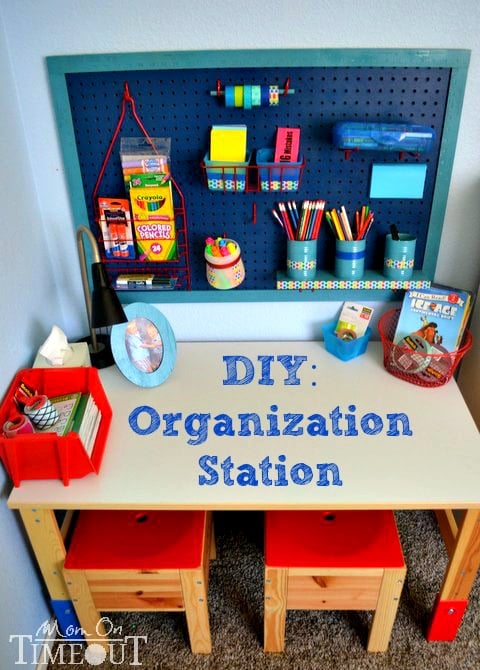 I headed to Lowe's and found that they carried pegboards in three sizes. I got the smallest, a 2'x4′ and had them cut it down to 2'x3′ so it would fit nicely above his desk. We grabbed a pack of various hooks for the peg board and then headed to paint. Reece picked out three different colors of spray paint and then as we were walking out of the paint department I spotted them.
Yardsticks.
I knew instantly that they would be perfect for framing the board. So fun!
We got home and laid out the pegboard and hooks to see what everything looked like: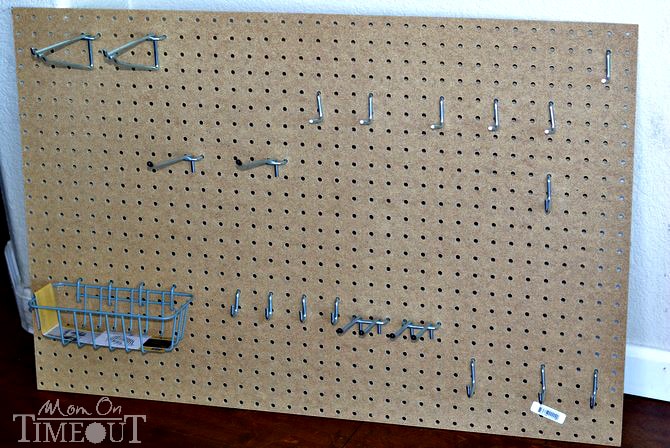 Next we took the board out back and sprayed it the blue that Reece had picked out. It made a super cool design on the drop cloth. Next it was time to paint the yardsticks. I was so happy with how they turned out. You could still totally see the tick marks on the yardstick – perfect! We laid out all of the hooks and hardware and painted them red. Reece was insistent that there was red on his board. A must-have 🙂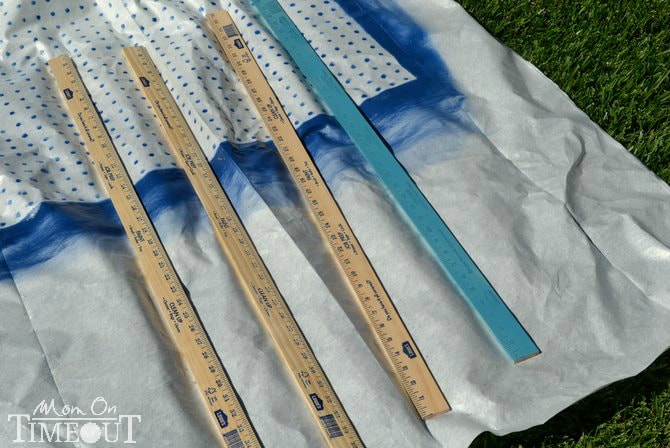 After everything had dried (do NOT rush this!), it was time to glue on the yardsticks. Because two of my sides were three feet already (i.e. 1 yard), I only had to make two cuts for the shorter sides. I used E6000 glue and some clamps to secure the yardsticks.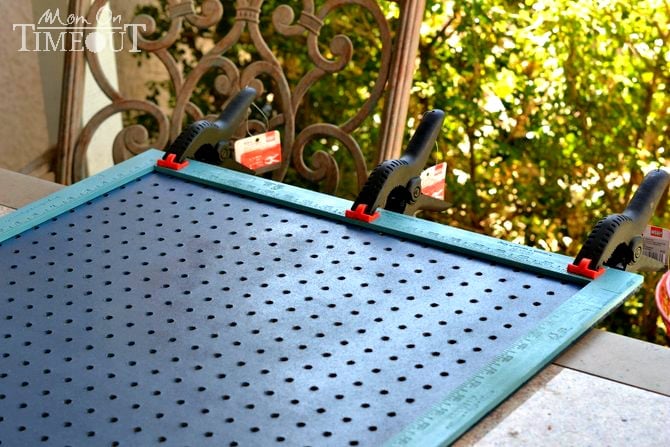 This was Day 2 in the project and Reece still did not have a clean desk to work at so he was outside doing his homework while I was working on the project…
Because the pegboard hooks require a little bit of space between the board and the wall I used the two leftover pieces of the yardsticks and glued them to the back of the board for spacers.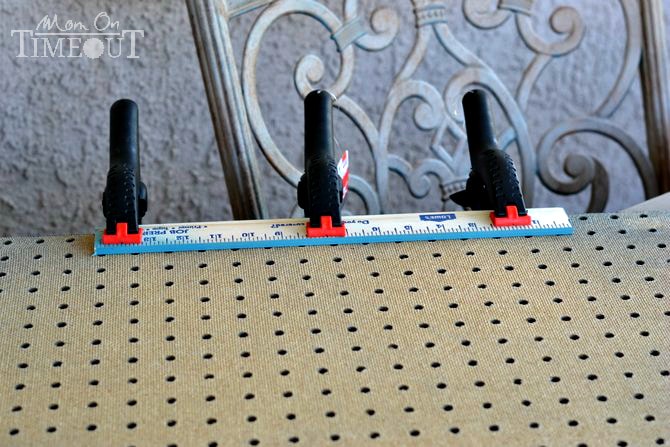 Finally it was time to bring it inside. I cleared off Reece's desk (dumped everything into a basket) and we checked it out: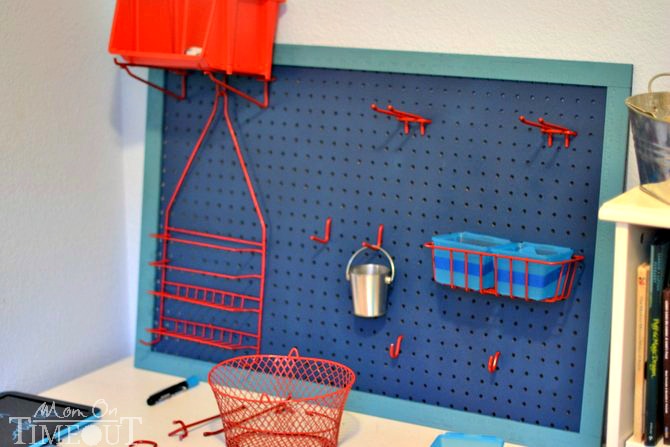 After getting a rough idea as to where everything was going to go it was time to personalize it for Reece. We used Scotch Expressions tape to add a little personality to the different pieces and make it more fun for Reece. This three-pack of tape that Scotch Brand sent us was the inspiration for the colors: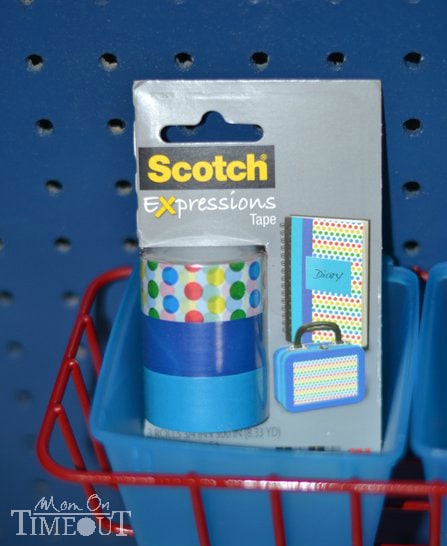 I had seen Scotch Expressions tape at the store earlier this month and picked up a couple rolls already but man – do they have an incredible selection! Scotch Expression Tape are available in over 100 colors and patterns and come in four varieties: Magic Tape, Masking Tape, Washi Tape and Shipping Tape.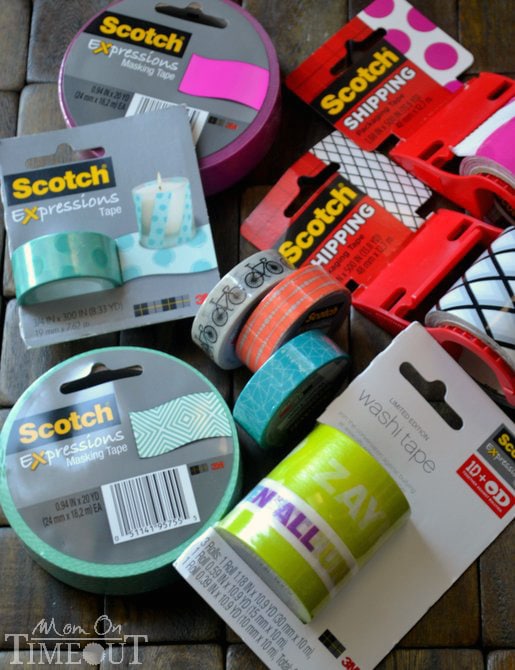 When Reece left for school I got busy putting the whole thing together. I was so impressed with myself and just hoped Reece would be as excited as I am. Here's a look at the finished board: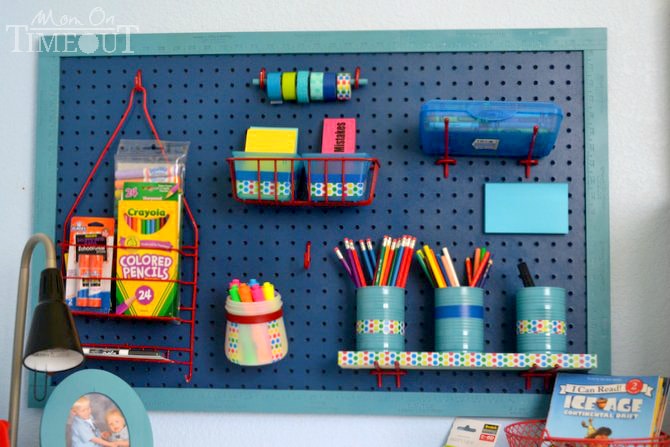 The bakers out there will probably recognize that jar of marshmallow fluff…fudge is in our near future. I spray painted three cans that were the same size and then used Scotch Expressions tape to give them some flair. You can also see that I use the tape on the front of the shelf – that may be my favorite part. I'm wondering if I could do this to my kitchen cabinets….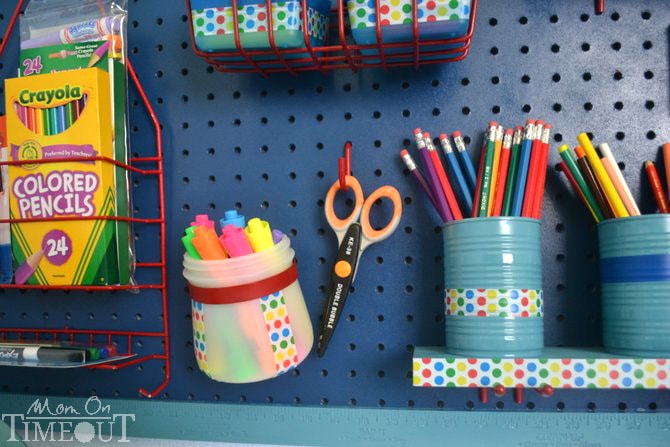 Over on the left you'll see a shower caddy that I picked up at the Dollar Tree – works perfectly! You can see below how cool the yardsticks turned out. Okay. That may be my favorite feature – so hard to decide!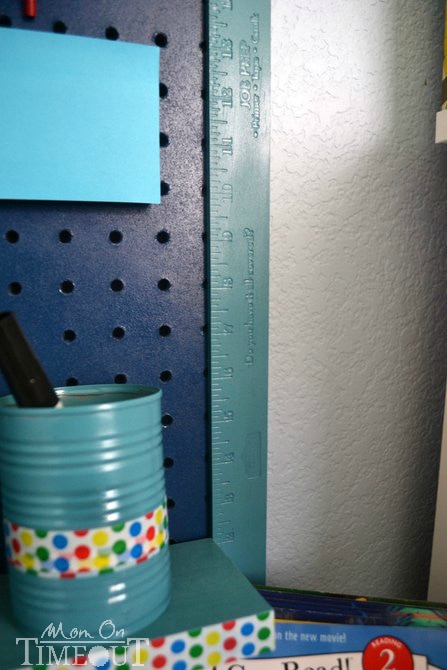 I spray painted a dowel and used some of the hooks to make a tape rack. Reece went right for that when he saw it 🙂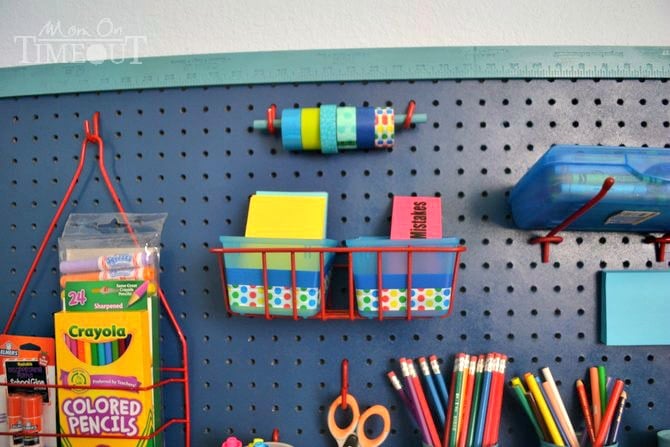 You can see that I didn't put the board too far above his desk. I didn't want him having to climb on his desk to reach things. Having it lower down makes everything accessible. Easy to take down. Easy to put up. Hopefully.  Reece LOVED this picture of him and Bryce that I put on his desk. It's alwasy the little things…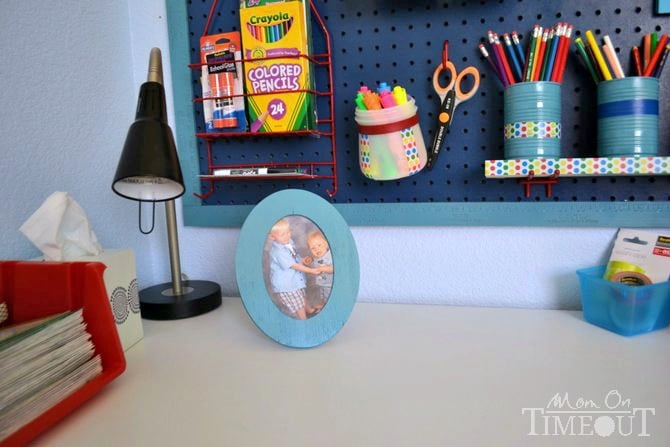 I had his room all cleaned up when he got home and when he saw his new space – !!!!! He was so, SO excited! He couldn't stop picking everything up and looking at it. He said "This is the most organized desk I've ever seen!" I just hope he keeps it that way 🙂

I had so much fun getting creative with Scotch Expression Tape and I hope you will too! Head to ScotchBrand.com to find a store near you!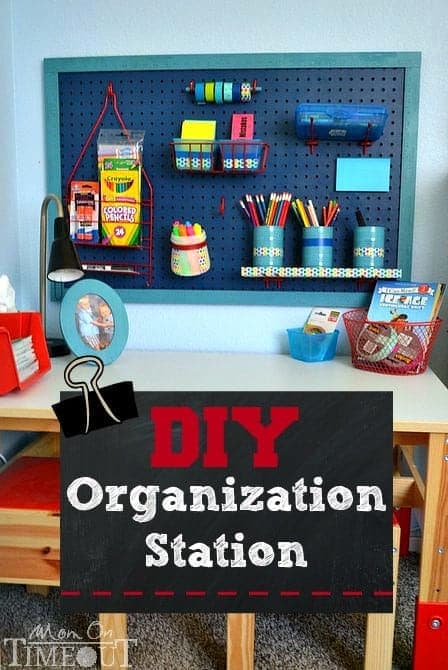 Now who's up for a contest? The 17th annual Scotch Brand Most Gifted Wrapper Contest is taking place Friday, December 6 at Celsius at Bryant Park in New York City. Here's the details:
Submit a 3-minute video of your best gift wrap and gift wrapping tips before September 22 to be considered.
Eight finalists will be chosen and flown to New York City for an all-expenses paid trip to compete for the $10,000 and the title of the 2013 Scotch Brand Most Gifted Wrapper.
The first 50 valid entries will automatically receive a prize pack of the new Scotch Expressions Tapes!
Learn more about the contest at MostGiftedWrapper.com. 
Make sure to check out Scotch Brand!
Facebook | Twitter | Pinterest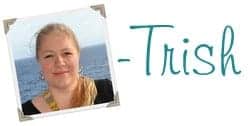 Connect with me!
 Linking up at some of these parties.