This is a sponsored conversation written by me on behalf of Nestlé. The opinions and text are all mine.
Make this Halloween the best yet with these DIY Glow-in-the-Dark Trick-or-Treat Bags featuring your favorite Nestlé candies! Fun, easy, and spook-tacular!
Let's be friends! Sign up to get my new recipes in your inbox! Follow me on Facebook and Instagram too!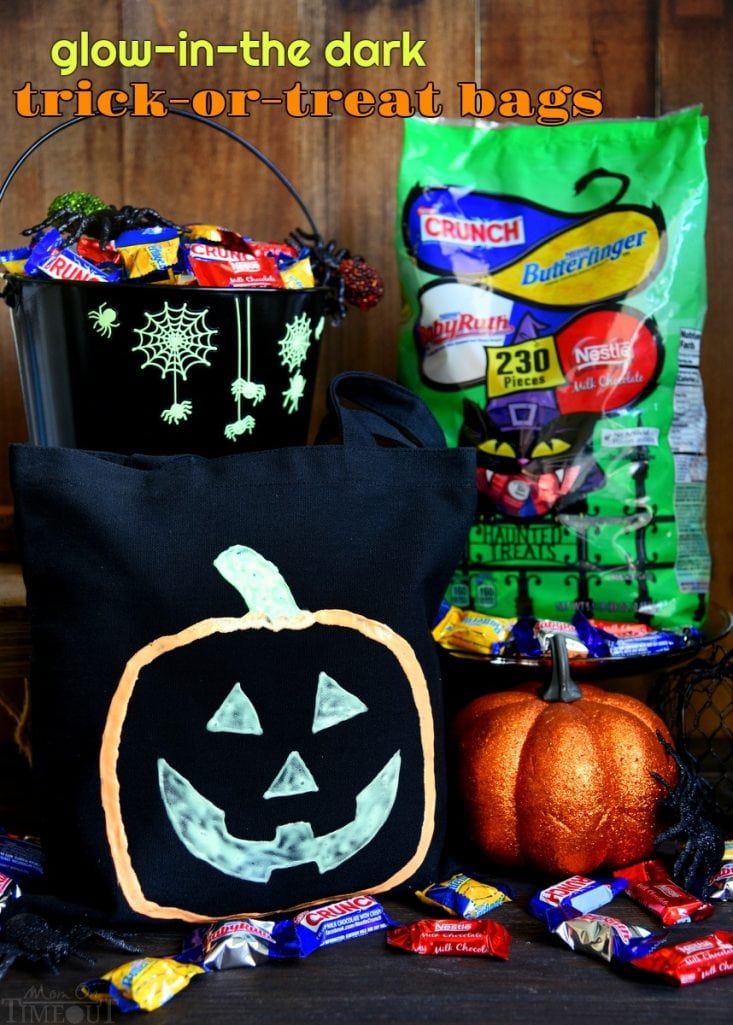 This past weekend I got about 90% of our indoor Halloween decorating done. Nothing on the outside – YET. But hey, baby steps, right? I love decorating for Halloween. Mostly because it transitions so well over to Thanksgiving decorations. I simply walk around the house and remove all the black decorations, spiders, etc. Everything else stays. Easy peasy.
We're planning on decorating outside this coming weekend and nailing down our Halloween plans this week. We're gone the following weekend for a quick trip to visit my sister and her family in North Carolina so I'm trying to be on my game this week. If you're doing the same, make sure to check out my other Halloween crafts and recipes here.
I've got lots more to do but fortunately, I've already bought the boys' costumes, loaded up on candy, and the kids are already getting super pumped up about trick-or-treating this year. We have a ton of trick-or-treaters every year because of our close proximity to the school. The school parking lot turns into a trunk-or-treat with games and stuff and we get a lot of overflow into our neighborhood. We have to stock up on candy big time because we get so much foot traffic.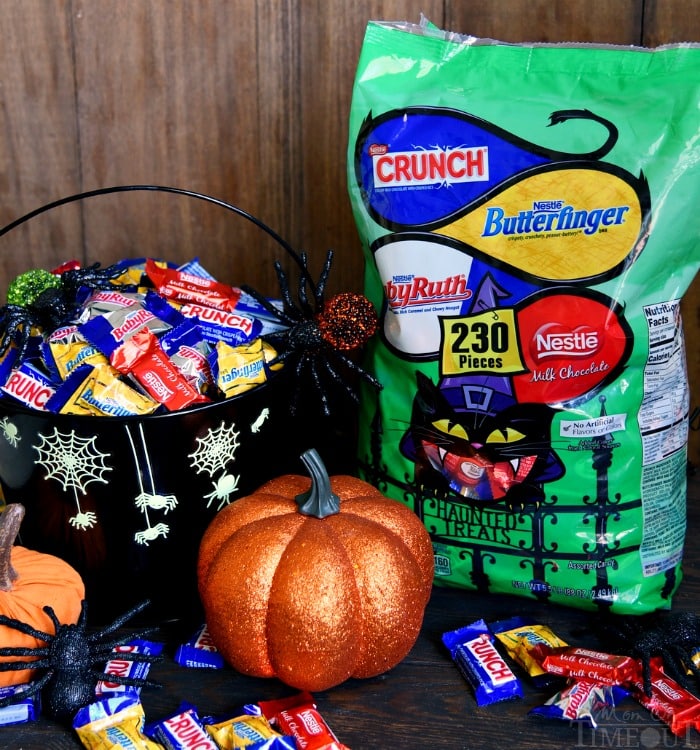 This Halloween, Nestlé has a great selection of Jumbo Variety Bags that offer an incredible value for all of your favorite chocolate and sugar treats, from brands like Butterfinger, Nestlé Crunch, Baby Ruth, SweeTARTS, Nerds, & Laffy Taffy. <<< You know, the GOOD stuff. Nestlé's assorted value bags make candy buying for the whole neighborhood affordable. You can find the Nestlé Jumbo Variety Bags at retailers nationwide. The bags come with piece counts as high as 450 pieces, and in a variety of sizes and assortments of treats that will have the whole neighborhood excited.
My favorite? The Chocolate Classics Variety Bag – perfect for chocolate lovers! It includes 230 bite-sized chocolate favorites from Nestlé Crunch, Baby Ruth, Butterfinger and Nestlé Milk Chocolate, all free from artificial flavors and colors.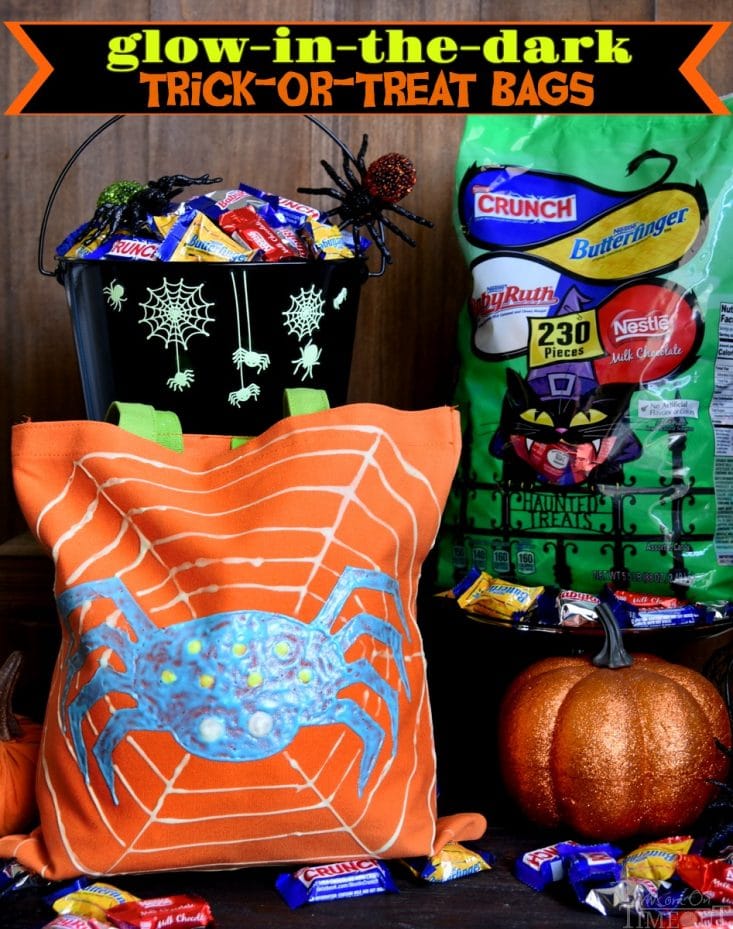 Well, we've bought the costumes, loaded up on candy, and  I decided to make some fun trick-or-treat bags because the boys really don't have any that they use from year to year. I thought glow-in-the-dark bags would be kind of awesome and if their excitement is any indication, they are a complete and total success.
I made four different bags but they've already claimed the spider and the pumpkin for their own. We'll give the other two to friends. The trick-or-treat bags were really simple to make and I know your kids would love to help, just like mine did!
Let's get started…
What you'll need:
tote bags – I used orange and black *(you can find them at your local craft store)
template (I printed out mine from PicMonkey)
scissors
chalk pencil or white pencil
paint brush (optional)
foam brush (optional)
Print out the image that you would like to paint. I used the clipart from PicMonkey (it's free!) for mine. Cut out the image and place on top of the tote bag. Outline the image with a chalk pencil or other pencil. (It won't show through the paint).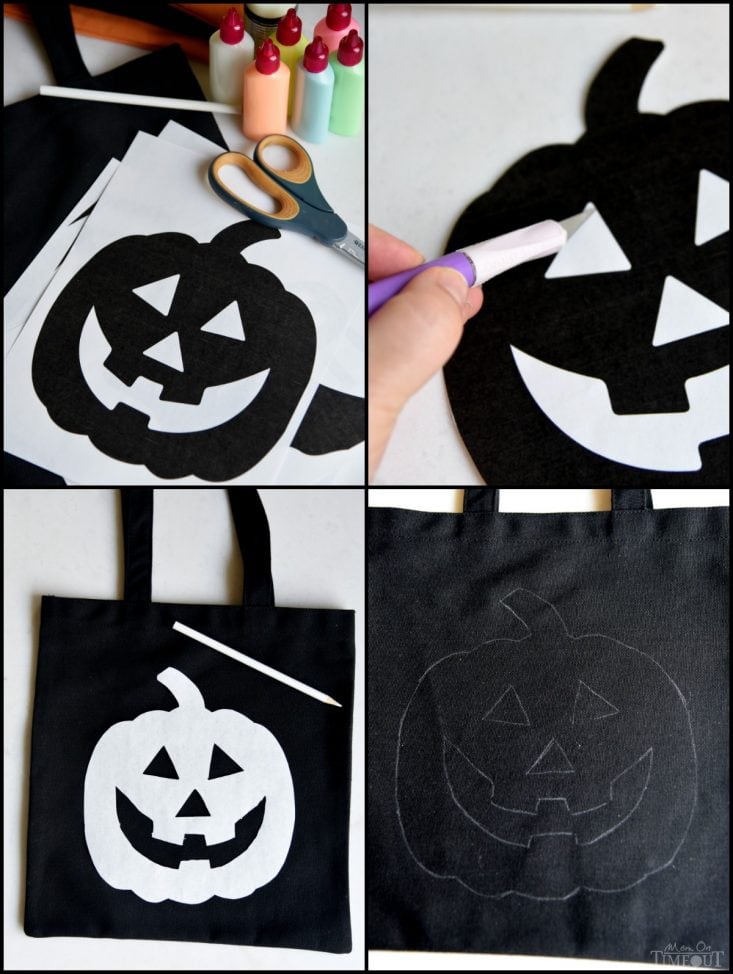 Next, use the paint to trace over the outline. I like to let the outline dry before filling in with additional paint. You don't have to fill it in, of course, but it creates a more powerful glow the more paint there is. You can fill in just using the tip of the paint bottle or use a brush if you'd like.
I used a foam brush to fill in the ghost and a small craft brush for the hat. You can see what a difference it makes when you're in the dark. Both effects are cool though.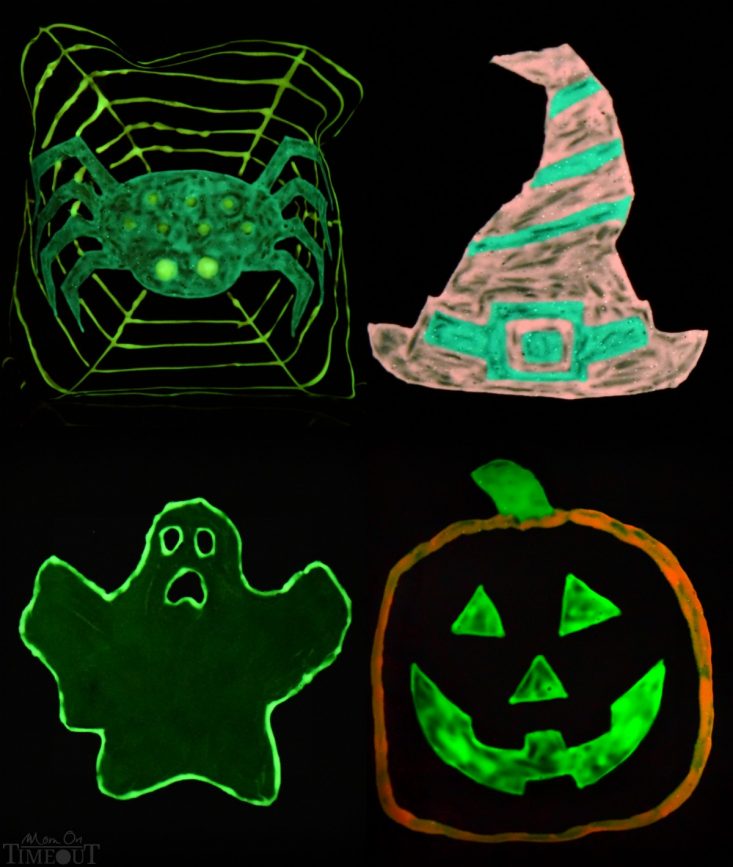 I love adding a little something special to our Halloween celebrations and these glow-in-the-dark trick-or-treat bags are perfect! Don't forget to stock up on Nestlé's Jumbo Variety Bags – they will make your Halloween celebrations easy and delicious, with brands that trick-or-treaters of all ages are sure to love!
Happy Halloween!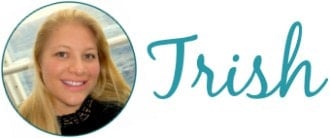 For all dinner recipes, go HERE.
Sign up to get emails when I post new recipes!
For even more great ideas follow me on Facebook – Pinterest – Instagram – Twitter – Bloglovin'.
Have a great day!