This DIY Black Widow Spider is the perfect Halloween craft for you to make with the kids! Easy, fun, and festive!
This post brought to you by The Orkin Ecologist. All opinions are 100% mine.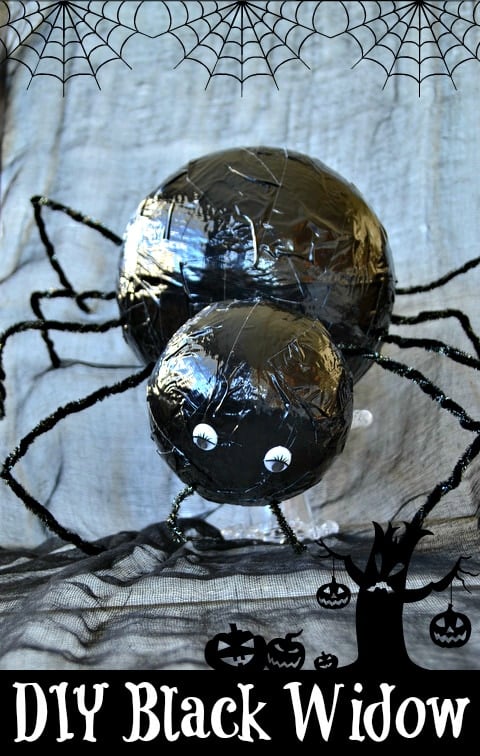 Tis the season for creepy crawlies!! Once a year we celebrate all things creep, crawly, slimy, icky, and scary for Halloween. Reece has always had a thirst for knowledge about animals. He loves watching Wild Kratts, National Geographic, Animal Planet, etc. If it's a show with information for him – he's on it! One of the many things I love about Reece 🙂
He loves finding out about specific animals and insects and all those little factoids thrill him to no end. I was excited to find out about The Orkin Ecologist where kids (and adults) can go to learn about all these liittle creatures that most of us try to avoid.
Reece and I set out to do a project together and I let him scour the site for a creature that he wanted to study and learn more about. He chose the Black Widow.
The Black Widow is most definitely iconic and extremely interesting to Reece. He has seen one in our backyard before and knows that he is to stay away, FAR away. We made our own Black Widow – just in time for Halloween and also picked up some interesting facts along the way.
Here's what we did…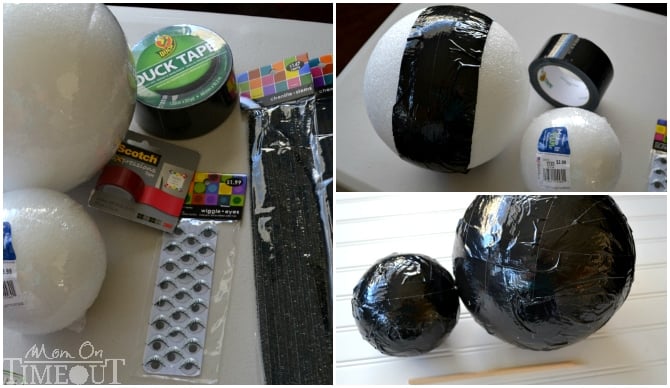 We started out with two styrofoam balls – one large, one small, black fuzzy sticks, googly eyes, red tap, and black duck tape.
First we taped the balls all over so they were completely black. I started with cocentric circles but quickly realized it would be easier to cover the space as efficiently as possible using small strips of tape.
We used a wood dowel to connect the two circles creating the body of the spider.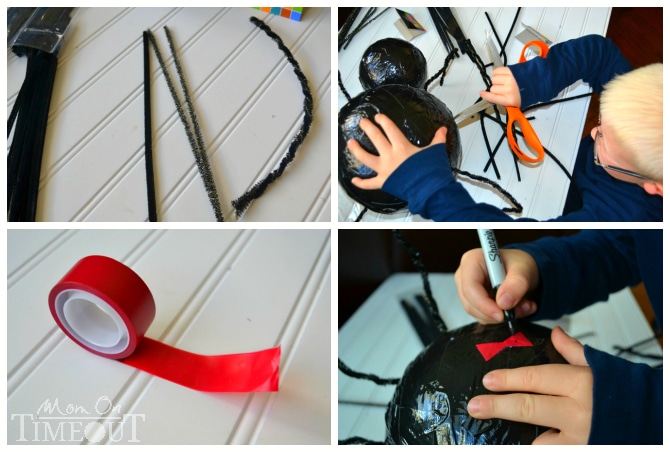 Next we twisted three black fuzzy sticks together to create one leg. Repeat this 7 more times for a total of 8 legs. The Duck Tape is pretty tough so we used scissors to poke a hole through the tape before inserting the legs.
To make the signature red hourglass shape of a Black Widow, I folded a piece of red tape back on itself and then cut it out in the proper shape. Reece added the black dot that is frequently found on the hourglass.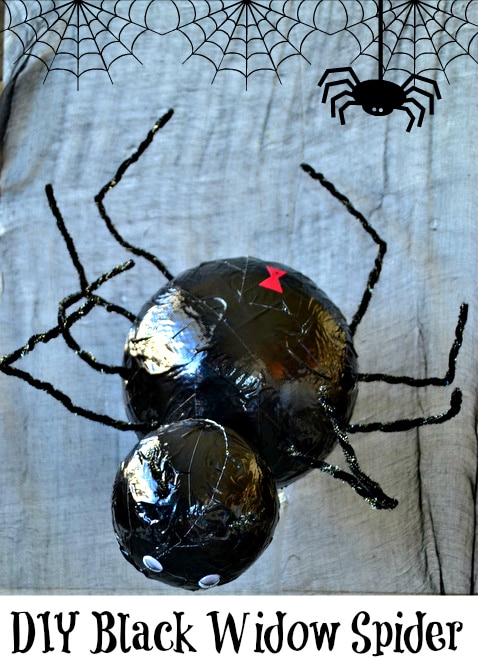 The boys were THRILLED with the results of our efforts and "Black Widow" has been carted all over the house with love 🙂  We are still looking for the best place to display our newfound friend but rest assured, she will be spooking any visitors we have on Halloween.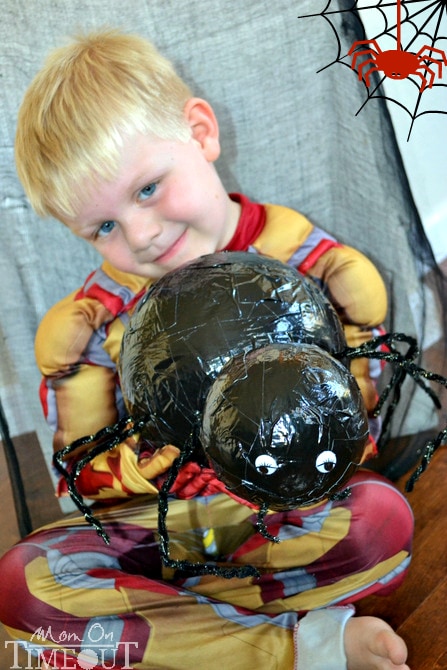 Fun facts about Black Widows – this is what Reece thinks you should know:
Black Widow silk is known to be the strongest of all spider silk. 
Black Widows have 8 jointed legs.
Female Black Widows are easy to recognize by the red hourglass shape on their abdomen.
Black Widows will grow from 8-10mm long.
The female Black Widow is the most poisonous spider in North America.
Orkin creating "The Ecologist" site, to celebrate science and uniqueness of bugs and it will surely be a source of information for my curious little boys. Make sure to visit The Orkin Ecologist to help your little ones explore the science behind the insects. It's a great site for the both novice and experienced science lovers.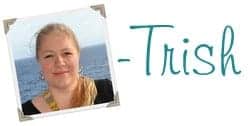 Connect with me!