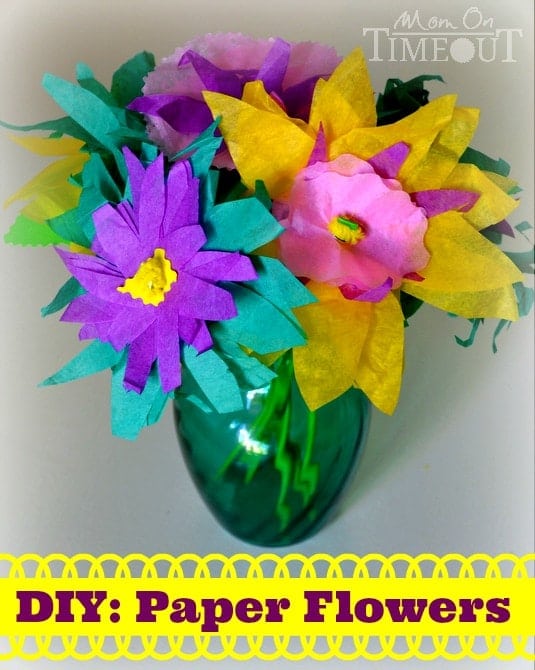 Need a quick and easy craft project?  Here is a boredom-buster that doesn't require a lot of  materials.  Paper flowers are such a fun, inexpensive, and quick craft to enjoy.  They require very few supplies and can be made out of virtually anything you have on hand.  Kids (and adults!) of all ages will appreciate the simplicity and sheer joy of creating their own unique flowers.  
Paper flowers are fun to have around any time of year and are sure to brighten up any person's day.  My craft philosophy is never let a lack of materials and supplies keep you from having fun!  Use other materials if you don't have the ones listed below.  Make one or a dozen – it's completely up to you!
What you will need:
Tissue paper – any colors
Straws – green preferably
Pipe cleaner – multiple colors
Green Paper
Scissors
Hole Punch
To make the leaves:
1. Fold a green piece of paper over several times.  
2. Cut out a leaf shape.  (Can use decorative edge scissors if you have them.)
3. Punch a hole into one end of the leaves.  The hole will be used to thread the leaves over the straw.
Prepping the Straws:
1. Start with a green pipe cleaner or any other color you might have on hand.
2. Cut one pipe cleaner into approximately one inch pieces – I ended up with 10 pieces.  
3. Tightly wrap the piece of pipe cleaner around the end of the straw.  Only 1/2 – 3/4 inches of the straw should be sticking out.
Cut one more pipe cleaner (I used yellow for pollen) into the same number of pieces that will be used to secure the flower onto the straw.
To make the petals:
1. Select any color of tissue paper and fold over multiple times.  
2. Draw flower shapes on the tissue paper.  Use your imagination – these don't have to look like real flowers! 
3. Cut out various shapes and sizes that you can layer for your flower. 
4. Finally, punch a hole into the center of the flower shapes.

Assembling flowers:
1. Thread 1-2 leaves onto the straw so that they are resting on the pipe cleaner. 
2. Layer 3 -10 flower shapes to achieve your desired look.
3. Secure the flower on the straw by using another 1 inch piece of pipe cleaner to wrap around the tip of the straw.
4. Another option is to fold the straw over and then secure with pipe cleaner. 
Tips:
Have an adult wrap the pipe cleaner around the straws to avoid poking little fingers with the sharp wire inside.

Crumple the tissue paper to give more texture and create a fuller flower.

Give the leaves a slight crease down the middle to give them some life.

Save used tissue paper for this project.  It's already wrinkled and will work perfectly.

If you don't have tissue paper you can easily use any other colored paper.

If you don't have pipe cleaners, use glue or a small rubber band to keep the petals and leaves in place.

Use craft edgers scissors to create a decorative and unique edge to the flowers and leaves.

Looks great on top of a present or attached to a card.

Make several and stick in a vase.  

Don't throw out those small pieces of tissue paper!  Those are perfect for "stained glass" craft projects.  Put those pieces in a ziploc bag and throw them in your Craft Supplies Shoe Storage Organizer. 

For younger children, prep all stages of the project in advance in order to avoid frustration.

Little boys love this project too.  Even as I am typing this up, my 5 year old son is making even more flowers, several days after we did this project 🙂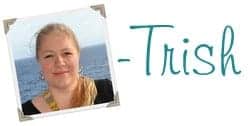 Connect with me!