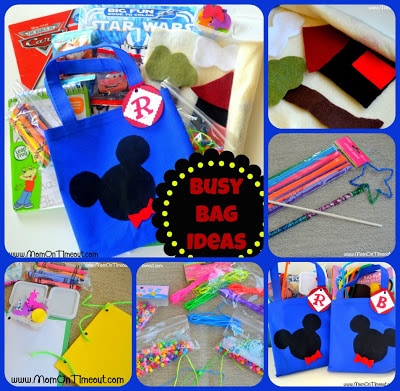 Last week I shared my Disney Tote bags that I made for our trip to Disneyland. I wanted to show you some of the Busy Bag Activities that I came up with to put in the bags. In case you're not familiar with Busy Bags – they are just bags filled with simple activities that you can pull out to entertain the kids with. Most busy bags have an educational component as well. I made our Disney Totes one large Busy Bag filled with a variety of activities and it worked like a dream for our 8 hour drive to Disneyland.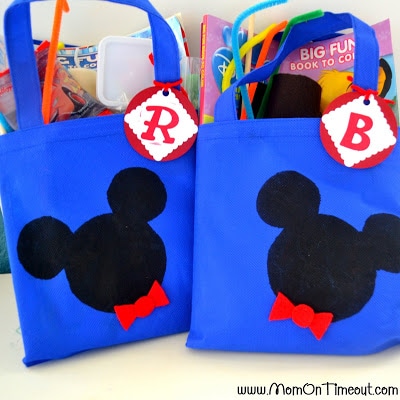 I made each boy a roll up felt board. These are super easy and really allow for creativity that isn't messy at all! All you need is felt in different colors. Use one felt sheet for your "board". This is what all the other felt will "stick" to. Next cut out a variety of shapes. Some ideas are flowers, houses, cupcakes, snowflakes, trees, faces (lips, eyes, nose, etc.), and any other shapes that your child can put together to make a picture.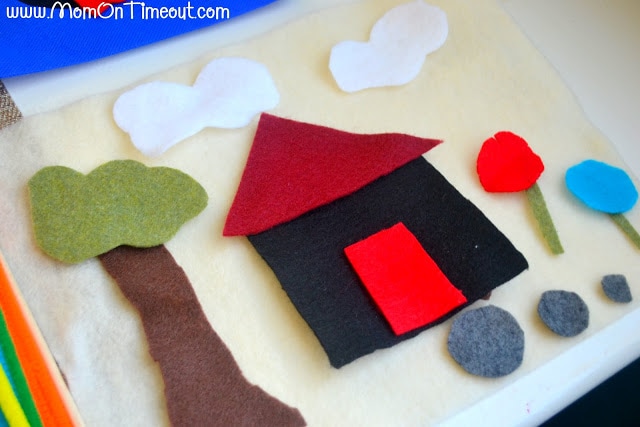 When they are done with their picture, simply  roll the felt up and put back in the busy bag. I did two totally different boards so the boys were able to trade shapes back and forth to create new pictures.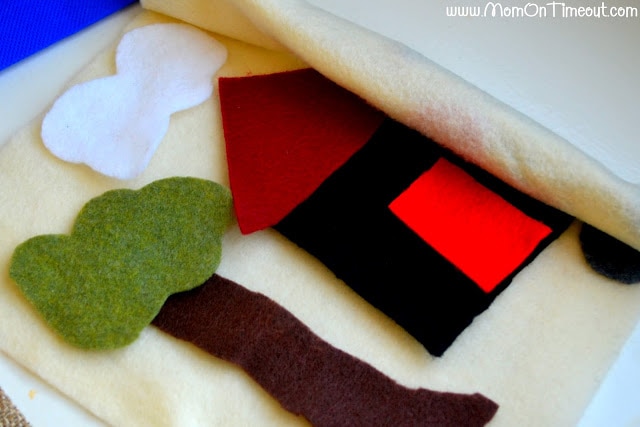 Next I added some pipe cleaners and a dowel so the boys could make their own wands. This may not be a typical "boy" craft but they had a lot of fun making theirs in the car. Bryce even added some foam stickers to his and it looked really cool. So the idea is you take a pipe cleaner and wrap it around the wood dowel. You will need more than one so have a variety of colors available for your child. Don't have a wood dowel – a chopstick will also work!
I also picked up some beads and lacing cord at the Dollar Tree. I pre-laced one bead and tied it off so it would be easier for the boys to make their bracelets and necklaces. I also cut the cord into a couple different lengths. I put the beads and the pre-cut cord inside a baggie to keep everything together. You could use a variety of beads and alphabet beads would be a lot of fun too.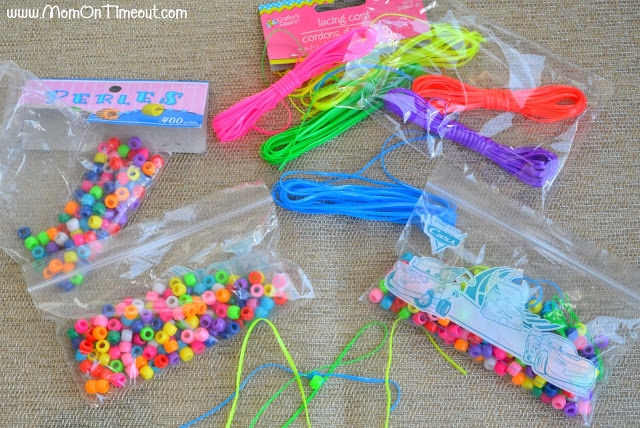 I also put together  "create-your-own-book" kits. I got this idea from my mother-in-law. Every time Reece goes for a visit he comes back with all these "books" that he has written and illustrated. It's a really fun idea and she makes up a whole bunch of blank ones so he can just have at it! All you need is some computer paper and construction paper. Fold the construction paper into fourths. Fold the computer paper into fourths and cut so there are at least 8 pages per book. Insert the white pages into the center of the folded construction paper. Punch holes and tie off with yarn. Now you have a little book that your little one can fill with their imagination. Now Bryce is three and his books get filled with drawings and stickers. Reece is 6 and he writes full blown stories and illustrates as well. I included these little containers filled with foam stickers for the boys to use in their books as well as a bag of crayons.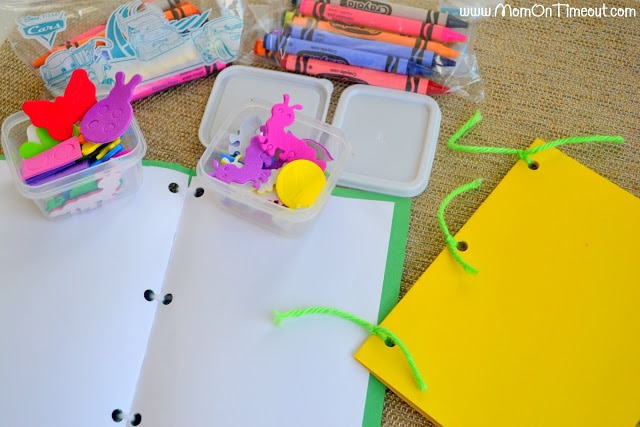 I also included Disney workbooks and coloring books (also purchased at the Dollar Tree), a LeapFrog Dry Erase Activity Book (from Barnes & Noble), and snacks.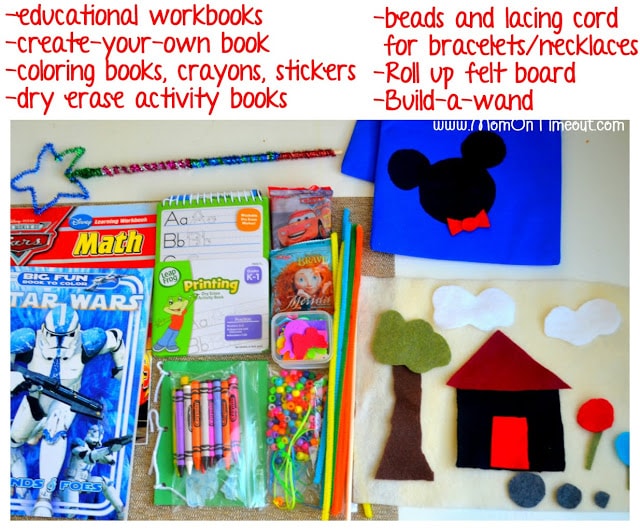 If you don't have a lap desk to use in the car, consider buying or using a scrapbook paper container. They hold a lot and can also act as a lap desk.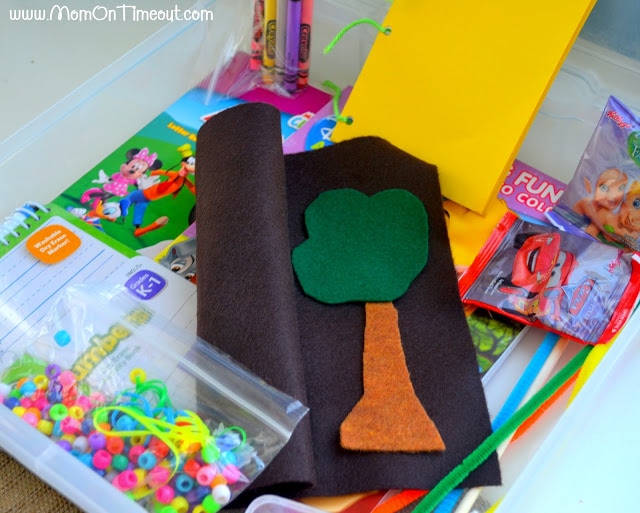 Have you ever made busy bags for your children? What are your busy bag ideas?
Linking up here, Home Stories A2Z, and My Repurposed Life.