I'm bringing you 10 Over the Top Chocolate Desserts in honor of my dear friend Joan. Last week the food blogging community lost one of our dearest members unexpectedly. Joan, from Chocolate, Chocolate, and More passed away in her sleep from a heart attack. #chocolateforjoan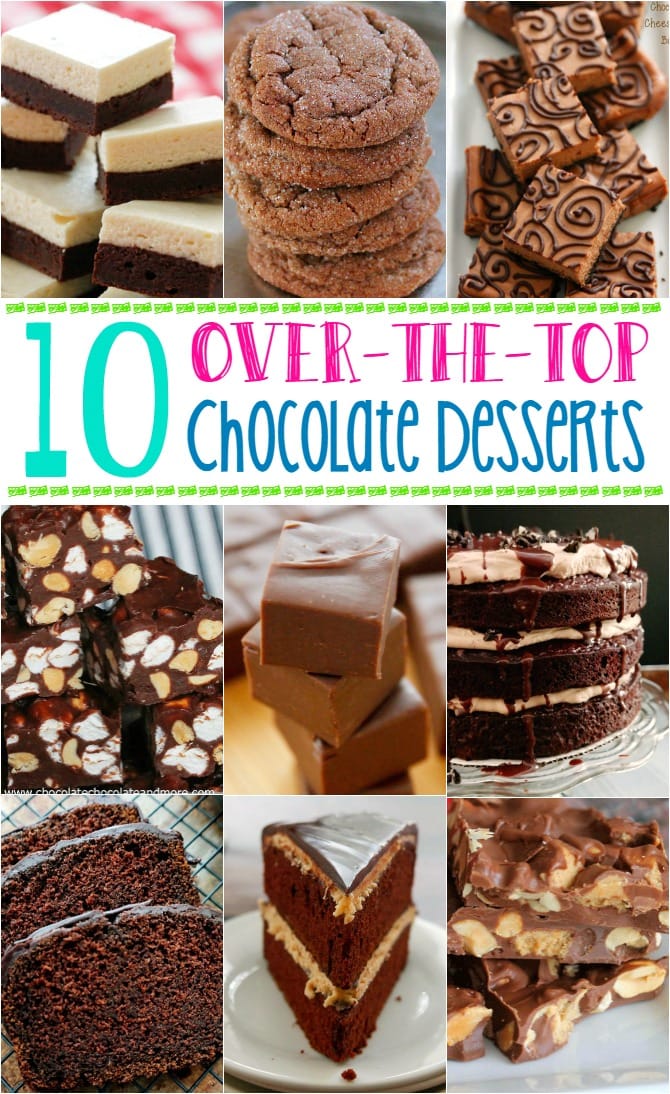 When I first heard the devastating news I was numb and in total disbelief. Like, I legitimately thought that someone had their information wrong.
Joan was too big of a life force to just pass away in her sleep. It didn't seem possible. But it is. She left her three teenage children behind. My heart weeps for them. Having lost my own mother too soon I know what they are going through and the weeks and months ahead are going to be a struggle. But the good news is there is something you and I can do to help.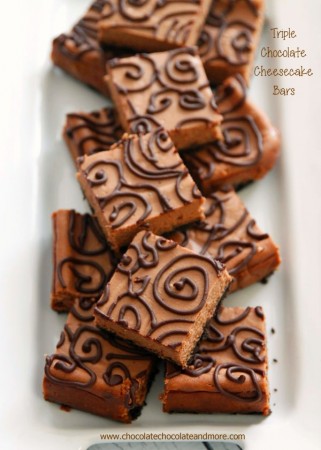 Triple Chocolate Cheesecake Bars | Pin It
Joan's blog is going to continue on. Please understand that her blog was her JOB and is where she made a living. Every visit, every pin, every tweet brings in money for those children and so today, for National Chocolate Day, I'm sharing ten of my favorite recipes from Chocolate, Chocolate, and More.
Like chocolate? Then you're going to want to head on over because you'll find HUNDREDS of amazing chocolate recipes to drool over. Please pin the collage at the top or any of these individual recipes or just click on over. Every pageview counts.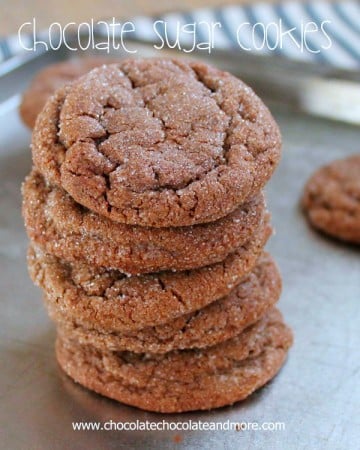 Chocolate Sugar Cookies | Pin It
I first met Joan in person two years ago when we were invited out to Pillsbury headquarters in Minnesota. In December. I was friends with Joan online for about a year before I met her in person. I thought she was a savvy business woman and a pillar in the blogging community. She was always quick to offer advice and to help out fellow bloggers.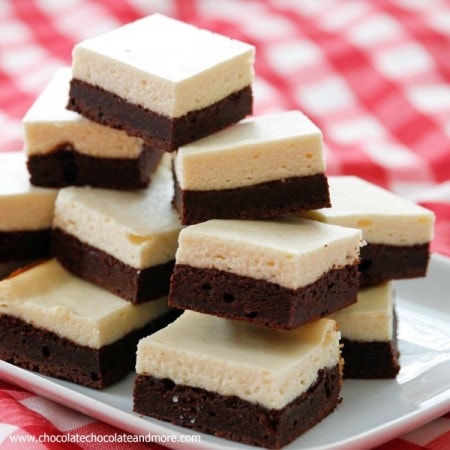 Brownie Bottom Cheesecake Bars | Pin It
To know Joan was to love her. She was hilarious, boisterous, gracious and so incredibly generous with her time and knowledge. She couldn't help but make me smile. And laugh. Long and hard. That's what I loved most about her.
That, and her love for chocolate. Joan had a love for chocolate that no one can rival. She believed in chocolate every day. Didn't have to be a lot, but gosh darnit we all deserve a little chocolate!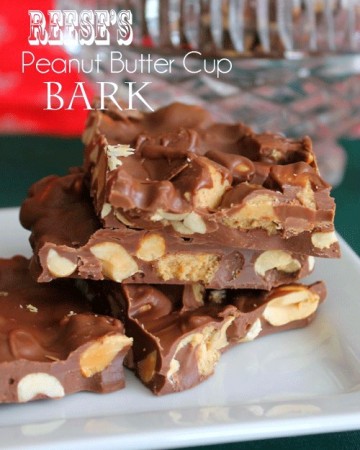 Reese's Peanut Butter Cup Bark | Pin It
Joan was an integral part of the food blogging community. Being a part of this group has changed my life over the past four years. When I first started blogging, I had heard about this "amazing" community and wondered what it was all about. About a year into blogging I started developing relationships and friendships with other bloggers online. Sure, we hadn't met – yet – but these friendships were most certainly real. More real than a lot of real-life friendships I've had.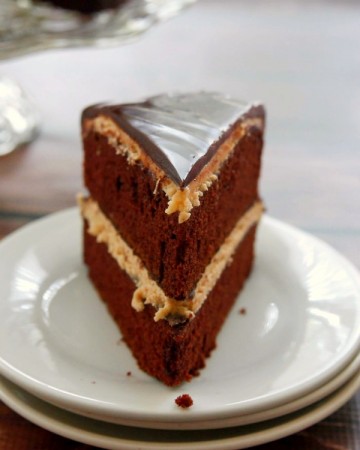 Peanut Butter Cup Cake | Pin It
There is a bond that forms between bloggers because of our profession. What we do, bloggers, is unlike any other job in the world. It's hard, it's inspiring, it's frustrating and exhilarating all at the same time and THAT, that is hard to explain to non-bloggers.
Today the food blogging community is coming together to support Joan in the only way that we know how – online! And we're bringing you all sorts of chocolate on National Chocolate Day to honor Joan.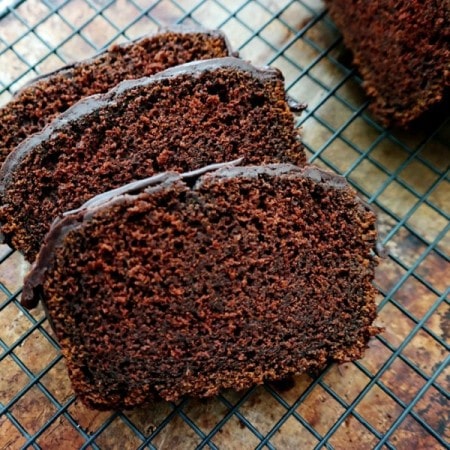 Chocolate Pumpkin Pound Cake | Pin It
My hope is that today and for every day after, we can bring in a little revenue for Joan's family. I hope that their hearts will be lifted up by the blogging community because Lord knows Joan lifted us all up so many, many times. I hope that her family can see the love we all had for Joan and what an impact she made on all of us. She is missed. Hug and kiss your loved ones today because you never know what tomorrow will bring.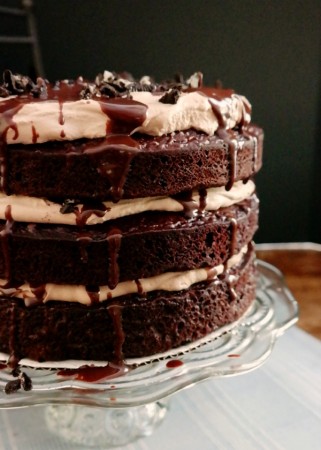 Mississippi Mudslide Cake | Pin It
Now, let's eat some chocolate and celebrate the food that Joan loved so much! #chocolateforjoan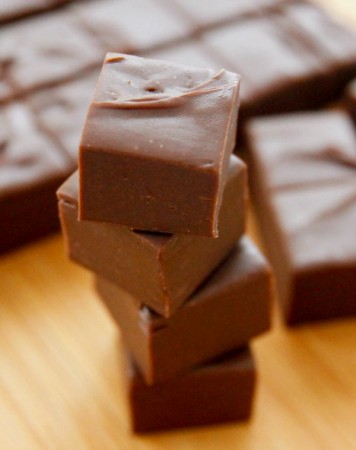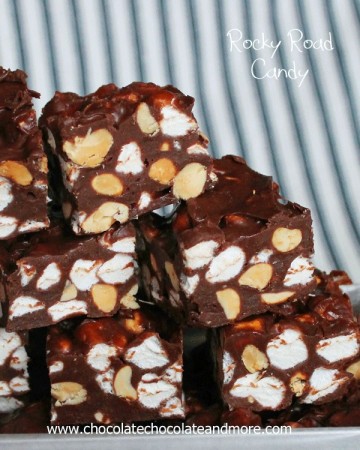 Microwave Rocky Road Candy | Pin It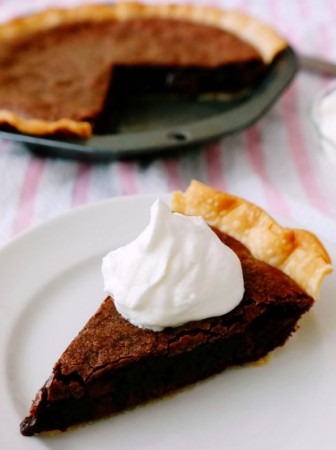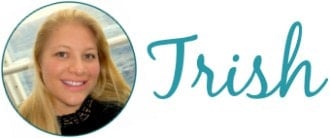 Connect with me!